The November/December 2019 issue of Roast has been released, featuring coverage of the 2020 Roaster of the Year winners, the annual industry directory, and a complete Roast magazine article index from 2004-2019. The issue also features a guide to U.S. regulatory requirements that outlines how coffee roasters can ensure that they are in compliance.
Roast subscribers receive complimentary digital access. Subscribe to Roast, or purchase the print version of the issue here.
Inside This Issue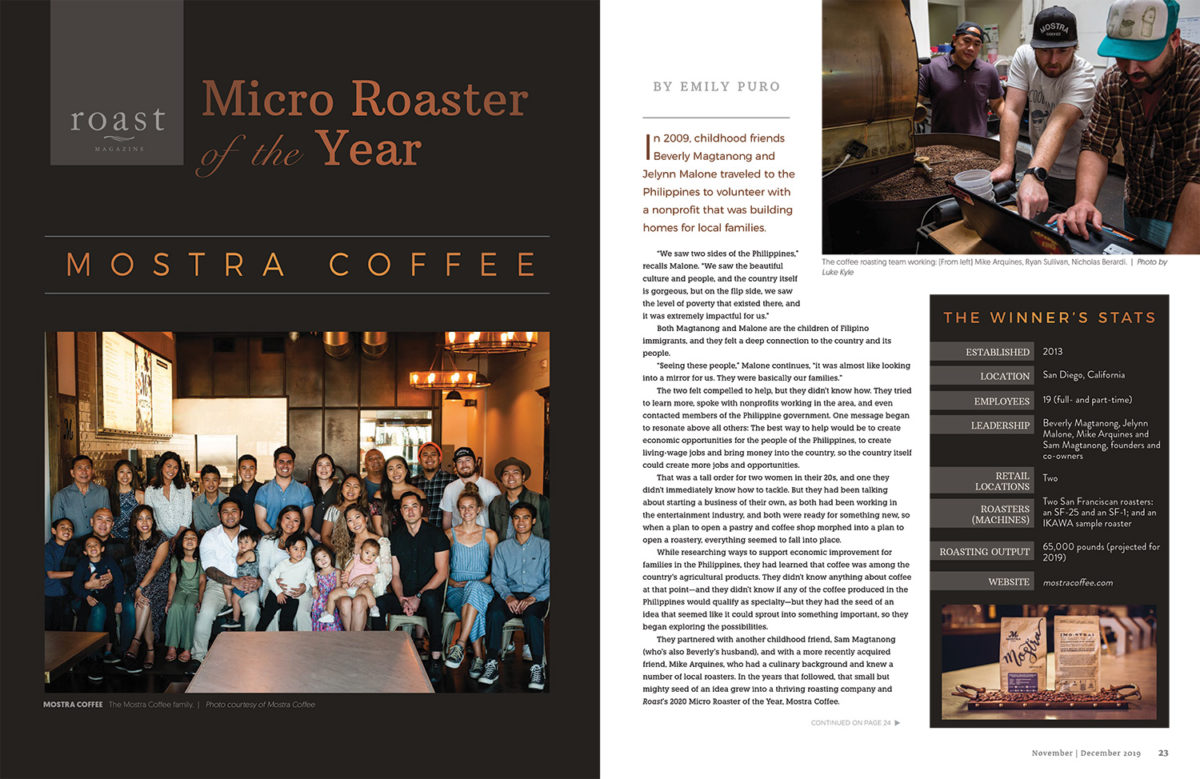 Mostra Coffee is featured in this issue as the 2020 Micro Roaster of The Year. Founded in 2013 in San Diego, California, Mostra earned this award for its commitment to supporting coffee farmers in the Philippines, local community engagement, and ensuring a vibrant workplace culture, as well as offering opportunities for employee mentorship and training.
While researching ways to support economic improvement for families in the Philippines, they had learned that coffee was among the country's agricultural products. They didn't know anything about coffee at that point—and they didn't know if any of the coffee produced in the Philippines would qualify as specialty—but they had the seed of an idea that seemed like it could sprout into something important, so they began exploring the possibilities. … In the years that followed, that small but mighty seed of an idea grew into a thriving roasting company and Roast's 2020 Micro Roaster of the Year, Mostra Coffee.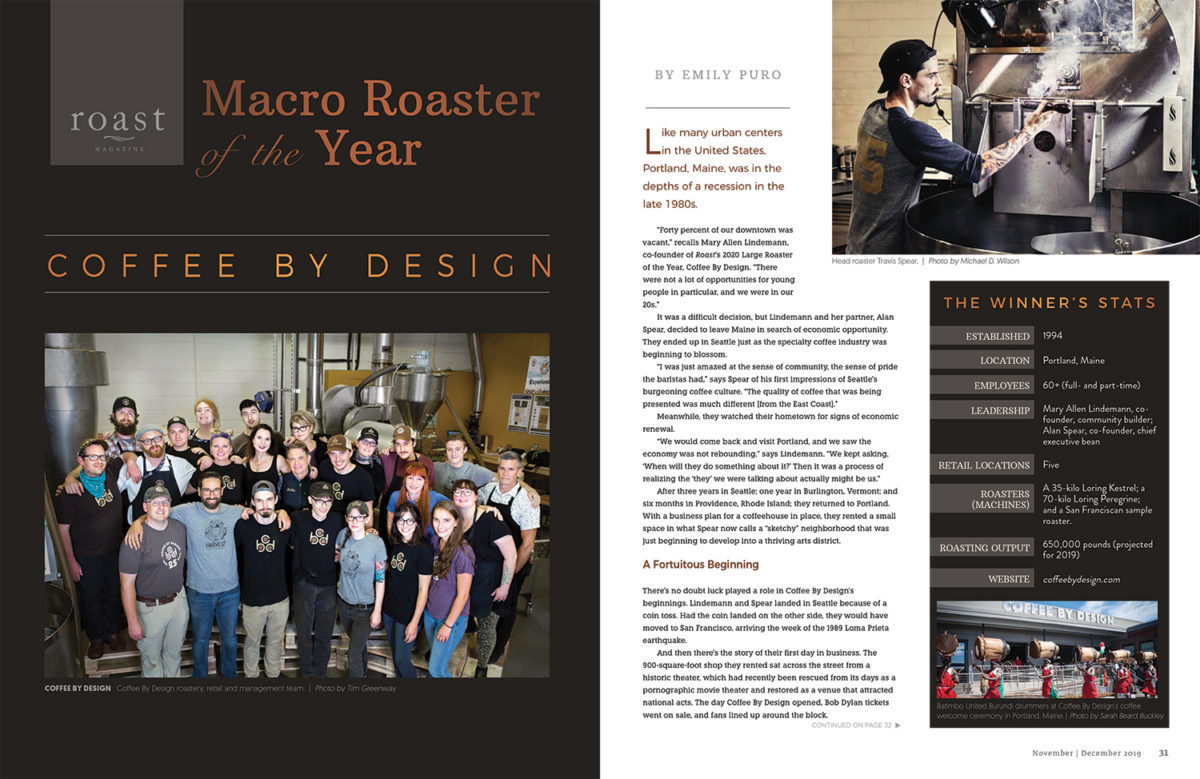 Coffee By Design, headquartered in Portland, Maine, is featured in this issue as the 2020 Macro Roaster of the Year. Founded in 1994, Coffee By Design is growing its business with a focus on sustainable practices, quality standards, and social responsibility. The company has put a focus on sharing knowledge and excitement about coffee, creating living-wage jobs with ample growth potential and training opportunities for its employees.
There's no doubt luck played a role in Coffee By Design's beginnings. Lindemann and Spear landed in Seattle because of a coin toss. Had the coin landed on the other side, they would have moved to San Francisco, arriving the week of the 1989 Loma Prieta earthquake. And then there's the story of their first day in business. The 900-square-foot shop they rented sat across the street from a historic theater, which had recently been … restored as a venue that attracted national acts. The day Coffee By Design opened, Bob Dylan tickets went on sale, and fans lined up around the block.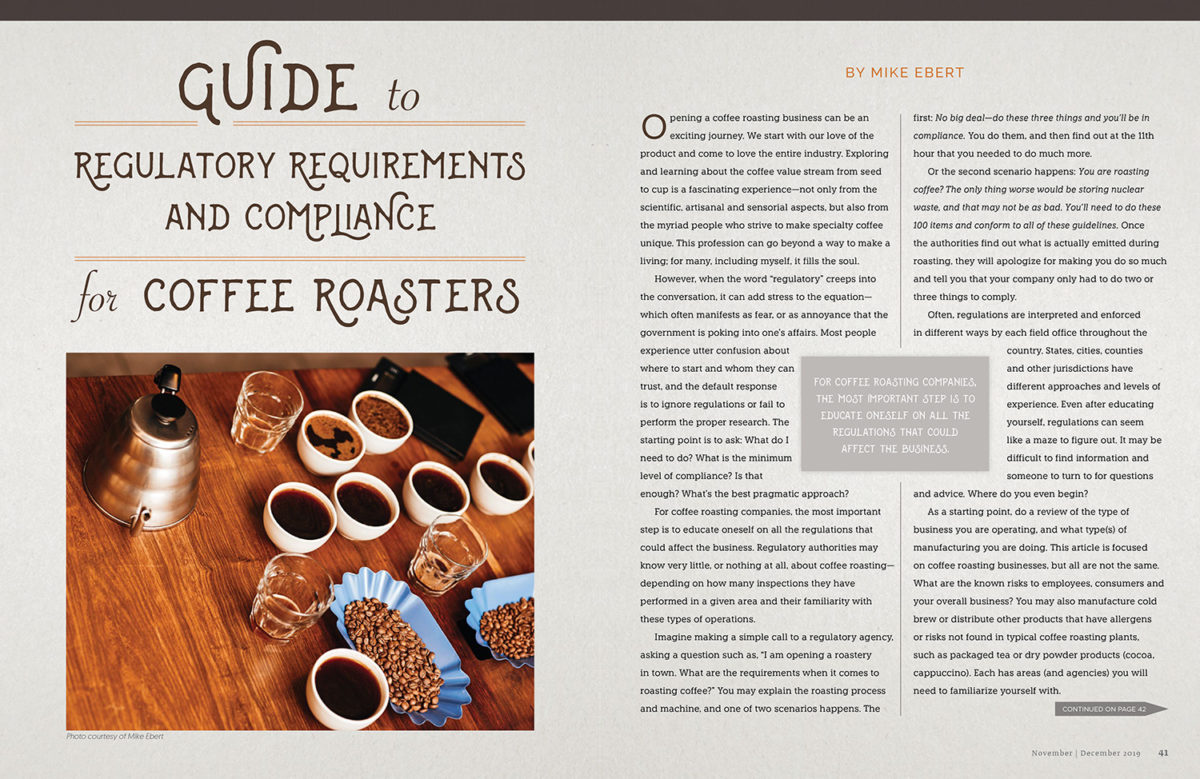 Coffee roasting companies must comply with many different regulations to ensure that they are keeping their employees and customers safe. In this issue of Roast, Mike Ebert of Firedancer Coffee Consultants breaks down the various requirements and provides an overview of each U.S. agency in a "Guide to Regulatory Requirements and Compliance for Coffee Roasters."
When researching regulations and developing a plan for compliance, reach out to as many people as possible for advice, input and consultation—particularly those in your jurisdiction who will be familiar with the local regulations. In all facets, make sure you are seeking advice from people who understand coffee. Agencies tend to take a one-size-fits-all approach to hazard identification and the required preventive control. The more you know about coffee manufacturing and the true hazards, the better luck you will have developing procedures and documentation that fit your company.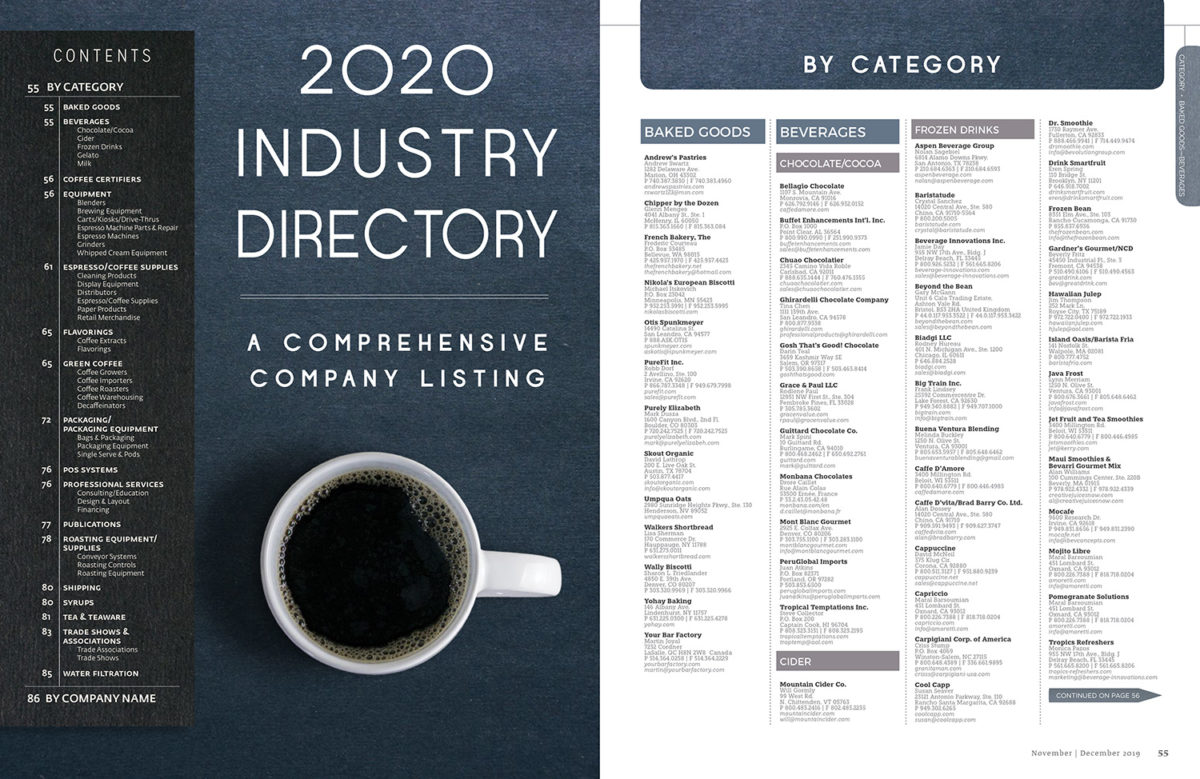 The November/December issue of Roast contains the publication's annual directory of coffee companies, green coffee suppliers, industry trade shows and associations, and other affiliated products and services.
Features
16th Annual Roaster of the Year Award

Micro Roaster of the Year: Mostra Coffee
Macro Roaster of the Year: Coffee By Design

Guide to Regulatory Requirements and Compliance for Coffee Roasters
2020 Industry Directory
By category and by company name
2004–2019 Roast magazine Article Index
By issue and by topic
Columns