A minimalist interior design with clean lines, white surfaces and a placid aural backdrop drawn from various indie music genres — it's a proven atmosphere for the successful service and delivery of specialty coffee. But does New York City really need more of it?
"I kept seeing the same tired aesthetic in so many shops. From a lifestyle perspective, it didn't resonate with me," Anthony Martini, the co-founder of Manhattan's Dripped Coffee recently told Daily Coffee News. "I was inspired to create something different."
Along with business partners and friends Will Doughty and Akim Rollock, Martini stepped distinctly away from specialty coffee's de rigueur Scandi sterility with rough brick, bright neon and a hip hop spirit for Dripped Coffee, which opened earlier this year.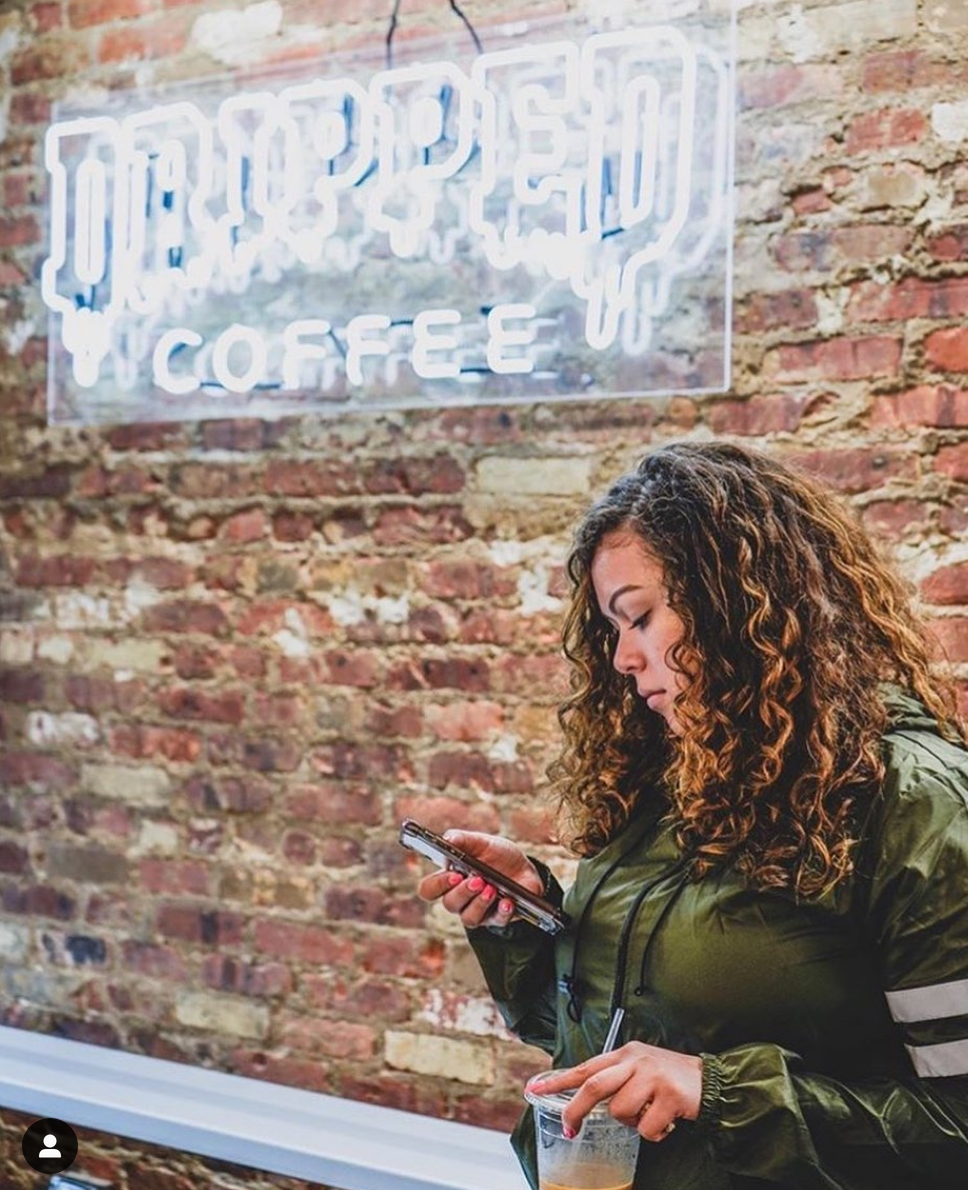 Having come of age during the heyday of 90s hip hop, Martini eventually went into the music business as a producer, opening Commission Records in NYC in 2015. While traveling for work, he was constantly looking for good coffee, even though many cafes didn't embody the style he grew up with.
Doughty and Rollock entered the picture with their own experience in marketing and branding for various hip hop, hospitality and lifestyle brand clients, including New York's Mikey Likes It Ice Cream and the chicken and waffles chain Sweet Chick, the latter of which happens to be co-owned by Brooklyn-born rapper Nas.
"I want to shake up the coffee scene in New York and beyond," Martini said of the partners' vision. "The idea for Dripped is authenticity. It's not due to a void in the market."
Inside the Dripped shop, a wooden block countertop is contrasted with the shine of black subway tiles that are a notable inversion of the white tile found in so many other cafes. Eschewing traditional cafe seating are several rows of raised bleachers that connote a basketball court-side excitement while also encouraging interaction among guests.
The hip hop references begin on the street level, where a quote painted on the shop's front window references Nas's 1994 classic "N.Y. State of Mind" with the line, "Never sleep because sleep is the cousin of death." A floor-to-ceiling graffiti mural brings one full wall to life opposite the bleachers that are positioned up against exposed brick from which an illuminated neon Dripped Coffee logo hangs. Hip hop spanning the past three decades plays perpetually throughout.
Brookyln's Stone Street Coffee has created a proprietary blend for the shop, while also helping to outfit it with equipment such as a single-group La Marzocco Linea adjacent a Wilbur Curtis batch brewer.
The menu features three main categories: Hot Coffee, Cold Coffee and Not Coffee. Under Hot Coffee, there are standard espresso-based drinks and single-origin coffees available in drip. There is also a rotating menu of seasonal drinks. One example is the Ultra Sauced Up Iced Latte, where chocolate sauce is drizzled around the cup and the milk foam before brown sugar is torched to caramelization.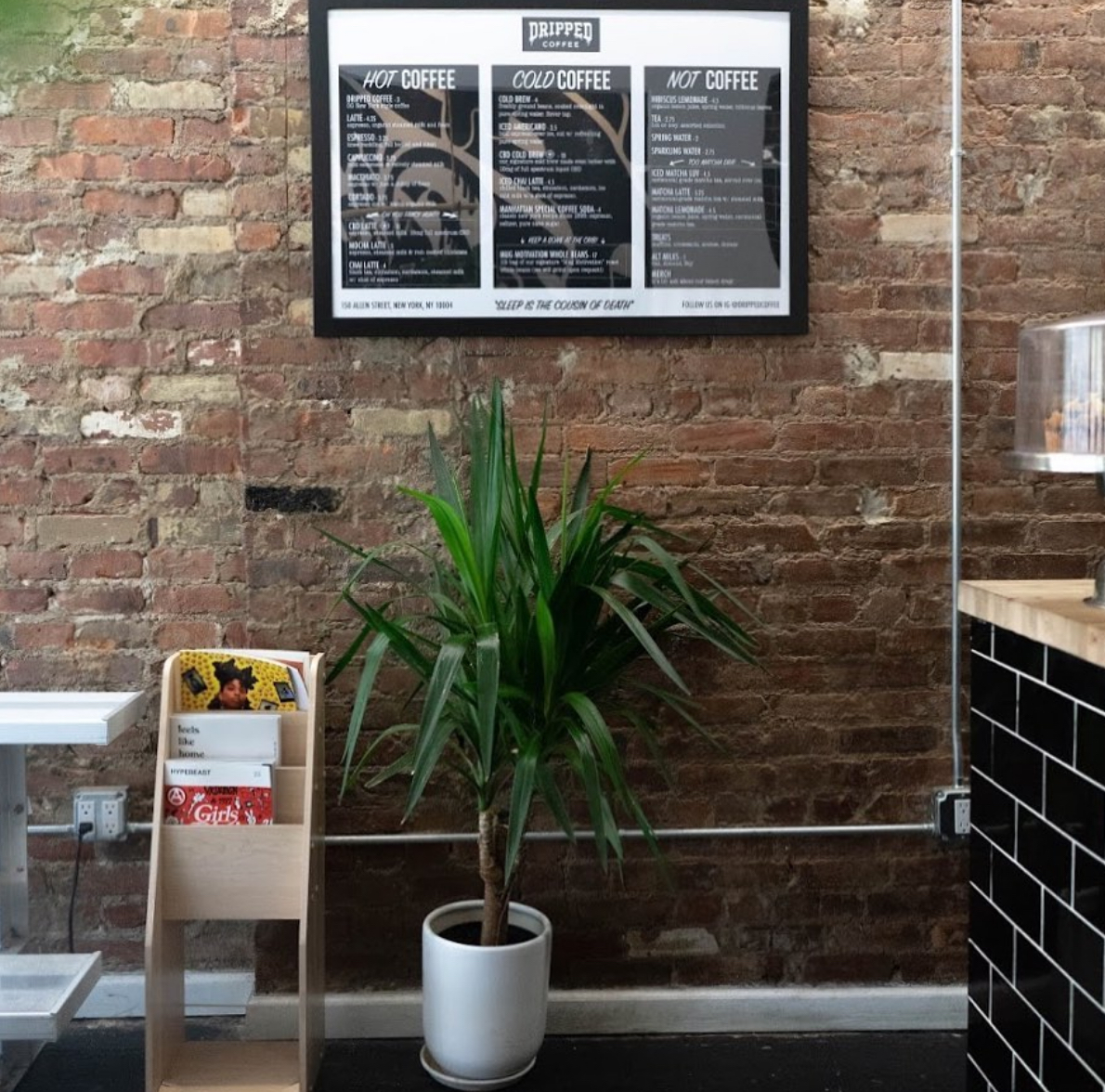 Cold Coffee mimics the core hot coffee menu, while offering additional selections such as a CBD-infused cold brew and the Manhattan Special, a coffee soda. The Not Coffee menu includes tea, matcha and lemonade. Additionally there is an option to add a shot of liquid CBD to any drink. Bottled beverages are available in the cooler next to the bar with cold brew for sale, labeled "Hustle in a Bottle."
While continuing to build the brand in New York, Martini said he hopes to expand the concept to Los Angeles and Atlanta in 2020.
"We don't want to come in and not consider the local vibe," Martini said. "And as we expand I want to keep the branding tight, but also incorporate local flavor in each shop."
Dripped Coffee is now open at 150 Allen St on Manhattan's Lower East Side. 
Craig Batory
Craig Batory is a writer, marketer and coffee professional working and living in Detroit.