The critical thinkers at Roastology Coffee have unveiled an expansive, 4,500-square-foot new home in Richmond, Virginia, in which to comfortably explore the sweet science of coffee.
"Coffee roasting is more than heating the beans until they're done, there's a science behind how you roast it and then brew it," Roastology Founder and Owner Dan Allen told Daily Coffee News. "We want to expand our presence in the Richmond coffee community by creating public and commercial training classes, cupping and roasting courses, and commercial equipment repair."
Within a converted warehouse building in The Fan District, roughly 700 square feet of space is dedicated to those pursuits, while the lion's share of the building houses the new Roastology cafe and kitchen. Head roaster and wholesale manager Mary Doerr told DCN that the company found inspiration for its new interior design when the staff traveled to Seattle together for the 2018 SCA Expo.
"During this trip, we all went to many of the local coffee shops and noticed that, regardless of aesthetic, they all shared a comfortable, inviting vibe," said Doerr. "Many of them also had partial walls or interior windows, so the customer could peak in on the roasting and production process. I loved that. To me, it was like a personal invitation to each customer to join in on the process of the coffee they are drinking at the very moment."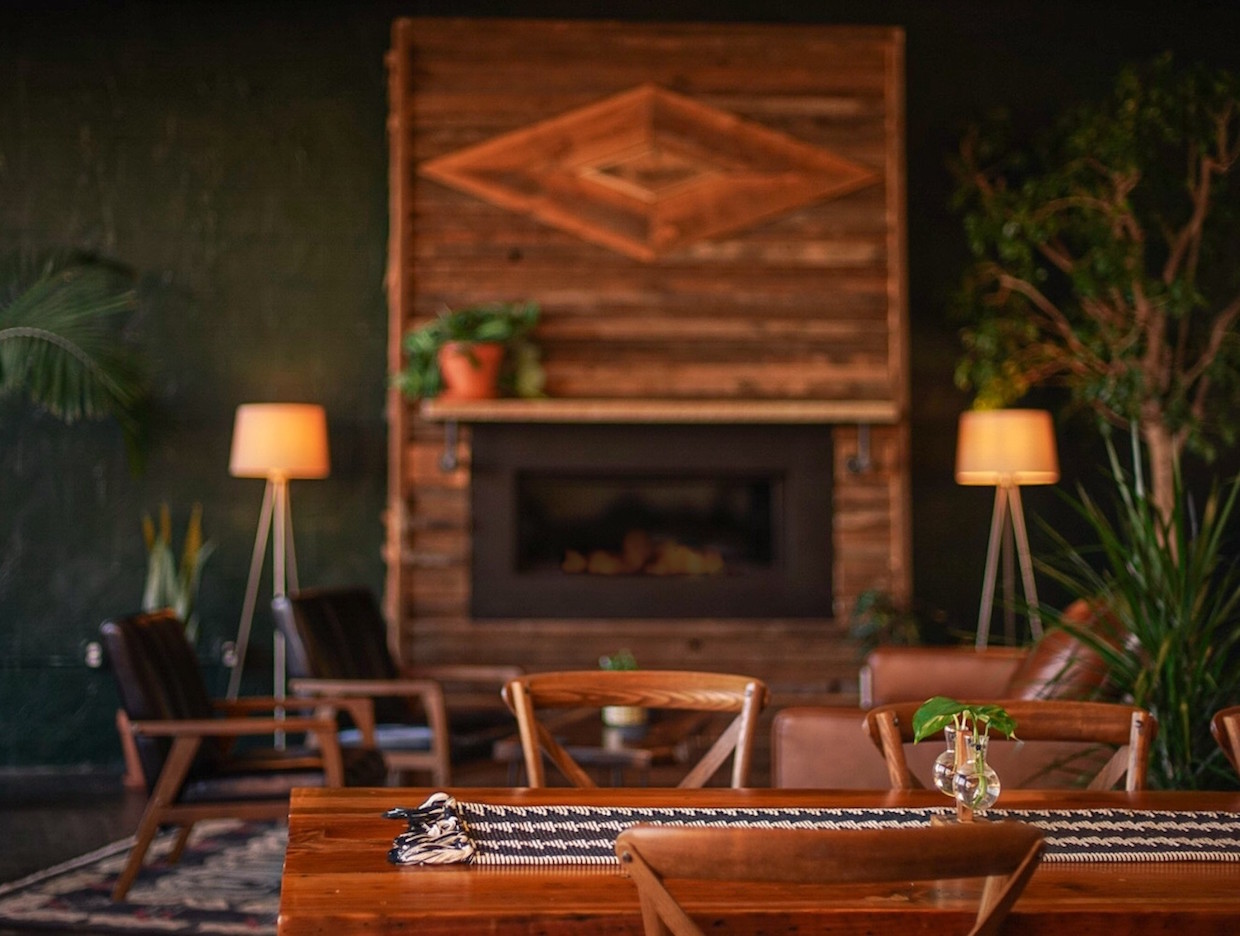 Doerr took that strategy into the forest of her imagination, emerging with a vision of woodsy colors and textures — greens, browns, blacks, varying wood surfaces and plants everywhere. She was also determined to incorporate a fireplace into the seating area after a visit to Seattle's Storyville Coffee.
"They have a beautiful fireplace where you can lounge on chaises and comfy chairs," said Doerr. "I had such a lovely experience relaxing there, and I wanted the coffee folks of Richmond to be able to enjoy something similar."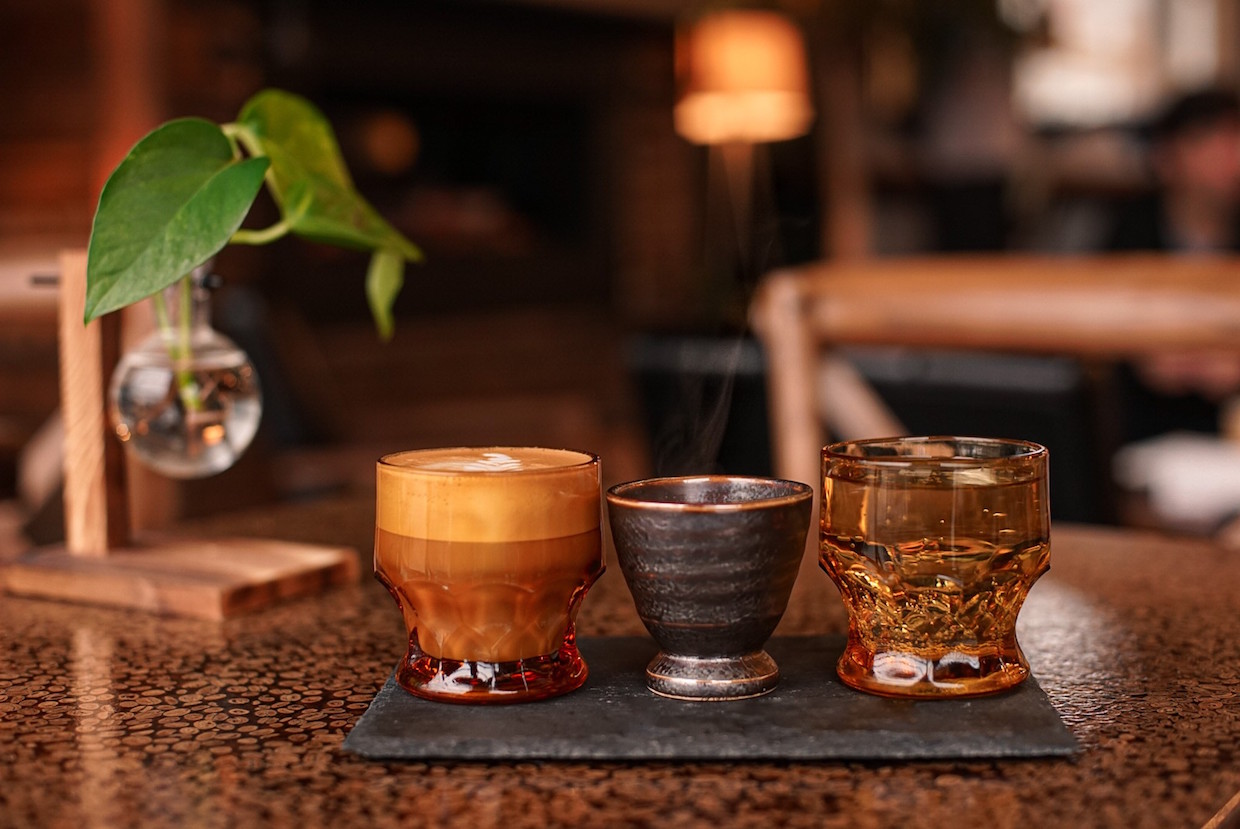 The espresso at Roastology, ground by Mahlkönig Vario K30 grinders prior to extraction on a 3-group Synesso Hydra machine, is featured in traditional drinks as well as some collaborative concoctions derived through a team effort. These include signature drinks such as The Grand, a vanilla cortado with winter spices, orange zest and chocolate bitters; and the Espresso Sunrise, a double espresso poured onto 2 ounces of orange juice, served chilled.
"We are always bouncing ideas off one another," said Doerr. "One of us will say, 'It should have citrus!' and the next one will say, 'What about a dash of bitters?' and so on. We always have a ton of fun with each other in and outside of work, so collaborating on something we love so much is always a part of the day we look forward to."
The distinctively equipped roastery occupying another 1,265 square feet of space in the new facility is centered around three roasters from Israeli manufacturer Coffee-Tech Engineering: Roastology's original Ghibli R15, a new Ghibli R30, and an FZ94 sample roaster.
"We've been so pleased with the R15 that we purchased the new model of the R30 to triple our production," said Allen. "Ram Evgi, the founder of Coffee-Tech, and his entire crew have been very supportive and great to work with."
Continued growth in its wholesale business is one item on Roastology's ongoing agenda, according to Allen, as is continued development of its educational and training programs and commercial equipment repair capabilities.
"We want to expand our presence in the Richmond coffee community," said Allen. "We want to continue the improvement of our knowledge and expertise in all aspects of specialty coffee."
Roastology is located at 2701 W Cary St in The Fan District in Richmond. 
Howard Bryman
Howard Bryman is the associate editor of Daily Coffee News by Roast Magazine. He is based in Portland, Oregon.