If ever there was a foil to the stark design aesthetic that swept over so many New York City cafes through the 2010s, it is Felix Roasting Co., a relatively new Midtown coffee oasis that eschews minimalism in favor of kaleidoscopic splendor.
With an elegant and elaborate drink menu to match its various interior spaces, Felix opened in September of 2018 before opening its latest project, a tasting room and training area called The Cellar, late last year.
The elaborate interior at Felix was the result of a team effort involving three co-owners and managing partners: coffee pro Reagan Petrehn, hotelier Matt Moinian, and San Francisco-based designer Ken Fulk. Petrehn, who is also a certified SCA trainer, had previously designed and opened 1900 Barker, a bakery and cafe that opened in Lawrence, Kansas in 2015.
Given the sheer scope of the interior design, the choices were aplenty, from the elaborately tiled flooring to the to-go cups. Petrehn said everything in the cafe was designed in-house by Fulk and his team with input coming from the Felix team. Said Petrehn, "We spent three months of picking materials and the colors of the floor."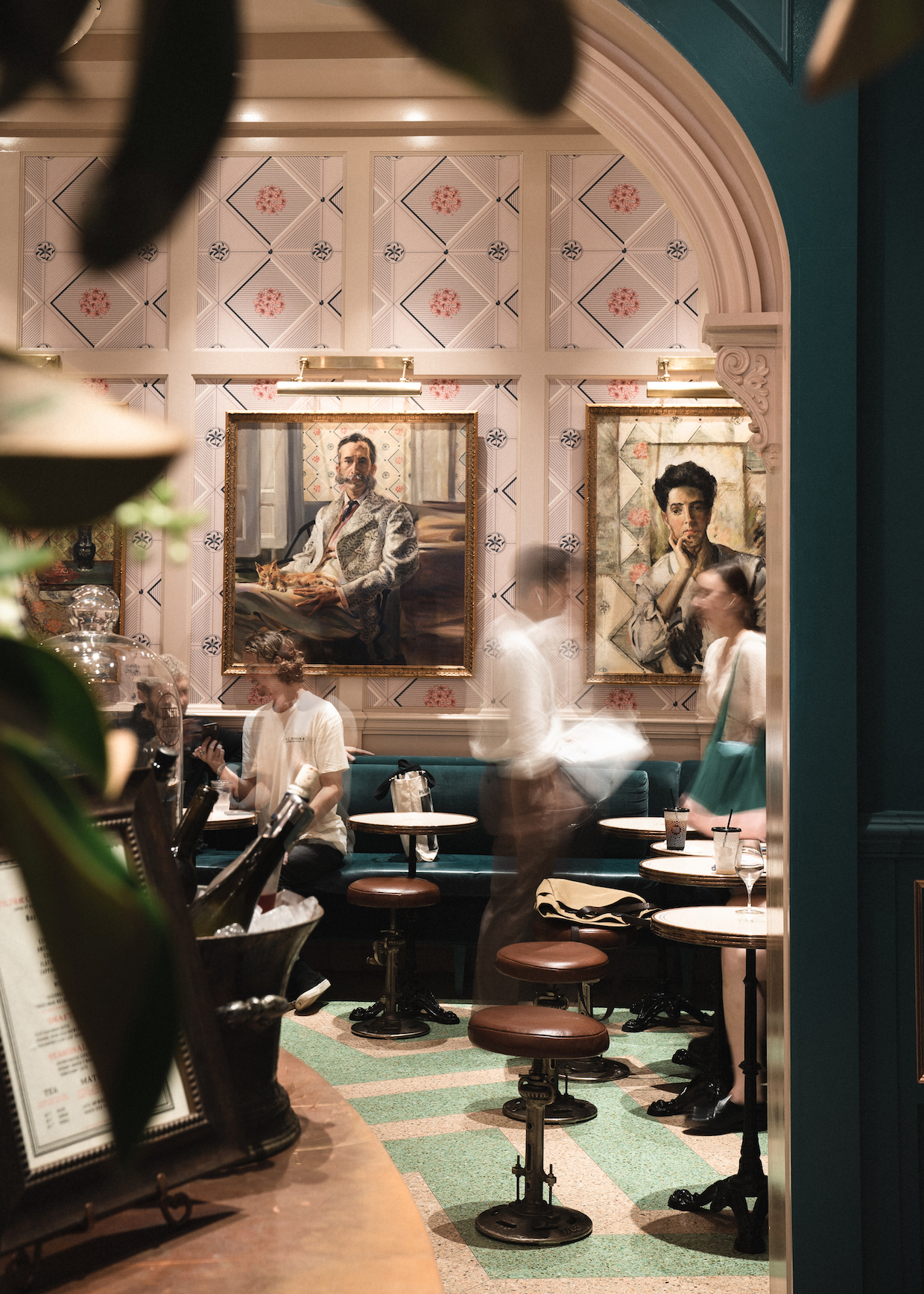 Custom-upholstered furniture throughout the shop offers various cozy seating options above a mesmerizing starburst terrazzo tiled floor. Antique-looking paintings created by the Manhattan creative firm Boyd Reath stand out from the dozens of dashing wallpaper choices throughout the main upstairs area, comprising a front room with a circular wood-paneled coffee bar, and a larger seating area.
"Everything is completely bespoke for the cafe," Petrehn said. "And everything in the cafe you see is brand new. We came into a non-used space, demoed it, turned it into a white box, then built out the cafe."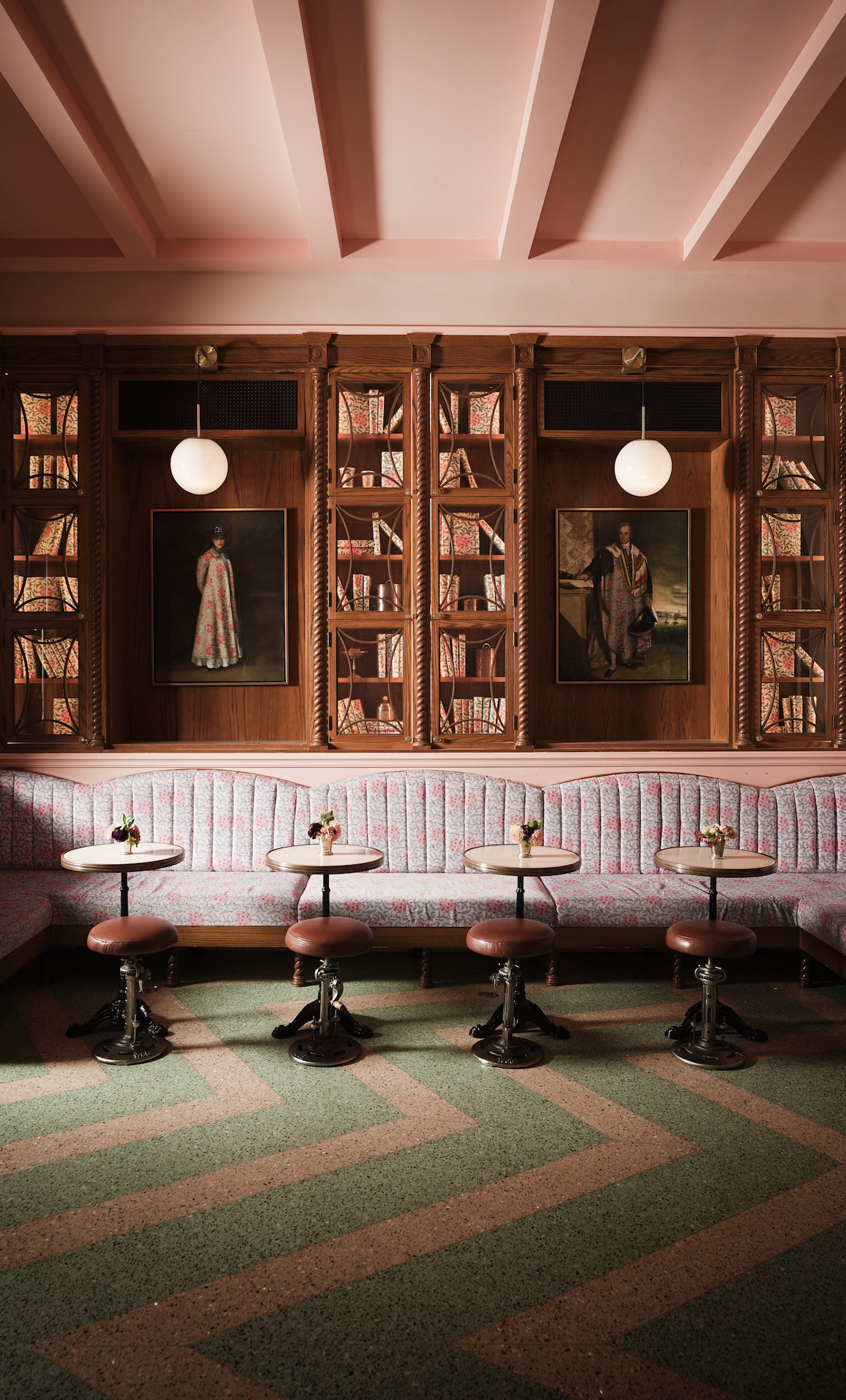 A La Marzocco espresso machine atop the main bar was customized with a Farrow & Ball color called "Setting Plaster" by Brooklyn-based espresso equipment and service company Liemco. It is fed by Mazzer Kold and EK43 grinders. There is also a single copper-plated Modbar AV group head and steam wand used for single-origin espresso, accompanied by a similarly copper-plated Marco Uber boiler. A standard espresso menu incorporates a seasonally rotating blend, while various blends or single-origins make their way into the shop's Fetco batch brew setup.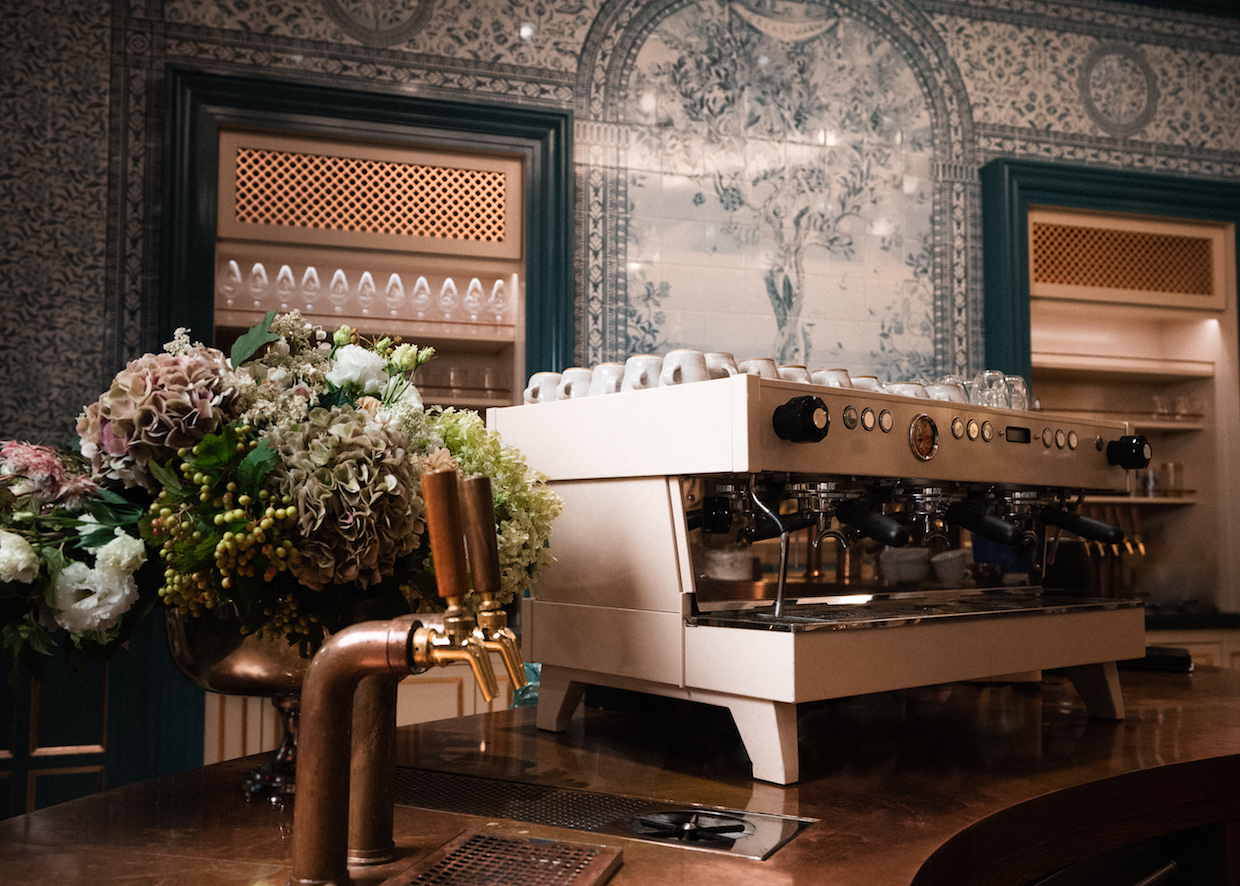 Beyond the basics, specialty drinks at Felix reflect the shop's luxurious feel and meticulous attention to each small element comprising the whole. At the time of this interview, specialty drinks included an espresso tonic combined with an herbal garnish, rosewater spritz, and a Campari reduction. There was also a smoked s'mores latte, comprised of graham cracker-infused milk, a shot of espresso, dark chocolate sauce and a topping of house-made marshmallow. The latte is then placed under a glass bell and smoked with hickory wood chips for a visually stunning presentation.
The principal ingredient for all these concoctions comes all the way from Houston, Texas, where another partner in the venture, Fresh Brew Group CEO Al Ansari, leads Felix's roasting operation. As the Felix team sources coffees, Ansari sends them through his 12-kilo Proabt before coordinating their shipment up to New York.
"Green coffee is delivered to Houston, which lowers our overhead and allows us to focus primarily on the cafe experience," explained Petrehn. "The cost of rent in Houston is much more reasonable than New York, so having our roasting facility down there takes a huge weight off of our shoulders; and logistically it hasn't been difficult."
Presently, the Felix coffee selection includes a washed and natural Catuai from renowned Panamanian estate Hacienda La Esmeralda, as well as an experimental natural-process coffee from producer Elgar Ramirez in Huila, Colombia, as well as Ethiopian coffees sourced through Catalyst Trade.
"Most of our coffee is roasted medium," Petrehn said of the end result. "We're trying to emphasize a profile that brings out the sweetness and balance for our customers."
The latest addition to the New York cafe is the Felix Cellar, which serves as a tasting room and training facility. There is a dual Modbar set up, with the copper groupheads and steam wands strategically facing away from one another for events and competitions.
"It's designed for Latte Art throwdowns and private tastings," explained Petrehn. There's a chandelier that overhangs a long, green table above a chevron-tiled floor. Each room is surrounded by green-subway-tiled walls and high arching doorways.
"We really just wanted to do something different than the minimal Scandanavian design you see everywhere, which is beautiful and legitimate in its own right," said Petrehn. "We just wanted to throw a wrench in that trend and see what we could do differently with Felix."
Felix Roasting Co. is located at 450 Park Avenue South in Midtown Manhattan. 
[Editor's note: This story has been updated to provide more detail on Felix's coffee sourcing operation, its coffee equipment and the shop's design.]
Craig Batory
Craig Batory is a writer, marketer and coffee professional working and living in Detroit.