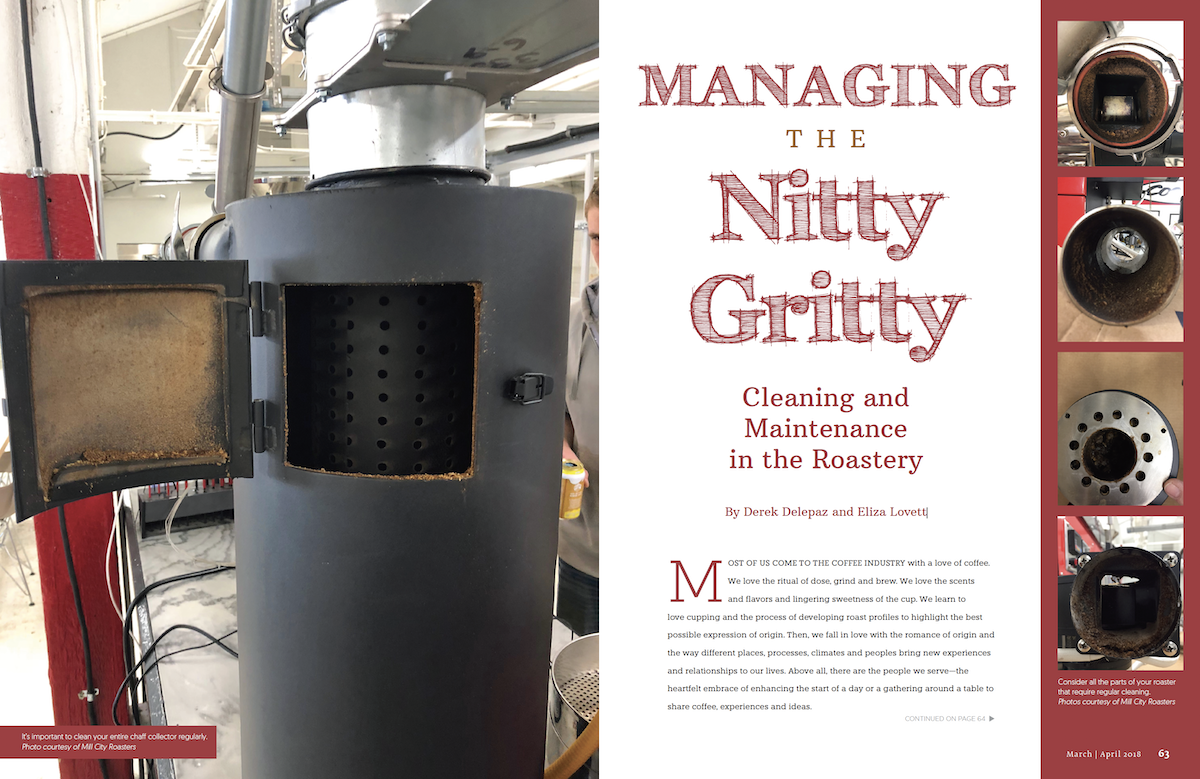 (Editor's note: This article written by Derek Delepaz and Eliza Lovett originally appeared in the March/April 2018 issue of Roast magazine.)
Most of us come to the coffee industry with a love of coffee. We love the ritual of dose, grind and brew. We love the scents and flavors and lingering sweetness of the cup. We learn to love cupping and the process of developing roast profiles to highlight the best possible expression of origin. Then, we fall in love with the romance of origin and the way different places, processes, climates and peoples bring new experiences and relationships to our lives. Above all, there are the people we serve — the heartfelt embrace of enhancing the start of a day or a gathering around a table to share coffee, experiences and ideas.
Behind all that, there's the actual work of roasting — frequently dusty, smoky, and occasionally repetitious, batch after batch, bag after bag. Like it or not, the title "roastmaster" involves all the additional work you have to do in order to do the things you love. A big part of that is cleaning your roastery and maintaining your equipment.
Creating a Plan
Simple planning can make cleaning and maintenance easier, and the earlier you begin planning, the better. The first variable is real estate. Foot traffic is great for a coffee shop, but production roasting in densely populated areas can force you to use complex and expensive odor and emission mitigation systems that occupy space and require additional attention. Think about egress and ingress for delivery trucks and movement of pallets of coffee. Before you sign a lease, think about roaster exhaust, back pressure, makeup air, duct layout and cleaning, what your neighbors think about smoke and chaff, and what kind of a job you are creating for your chimney sweep.
Adequate square footage is essential. Wedging your roaster into a tiny space may initially make sense financially, but roasters and ducting can be hot, and operating industrial production machinery in compact spaces frequently makes operation, maintenance and cleaning more difficult and possibly even unsafe. Spilled green and roasted coffee underfoot creates the potential for slips and falls. Hot steel surfaces and rotating drums and cooling trays are not gentle places to catch yourself or land and, more specifically, the Occupational Safety and Health Administration (OSHA) has established clear regulations regarding the safety of your workplace.
Your business involves much more than simply roasting delicious coffee. Give yourself room to work.
Developing Standard Operating Procedures
Michael Ebert, owner of Chicago-based Firedancer Coffee Consultants, refers to the "holy trinity of risk management" — employee safety, food safety and quality. "They all feed into each other," says Ebert, a certified Preventive Controls Qualified Individual (PCQI) and lead trainer for food safety.
In order to maintain quality, cleanliness and physical safety, you must develop separate sets of standard operating procedures (SOPs) and audit systems
for each operational area. This becomes essential as your roastery grows and you hire new employees. As the coffee industry has proven time and again, you never know when you'll hit the jackpot and go from 100 pounds per week to more than 1,000. Ebert suggests establishing and implementing systems before it's too late.
While the health inspector will come to the cafe, your roastery will have to comply with different standards and regulations. Having separate standards and plans for each branch of the trinity will not only help you maintain high standards, in many cases it's required by law.
"You should build each plan separately, for the FDA [Food and Drug Administration] doesn't care if your product tastes good or if employees lose an arm, just if your product will hurt the consumer," says Ebert. "If you have other elements in any of these plans, it could show you don't know what you are doing."
Ebert is adamant about creating these processes when your roastery is still small, because by the time the business takes off, it's required. He suggests beginning with your company mission, business goals, SOPs, training and documentation. Usable documentation of your policies, procedures and forms is necessary to ensure your company's expert knowledge is retained, processes and procedures continue to be performed properly, and you can provide regulatory agencies with information regarding the conditions under which a specific product was created.
When implementing these plans, Ebert focuses on in-house audits, which will help you understand what tasks are being performed regularly and what is getting overlooked. Internal audits also can help you spot holes in production maintenance and standards throughout your operation, and will keep consumers and employees safer.
Food Safety
Coffee is a food product. People consume it. Back in the day, we brewed coffee at temperatures high enough to constitute a kill stage, meaning potentially harmful bacteria were destroyed in the brewing process. This made coffee a "low-risk" food product. The growing popularity of cold-brew and green coffee consumption has changed the way regulatory agencies view and regulate production. When planning your roastery, know that typical food processing facility standards apply. This includes complying with the standards included in the Food Safety Modernization Act (FSMA) — and keeping up with changes to the regulations as they occur.
Meeting food safety standards can seem daunting. Start with making a list of all the surfaces your coffee touches, known as "coffee contact surfaces." Even light-roasted coffee contains oils that will transfer to surfaces and quickly go rancid. Sanitize all roasted coffee contact surfaces — such as scoops, measuring receptacles, bins, counters and scales — daily. While sanitizing, don't forget to wipe down the greens hopper and cooling tray of the roaster with a mixture of bleach and water. Simple household cleaning products are not sufficient.
Consider your procedures for handling coffee. Keeping hair out of coffee is important; that means mandatory hats or hair nets and, for those with facial hair, beard nets. Good Manufacturing Practices (GMPs) are outlined by FSMA and dictate that you must have a documented program outlining your GMPs for both employees and visitors. These practices must include policies about removal of jewelry, appropriate clothing, and removal of loose objects to ensure both employee and food safety. Policies about where and when food can be consumed and a documented training program are just some of the GMPs outlined by the act. Your plan should begin with reviewing FSMA regulations. Next, you must register your facility and figure out how you will self-audit as prescribed by the act.
For more information about FSMA and other food-safety regulations, visit fda.gov/Food/GuidanceRegulation/FSMA.
Employee Safety
Employee and human safety is inextricably linked to the other branches of Ebert's trinity. Without physical safety standards, how can food safety and product quality be maintained? Rules must be established about who can enter the roastery, and visitors must adhere to the standards you set as well. Creating systems of accountability and traceability can save you from a lawsuit down the line. These safety standards range from simple protocols such as hand-washing standards to rules for what can be handled by employees and visitors, including touching equipment.
Making plans and adhering to established protocols for employee safety, while not necessarily directly impacting the quality of your coffee, can be the difference between a successful roastery and one that fails. Safety plans are also required by OSHA. These should be the first plans you establish and review with employees before setting foot in the roastery, and have your employees sign documents verifying that they have read and understand them.
For the health and safety of your staff, proper interior ventilation and air quality is mandatory. Common contaminants include green coffee dust, roasted coffee chaff, and even fumes from aggressive non-food-safe cleaning agents. That's not to say your daily routine needs to include donning "Mission to Mars"-worthy personal protective equipment — not yet, anyway. For the majority of tasks, a face mask will do, but more thorough protection is necessary when employees come into contact with large amounts of contaminants, such as on major roaster cleaning days.
Be aware that coffee dust is a known allergen, and allergies can develop from exposure over time, so adequate protection is essential. Use respiratory face masks while moving green or grinding freshly roasted coffee. Ventilators to protect against diacetyl contamination for roasters and for flavoring areas are not yet required by OSHA, but many believe those standards will change in the not-too-distant future; ventilation standards already are enforced in Europe. If you don't have protocols to remove dust, the detrimental health effects undoubtedly will impede productivity, worker satisfaction and overall efficiency. If your employees are unable to function, so are you.
To learn more about employee safety regulations, visit osha.gov.
Preventative Maintenance Procedures
Cleaning the physical space of your roastery includes daily sweeping and mopping, wiping down surfaces, and vacuuming out the cyclone and chaff tray. Remember, chaff collectors often contain hot embers. Prior to vacuuming, make it a habit to spray the chaff with water, or invest in a heat-resistant metal ash vacuum. Once a week, go further into your space and wipe down walls; clean any floor drains, the tri-sink, the hand-washing sink and the mop sink; generally tidy up green and roasted storage and processing areas; and disassemble and deep clean the cooling tray.
As roasters, flame as a heat source is our best friend, but like a horrible houseguest, unwanted flame quickly can become a serious problem. Chaff, dust and creosote are all potentially flammable. Despite your best cleaning and maintenance efforts, thermal events will happen — like when your electricity fails coming into first crack and the coffee burns, sitting motionless on the bottom of the hot drum. Plan and document your "immediate actions" in advance. In addition to routine cleaning, install and maintain fire extinguishers between the roaster and the exits, and make sure your facility is prepared for the worst.
Coffee dust, condensed coffee oil and chaff accumulate and build up in ductwork. This blockage reduces airflow such that minor accretion can quickly cascade into major problems. Reduced airflow decreases heat transfer to the coffee and increases chaff buildup, creating inconsistent airflow and risk of fire. Modular venting that is easily disassembled without tools can make maintenance easier and reduce the likelihood of fire. It also reassembles easily enough that, as your business grows, you can move your entire roasting operation without having to completely rethink venting.
How frequently you'll need to clean your venting and all its components will depend on a host of variables, including roast level, how much and how often you roast and, of course, the type of roaster and venting. Anything more than about one-eighth-inch buildup on internal fan and ductwork surfaces should be removed immediately. Initially, a monthly venting inspection will help you determine an efficient schedule.
The best time to develop your roaster and facility maintenance plan is right after your first roaster cleaning. The first day after cleaning will be the beginning of your maintenance cycle. You can track the buildup in your machine daily and/or weekly to determine the exact amount of hours/roasts between cleanings. Not all duct work will build up creosote at the same rate. You'll need to find the place or places where buildup occurs most quickly; that location will set the pace. When that location is in need of cleaning, clean your roaster completely.
An infrared thermometer can help you fine-tune your cleaning schedule. Choose six spots on your machine, two of them motors, to measure weekly, and document your findings. (Be sure to take measurements at a consistent time, such as right after the first or last roast of the day.) Temperature increases indicate areas where buildup has occurred. This is especially helpful on large roasting machines with massive ductwork, as it allows you to monitor the system without taking it apart for a visual inspection. Staying on top of your cleaning cycle will improve overall cup quality, limit fire risk, and extend the life of your roaster's parts.
Keep in mind that you'll need a reliable source of consumable parts. Stocking a couple of extra bearings, couplers, O-rings and fuses can save you a lot of stress and, more importantly, minimize machine downtime. You'll also need appropriate cleaning tools, including a broad array of scrapers, brushes, power tools and vacuums. Once the roaster is clean, it's crucial to lubricate moving parts (like bearings) with a high-drop-point grease. The high drop point (at least 500 degrees F) is essential, as it prevents grease from dripping into your beautifully roasted coffee. It's difficult to say exactly how often to grease bearings: If you wait until you hear the bearings rub, it's too late, but over-lubricating can cause the bearings to fail. Consult the manufacturer's suggestion and inspect your bearings every time you turn the roaster on. You'll soon have a feel for how often they need attention.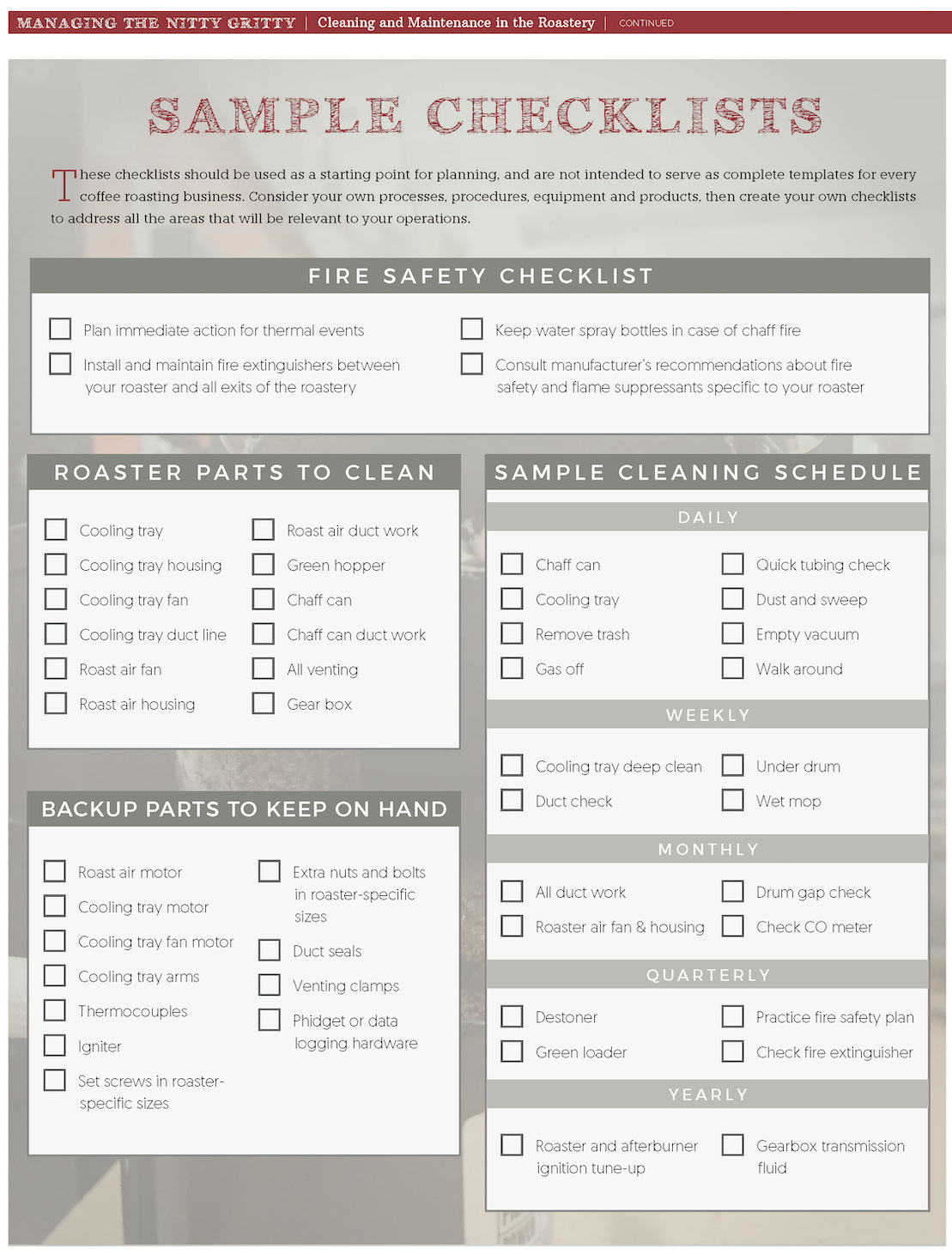 The Bottom Line
An organized, clean roastery with conscientious, well-trained employees runs like a well-oiled machine. Create a maintenance plan and stick to it. Document daily, weekly, monthly and quarterly tasks. The consistency and quality of your coffee depends inextricably on upholding your standards and procedures. Rules and procedures to ensure employee safety should be in place before you open your doors. Whether it's keeping them safe from green coffee dust or the dangers of industrial machinery, it is your responsibility as a business owner to make sure all potential hazards are accounted for and addressed.
Instituting plans, procedures and standards also makes it easier — and safer — to grow your company.
---
Derek Delepaz is lead instructor and greens buyer for Mill City Roasters in Minneapolis. Starting his career with formal culinary training, Delapaz is a certified lead instructor for the Specialty Coffee Association and has worked as a production roaster and coffee quality research and development manager.
Eliza Lovett has worked in the specialty coffee industry since 2007. A former educator at Mill City, Lovett works with Congruent Services as a coffee technician in the Denver area, supporting baristas and their equipment.