Santa Clara, California-based Voyager Craft Coffee has boldly ventured forward  this month, opening its third retail location.
While the new shop is currently limited to walk-up business due to social-distancing restrictions, its opening was made possible by direct donations from the local community in order for employees to prepare coffee and pastries inside the beautiful new space, which someday will be fully presented to the public.
"Life is incredibly complicated right now, but we are so jazzed about this third shop," Voyager Co-Owner Lauren Burns told Daily Coffee News. "It's by far our most ambitious one yet, and also definitely our prettiest."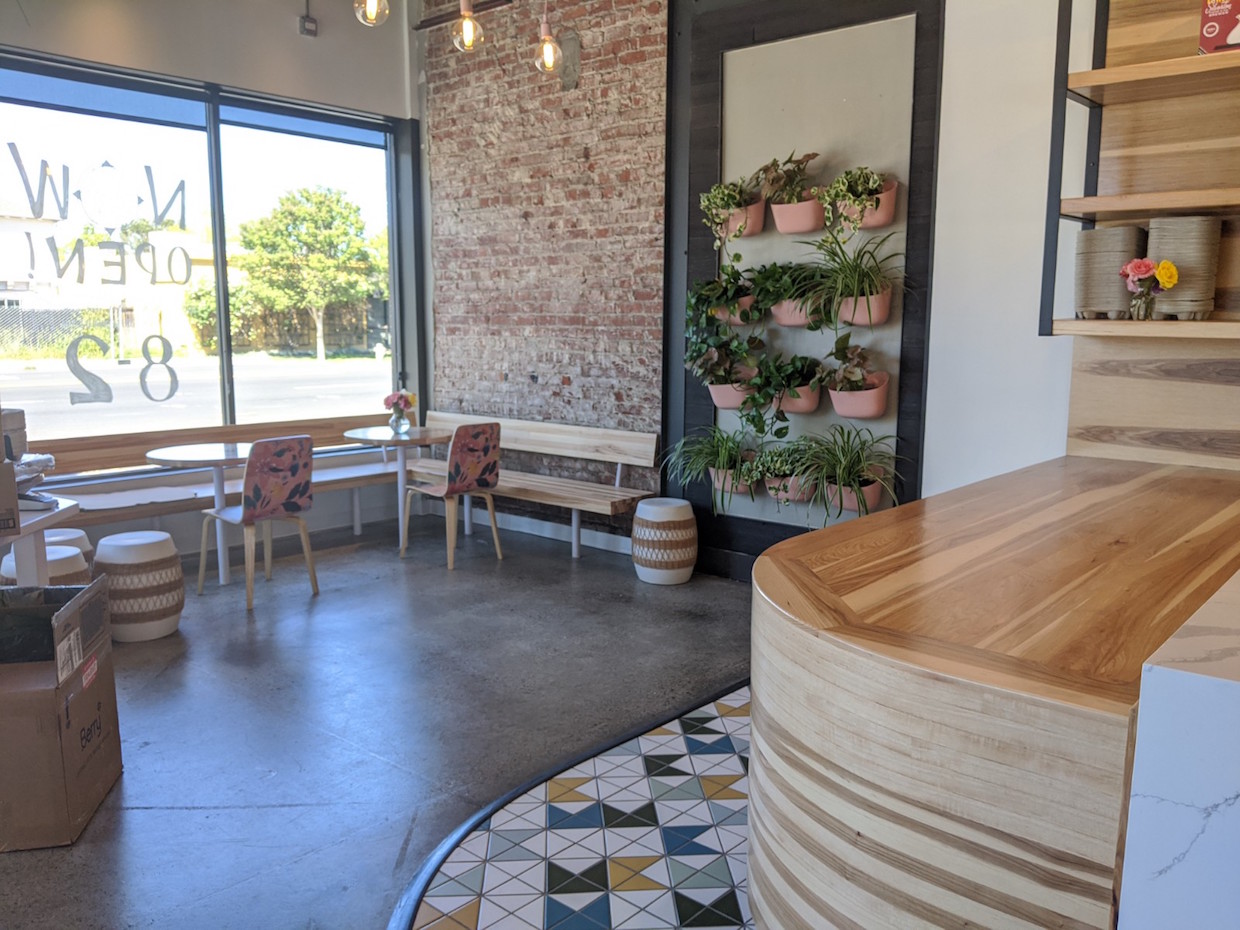 Buildout within the new space on The Alameda just off the Santa Clara University campus took roughly eight months to complete. Custom woodwork around the shop includes a curved bar that connects to the waterfall edge of the main bar, and bench and table seating.
Above the white quartz service bar, a pattern of pinks emerges with a 3-group La Marzocco Strada MP espresso machine, matching pink hickory tables, pink chairs, and pink ceramics. The Strada is paired with a fleet of Mazzer Robur grinders alongside a Mahlkönig EK43 that grinds for Fetco batch brews.
"Our manager, Melanie, wanted this color; we made it happen," said Burns. "This [location] makes us smile every time we look at it."
While a quick trip to a local coffee shop, or to the curb outside of one as the case may be, can feel like an epic voyage nowadays, it is fortunately still one that many customers have been willing to make to the original location of Voyager Craft Coffee, which has laid off only 10% of its workers amid the coronavirus downturn and still does relatively good business, according to Burns.
The roasting company's second coffee shop, inside a mall in San Jose, has been temporarily closed in support of social distancing recommendations.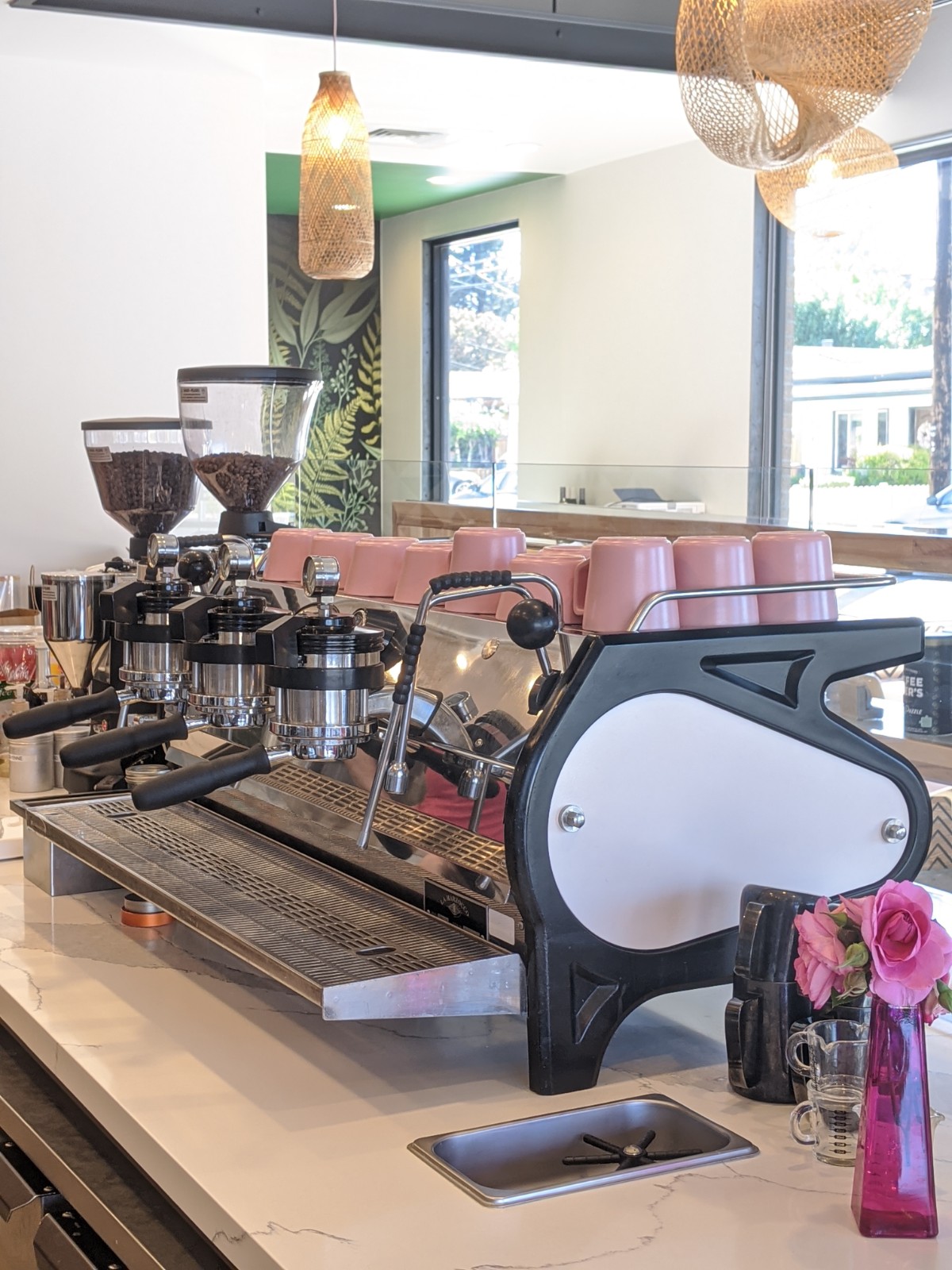 On April 11, Voyager launched a GoFundMe campaign, announcing a commitment that for every $10,000 raised, the company would be able to afford 100+ hours of labor every week at the new location, making possible 100 cold brew coffees and 100 pastries every day for 30 days.
The cold brew and pastries are then donated to healthcare workers and others on the front lines of the COVID-19 response, including nursing home staff. A strong and fast response has led to more than $13,000, as the company has raised the goal to $15,000.
"Once we advertised the GoFundMe, we were inundated with calls from new nursing homes, long-term care centers, clinics and hospitals," said Burns. "We aren't turning anyone away. So, we've already upped our numbers to close to 150 coffees and pastries every day, which is what the $15K will help subsidize."
Burns said that even with the higher-than-expected return from the GoFundMe campaign, it doesn't actually cover the entire cost of the labor, coffee, pastries and delivery. But for the good that it does for Voyager and for front line workers, they're content to continue down the path.
"We're doing this since it's a worthwhile effort, and it's forced us to open our Alameda location, as that serves as our base to make this all work," said Burns. "We actually weren't going to open the Alameda independent of this campaign. So, in many ways, while this campaign is a bit of a loss leader, it's allowed us to officially add to our Voyager progeny, and so that automatically makes it worth it."
The new Voyager Craft Coffee bar is located at 2221 The Alameda, Santa Clara.
Howard Bryman
Howard Bryman is the associate editor of Daily Coffee News by Roast Magazine. He is based in Portland, Oregon.