Sightglass owners Jerad and Justin Morrison's hard work with a talented new staff in opening an expansive and attractive roastery and restaurant location in Los Angeles has at last come to fruition — though not at all as first envisioned.
Because of COVID-19 restrictions and the demands of local customers, the San Francisco-based coffee roasting and retail company's first location outside of the Bay Area has, for now, morphed from its original concept into Sightglass Provisions, a retail hub offering a range of local produce, pantry items, prepared foods, in-house baked goods, meats and dairy products.
In addition to a curated selection of beer and wine that's also currently available for takeout, the shop will also of course be offering a wide selection of fresh-roasted Sigthglass coffees, with walk-up drinks service beginning next week.
Located in Hollywood's Sycamore Media Arts District, the 12,300-square-foot Sightglass Los Angeles roastery cafe also includes a cold brewery and an on-site training lab, the latter of which remains at the ready for when other businesses reopen.
The new location did open for a minute in mid-March, with two separate bars — one for quick, to-go service, and the other for guests settling in.
Both bars feature 2-group Kees van der Westen espresso machines and Mazzer Kold S grinders for espresso-based drinks. Drip brews issued in larger batches from a Wilbur Curtis system while manual filter brews were performed using Modbar pourover modules.
That first week saw the company pivot to a curbside service model only to close entirely once again a short time later. The company told DCN this equipment and layout will remain unchanged throughout the Sightglass Provisions period.
The brothers Morrison enlisted chef Brett Cooper to oversee a menu that what was originally slated to include casual breakfast, lunch and dinner offerings designed to complement the company's shifting single-origin coffee selection. Cooper and executive pastry chef Jillian Bartolome remain at the helm of production of prepared foods, breads, sweets and pastries, with updates on new offerings available to patrons via a dedicated Sightglass Provisions Instagram account.
Sightglass Cold, the company's proprietary take on flash-chilled cold coffee made on custom equipment in a facility in the Mission District in San Francisco, is also available.
Meanwhile in Hollywood, awaiting the pitter patter of eventual new customers is the crimson concrete floor of the shop's entryway, which opens up to an airy environment designed by Bay Area-based architect Seth Boor to invoke the detail-oriented yet relaxed communal cafes of Europe.
Light fixtures recalling those on the Golden Gate Bridge will complement the glow from reading lamps on the long communal library tables that constitute the majority of interior seating, from which customers will be able to view the working roastery.
Providing additional space will be the exterior patio, which is awash in plant life, including fig, papaya and citrus trees soaking in the Hollywood sunshine.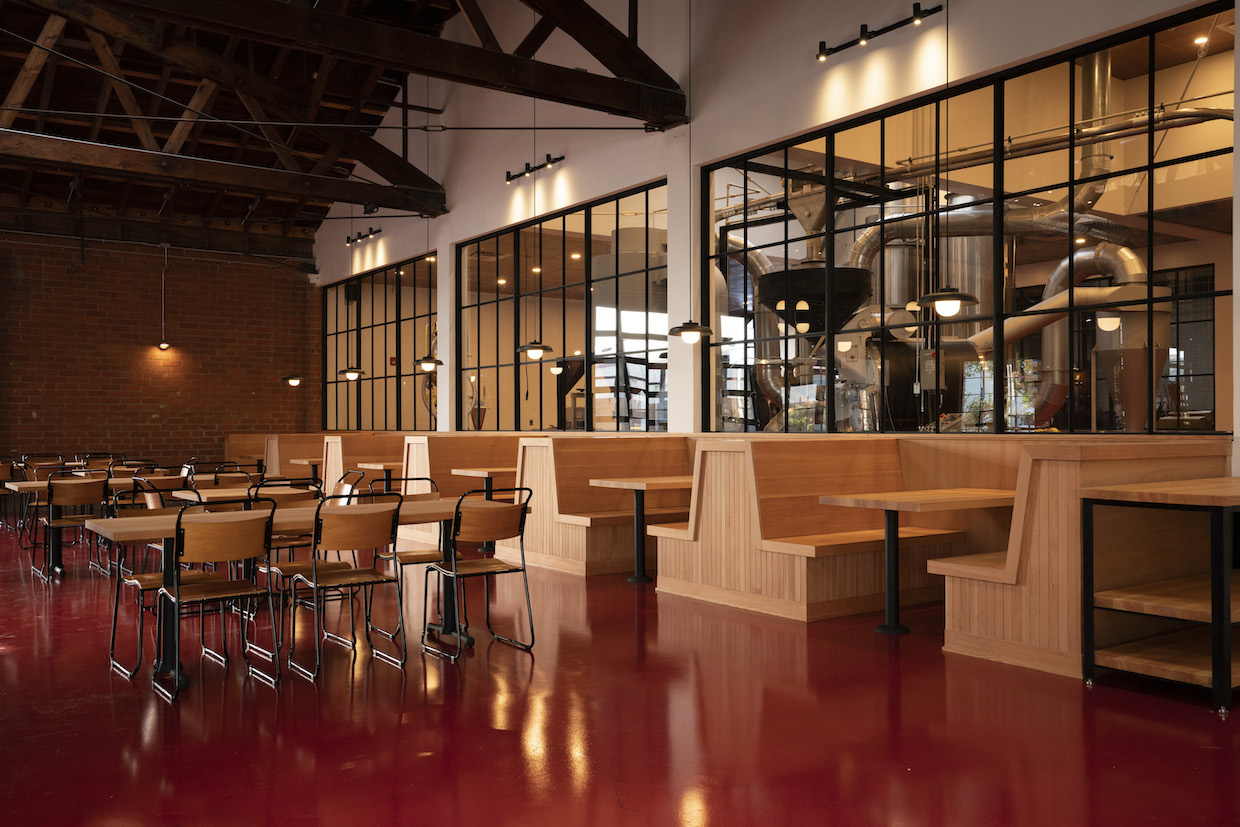 Dual mid-century Probat roasters, a UG22 and a G90, form the heart of the new L.A. roastery, with Sightglass Director of Coffee Joseph Towery at the helm. Towery will oversee a green coffee and roasting operation that takes advantage of some technological advancements, including a Chain-vey conveyor system to load greens into roasters, followed by a pneumatic weigh-and-fill system and a continuous band sealer to finish off the packaging.
"We foresee that these additions will help to support a considerate and accommodating workspace for our team of roasters," Justin Morrison told DCN in March. "The 22-kilo is the same machine that we founded our roasting operations on in San Francisco. [It's] a remarkable machine that is still in use daily, and we're fortunate to have another one in Los Angeles to continue the legacy."
The LA roastery and training facility will also support Sightglass' ambitions on the Southern California wholesale market, where the company hopes to resume and then build upon established relationships with various stores, restaurants and cafes.
Said Jerad Morrison, "Right now we are really focused on the Hollywood community where we're opening and how we can support and become part of this neighborhood."
For now, customers can pre-order goods from Sightglass Provisions using the company's Tock site. Orders can be placed Tuesday through Saturday, between 2-10 p.m. for next day pick-up or delivery within a 2.5-mile radius.
Sightglass Los Angeles reopened as Sightglass Provisions this week at 7051 West Willoughby Ave.
Howard Bryman
Howard Bryman is the associate editor of Daily Coffee News by Roast Magazine. He is based in Portland, Oregon.