Two well-loved Denver specialty coffee companies, Huckleberry Roasters and Commonwealth Coffee, quietly merged late last year. The result is a single more resilient entity whose stronger social and financial resources are now helping it survive the pandemic.
Huckleberry Owner Koan Goedman and Commonwealth Co-Founder Jason Farrar made the announcement via social media just a few weeks ago regarding the official merger, which has actually been complete since October 2019.
Farrar told Daily Coffee News that while it was a complex decision to make, the Commonwealth brand is the one being retired as the new single company moves forward under the existing Huckleberry name.
"Obviously, we both had worked hard to establish brands that were engaging and represented ourselves and our products uniquely," said Farrar. "However, Commonwealth had undergone lots of change in the past few years, and prior to the talks really moving forward with Koan, I was planning on some changes in-house anyway. Ultimately, I really love what Koan has built over the years and thought it was best/easiest to move forward with Huck as the brand."
Inspiration for the merger came from Farrar and Goedman's observations of similar moves made in the craft beer industry.
"Obviously the beer industry and coffee industry have vast differences," said Farrar. "However, I think that for us, seeing consolidation is a sign of growth in certain markets, and makes for certain efficiencies that otherwise are hard to attain in a meaningful way without a little bit of leverage and scale. Looking to the beer industry, among others, as a sort of 'what could this look like for us,' and taking a serious look at our numbers, growth desires, etc. we ultimately concluded that this is something that would be great for both of our companies and would situate us to better achieve the things we want for our company, our employees, and customers."
As the expanded Huckleberry is still a small business, neither Farrar nor Goedman could declare themselves as fitting one particular title within the newly conjoined company, although in general Farrar now focuses on business-to-business development, sales and general revenue management, while Goedman maintains more of CFO/COO role while handling and direct-to-consumer development and strategy. Yet both also still wear many hats and bag a lot of coffee.
"We'll always be hyper flexible to what any given day may require," Goedman told DCN "For a company our size it's just somewhat inevitable that there's a lot of crossing of roles, tasks, and responsibilities for our whole crew, including Jason and I. It's a little frustrating at times, but generally think it benefits our ability to support one another."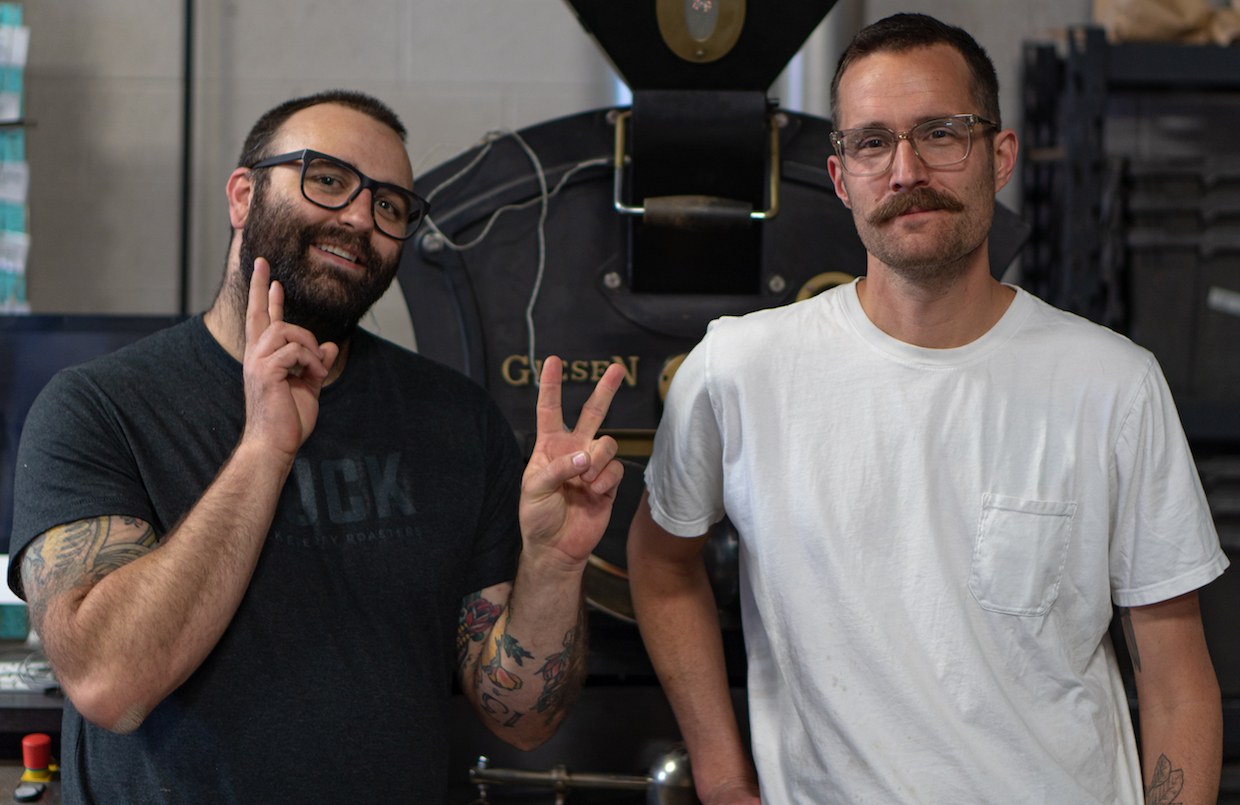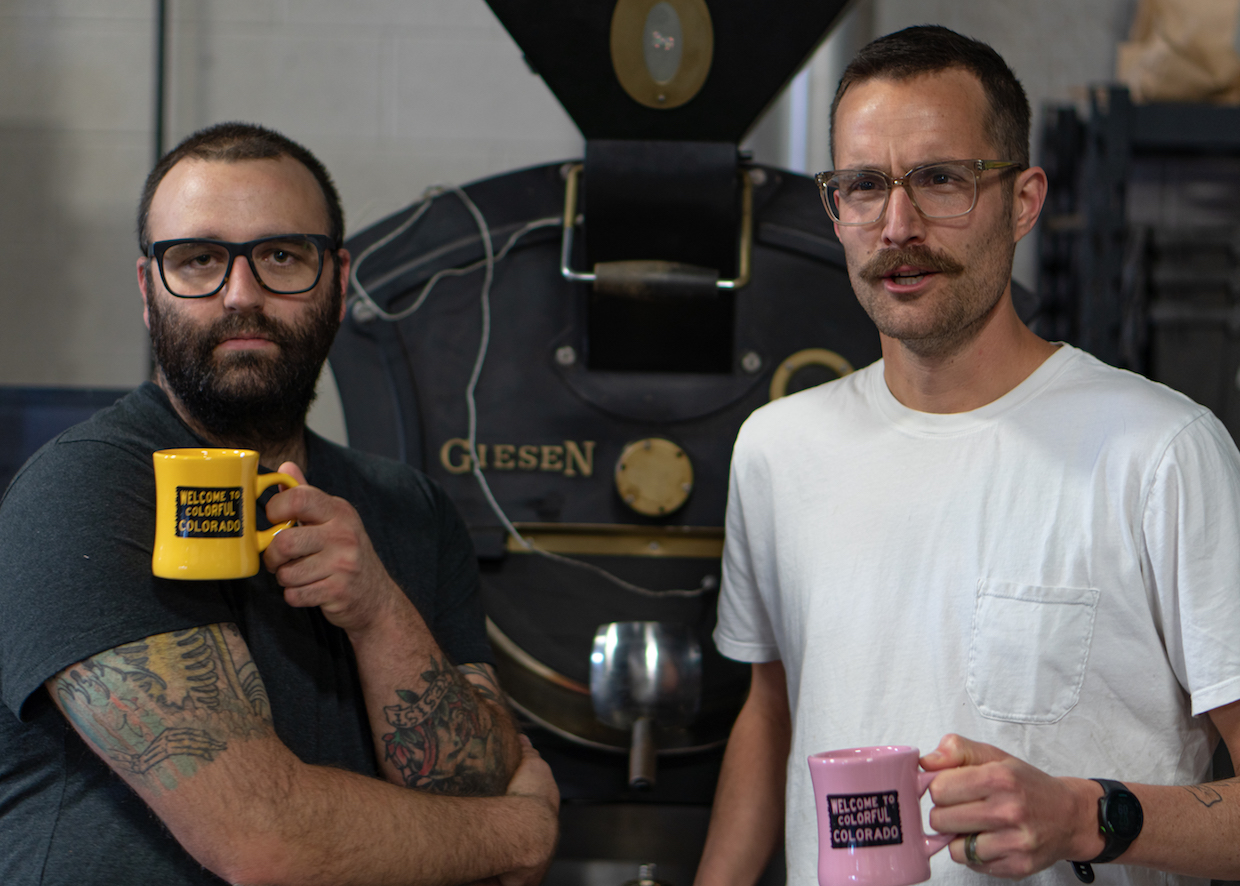 Farrar said they had planned to announced the merger along with a number of other expansions and projects that were ultimately sidelined by the COVID-19 pandemic
"Koan and I are cautious in that we usually want to under-promise and over-deliver, and didn't want to hint at things that weren't locked up on our end," said Farrar. "We were building momentum and having a good time and about to announce with some other things included, and then the pandemic happened."
Paused for now are projects including a new dedicated cold brew production space, as well as a new retail location. While two Commonwealth retail shops were shuttered permanently prior to the COVID-19 pandemic, all shops were then closed for safety, until one Huckleberry reopened. This week a second Huckleberry is reopening, with an emphasis on online ordering and other safety protocols.
New vigilance is directed at hand-washing, masks, gloves and physical distance between workers on the production floor, and paid sick leave for employees.
"We're constantly talking about what the new reality for retail looks like in service, pricing, employment, distribution, sales, etc.," said Farrar. "We are looking to grow several areas of this business but for both Koan and myself we want to make sure that it values the folks we work with first. It's tight having a company that grows well and makes some money but if it's at the expense of the people you are working with whether along the way in the supply chain or your own staff, that's a huge moral failure."
Howard Bryman
Howard Bryman is the associate editor of Daily Coffee News by Roast Magazine. He is based in Portland, Oregon.