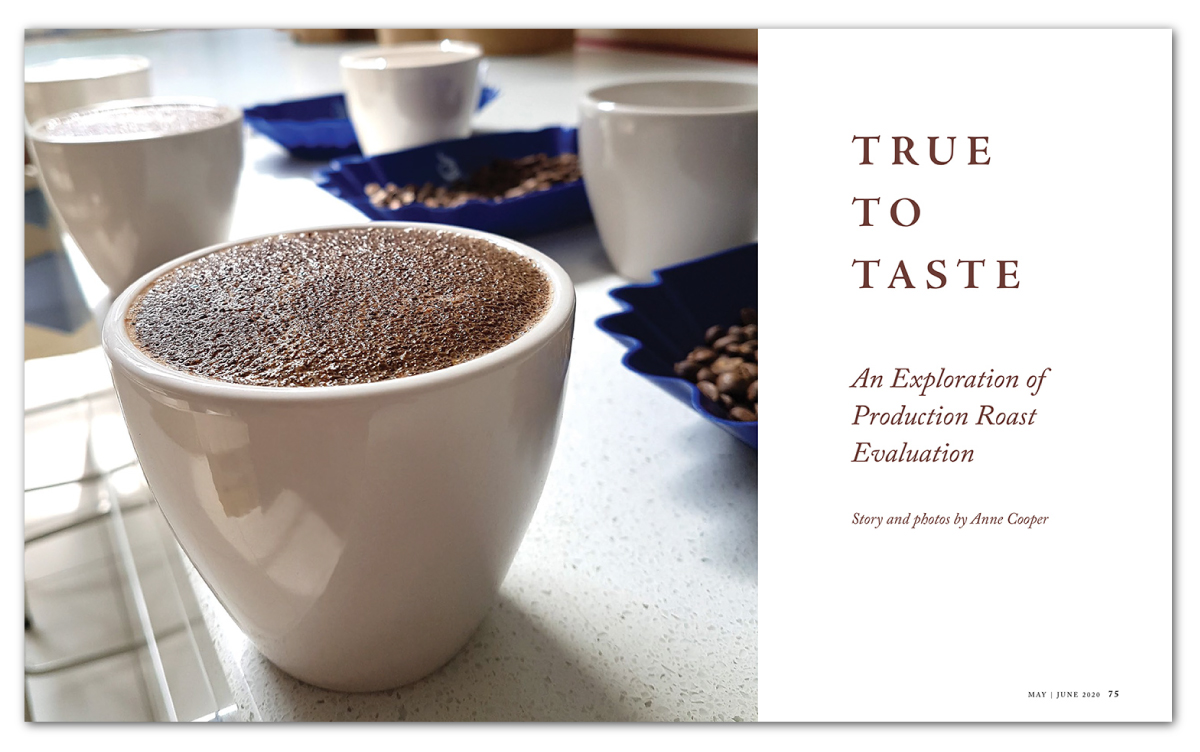 (Editor's note: The following comes from an article by Anne Cooper that appeared in the May/June 2020 issue of Roast Magazine. Click here to read the full article.)
Whether we work at small, midsize or large-scale roasting companies, we all need to evaluate the success (or failure) of our production roasting in some form. How else will we know if the coffee we have roasted is as intended and the flavors of the end product are "true to taste"?
Members of the coffee industry often say that quantifying roast quality in general is a huge weakness in our industry, and I have to agree.
The historically low barrier to entry into coffee roasting brings with it a level of inconsistency in skills, technique and overall base understanding of the processes and procedures required for production roasting.
Also, to an extent, most roasters are self-taught (or were taught by another roaster who was likely self-taught) and, as a result, have developed their own methods. This also contributes to a lack of consistency and understanding of some key production roasting processes and procedures.
Coffee roasting encompasses production and manufacturing, and as such, it needs to be considered more seriously. As a result of not being clearly defined and monitored, the roasting industry lacks strict procedures and unified documents for essential practices like production roast evaluation (PRE).
When I polled many roasters on the topic of PRE, it became clear that within the global coffee roasting community, roasters use varying techniques and documents to evaluate production roasts.
So, what should the coffee industry be considering to help roasters improve their PRE skills? What factors are involved, and how can we further improve PRE processes and procedures to ensure that we are all consistently evaluating our production coffees as being true to taste?
Why Do We Need to Perform Production Roast Evaluations? 
PRE is a critical activity for coffee roasting companies to promote consistency, reinforce roasting skills, gain product knowledge, and stay true to the intended flavors of the final roasted product. As roasters, we are in the business of flavor.
Regularly performing PRE is an ideal opportunity to continually improve roast profiles, as PRE is the ultimate connection between the roast profile and desired end flavor of a specific product.
Along with assessing intended flavors, PRE also helps to assess and uphold a brand or individual's roasting style or ethos. For example, a business owner not involved in the roasting process might have a "rogue roaster" who is doing their own thing, being influenced by current trends and ignoring specific brand flavor requirements; this sort of individuality can destroy a business.
And if you are not the owner of the roasting business, you need clear guidance from management on how they want the coffees to taste so you can then use your roasting skill and knowledge to develop an appropriate roast profile that will deliver the specific product flavors to be reflected in the PRE.
Doing PRE also helps roasters to monitor, over time, the properties and flavor characteristics of the green beans they've purchased (which may be affected by roasting room and storage conditions), as more than ever we are in an era of experimental processing and unique flavors.
Additionally, PRE is beneficial for promoting better understanding of the roasting machine (its controls, burner, drum and probe types and more), as well as troubleshooting any roasting machine issues, such as general set-up and limitations in power and controls, which can cause tasting and roast defects from not being able to deliver the roast profile or "cooking strategy" you want to achieve.
PRE is also useful for building consistency in roasting teams. The process presents valuable opportunities to learn from other team members with different levels of experience, who calibrate and compare with each other. The team explores and learns how to properly evaluate what they are meant to be tasting and achieving in a product, brand and market with a specific roast profile and end flavor.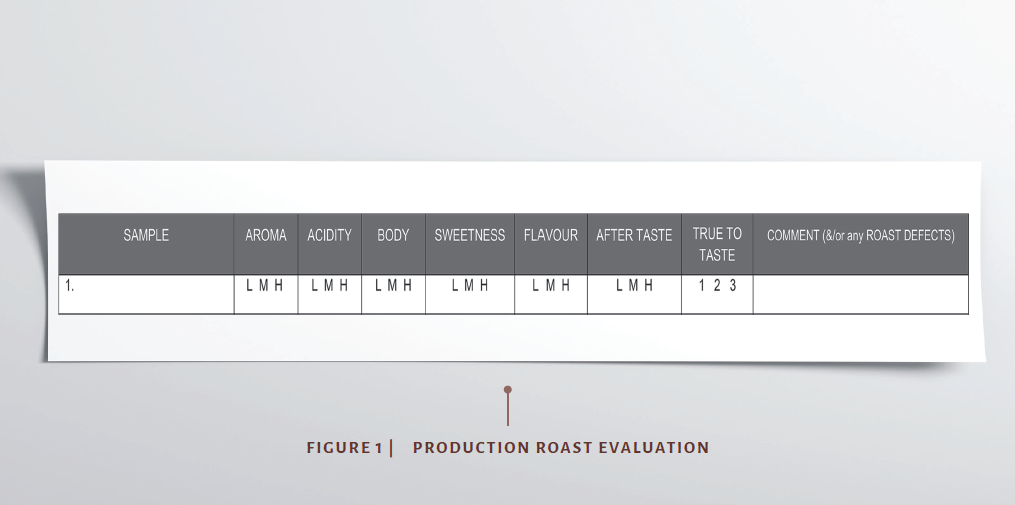 When is The Best Time to Assess?
Ideally, as part of a roasting company's standard quality control procedures, roasters should be doing their PRE before the final, roasted product reaches the customer.
When polling roasters on when the best time is to carry out PRE, the majority said the day after roasting. Others would also assess over a range of time (anywhere from 24 to 48 to 72 hours to 7 days after roasting), as the coffee rests and degasses.
But still there is no industry standard for when to perform PRE, possibly due to the wide range of experience, strong individual opinions and influences, and number of samples to be evaluated, as well as scheduling and managing business costs among the many different small and large-size roasting companies in our industry.
Not ever tasting or evaluating your roasts is poor practice but was surprisingly prevalent among roasters I polled. No roaster should be roasting coffee without taking the time to taste/evaluate their own coffee. Some roasters say they use customer feedback as their evaluation gauge — but waiting for customer feedback to roll in weeks after roasting the coffee is too late, especially if the feedback is not good.
When possible, tasting in-store with your customers (after you have done your own PRE) is good practice and a wonderful way to get to know your customers and build a good, trusted business relationship with them as well.
Often, roasters also claim that they are too busy or do not have enough time to do PRE.
If you are short on time, be more strategic and do your PRE during the pre-heat cycle of your roaster — this is a great time to be doing your tasting. I certainly understand and relate to the pressure for time, the need to multi-task and "get things done" — a sentiment that was strongly echoed by many roasters I polled. However, not supporting your PRE with a reliable sample and data collection routine will affect your ability to make any good evaluations about your roasting.
Throughout your production day, you can also prep your samples to be tasted while roasting (that first 5 minutes of the roast is a great time to do this — social media and other distractions can wait!) or use other strategies, like having your packing team collect samples based on your instructions with the sampling code/number so that it matches your roast data, and you can keep multi-tasking and smashing out your production roasting.
While the timing of when to do PRE may vary between roasters based on their company's specific operating procedures, one should always head into a roasting session with an idea of what the coffee should (or will) taste like — as every roasting session is an opportunity to improve or fix a previous mistake.
How else will you know if your roast profile is on point and the end product flavors are true to taste?