From the people who founded Boston Common Coffee Co., a new company has opened its doors in Northborough, Massachusetts, about 30 miles west of Beantown.
Aero Coffee Roasters, which launched initially as a toll roaster in late 2019 while building out its 3,400-square-foot retail and production space, opened the cafe with limited hours to serve guests hot drinks, house-baked pastries and whole beans roasted on site.
"[The new shop] supports the three passions of the coffee industry I have come to love," owner and roaster Peter Femino told Daily Coffee News. "The roasting facility, the cafe and the bakery where all our baked goods are made from scratch."
Larger batches of brew pass through Curtis brewing systems while smaller brews are crafted individually on Chemex Ottomatic brewing machines. The espresso bar commands attention at the center of it all.
"It's positioned directly in front of the entry, so I knew I needed a 'showpiece' espresso machine," said Femino. "We went with the La Marzocco Strada with the sleek curves that contradict the traditional La Marzocco machines."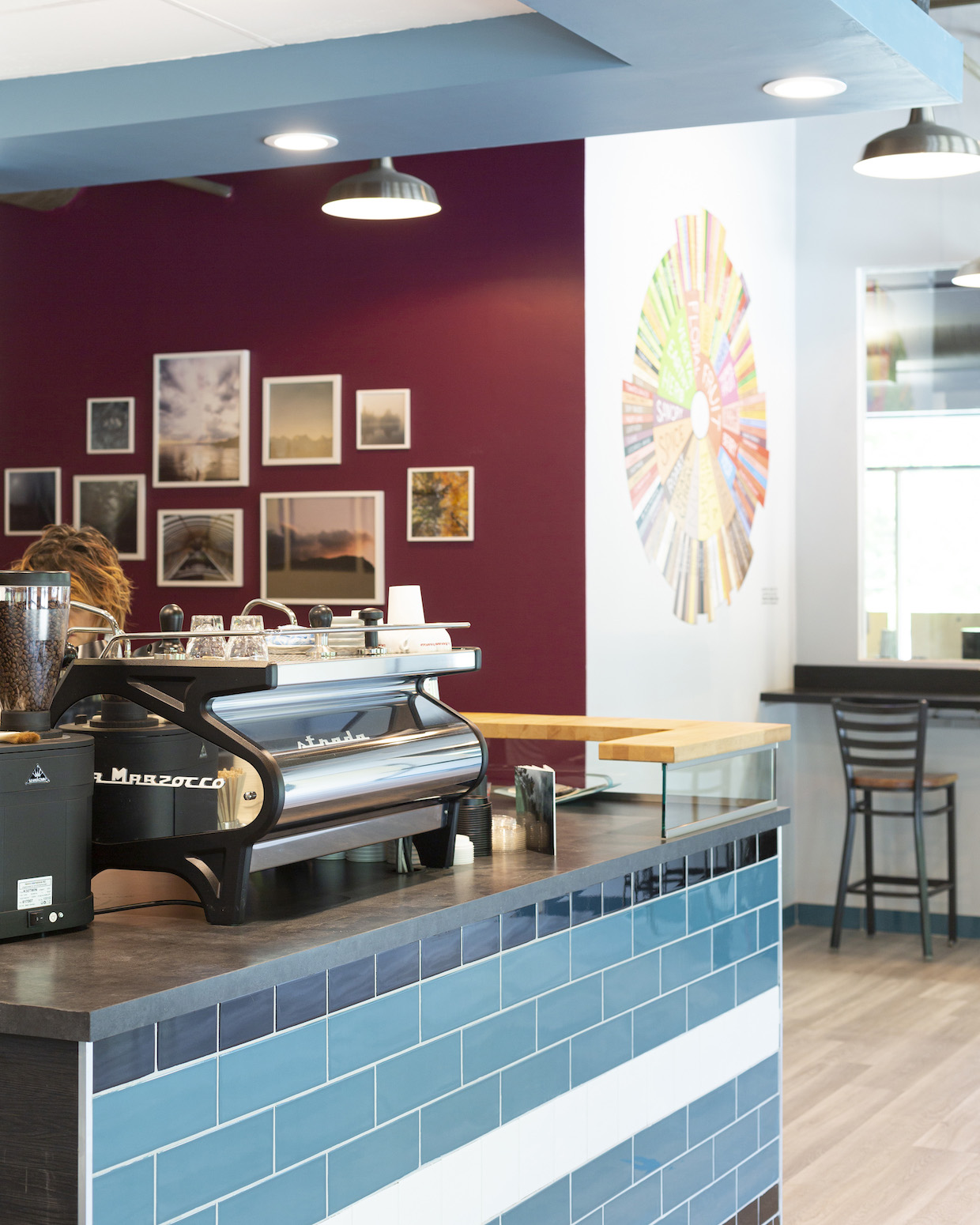 With more than two decades of experience in the coffee industry under his belt, Femino could tell when the time had come to seek greener pastures. Faced with stiff competition and rising rent in Boston, he and his partner sold all retail and wholesale operations of Boston Common Coffee Co. prior to purchasing a new Probat P12.
Femino continues to do the roasting for BCC's wholesale clients while using an older Probat L12 for certain roast profiles he feels roast better in that machine.
With views from the Aero cafe into the roastery, Femino hopes customers will naturally take an interest in the nuances of different roast profiles. A large, bright adaptation of Counter Culture Coffee's coffee taster's flavor wheel is a focal point of the otherwise clean interior filled with blues and whites.
"It was designed to engage our customers while they drink their coffee and try and find the cupping notes in their coffee," said Femino. "It was a subtle way to educate the consumer about what's involved in cupping."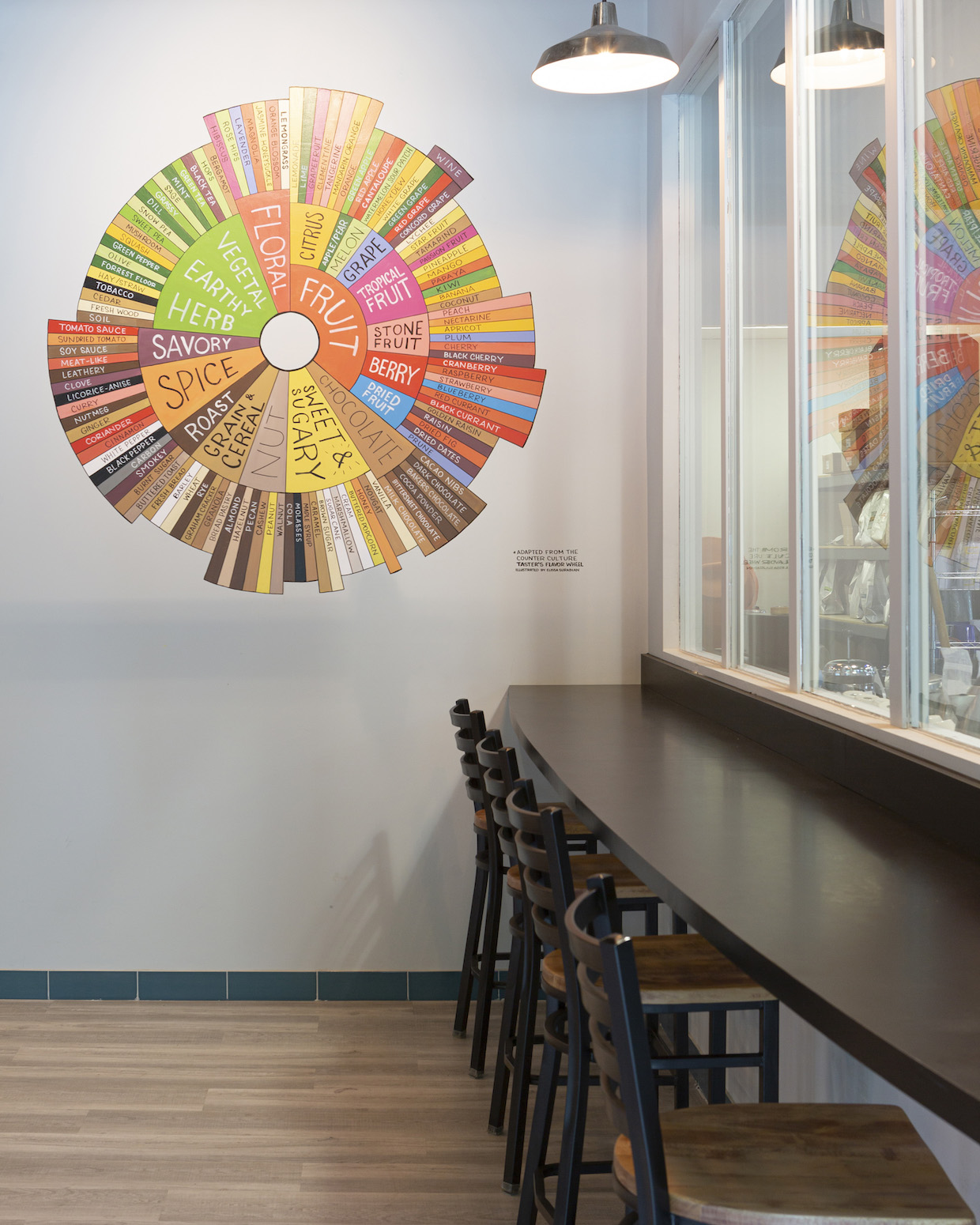 Opening a new cafe in the midst of a global pandemic has been nerve-racking on a number of levels, according to Femino, from the underlying need for additional hygiene, protective equipment and distancing protocols to the slow initial pace of patronage.
"After being in the coffee industry for 23 years and [opening] eight cafes with three different partnerships, I thought I had seen it all," said Femino. "Now I have seen it all. The impact has been devastating, from launching a new business. Had we opened even a few weeks prior, we would have at least had time to build a customer base to build upon when we reopened. But in business, if you can't pivot, you can't survive. If it's not covid, it will be something else that threatens your business."
Femino said he tried to focus on the positive aspects of the extra time freed up by COVID-19 constraints, using it to further dial in the Aero menu, coffees, training and other aspects that are sometimes neglected early in the lifetimes of coffee shops.
"It was a bit scary the first few weeks of opening, being a new business, but our business plan was solid and the quality of our food and drinks spread quickly," said Femino. "We are pacing to double our sales each week due to a strong social media support system throughout the surrounding towns."
Aero Coffee Roasters is located at 318 Main St. in Northborough, Massachusetts. 
Howard Bryman
Howard Bryman is the associate editor of Daily Coffee News by Roast Magazine. He is based in Portland, Oregon.