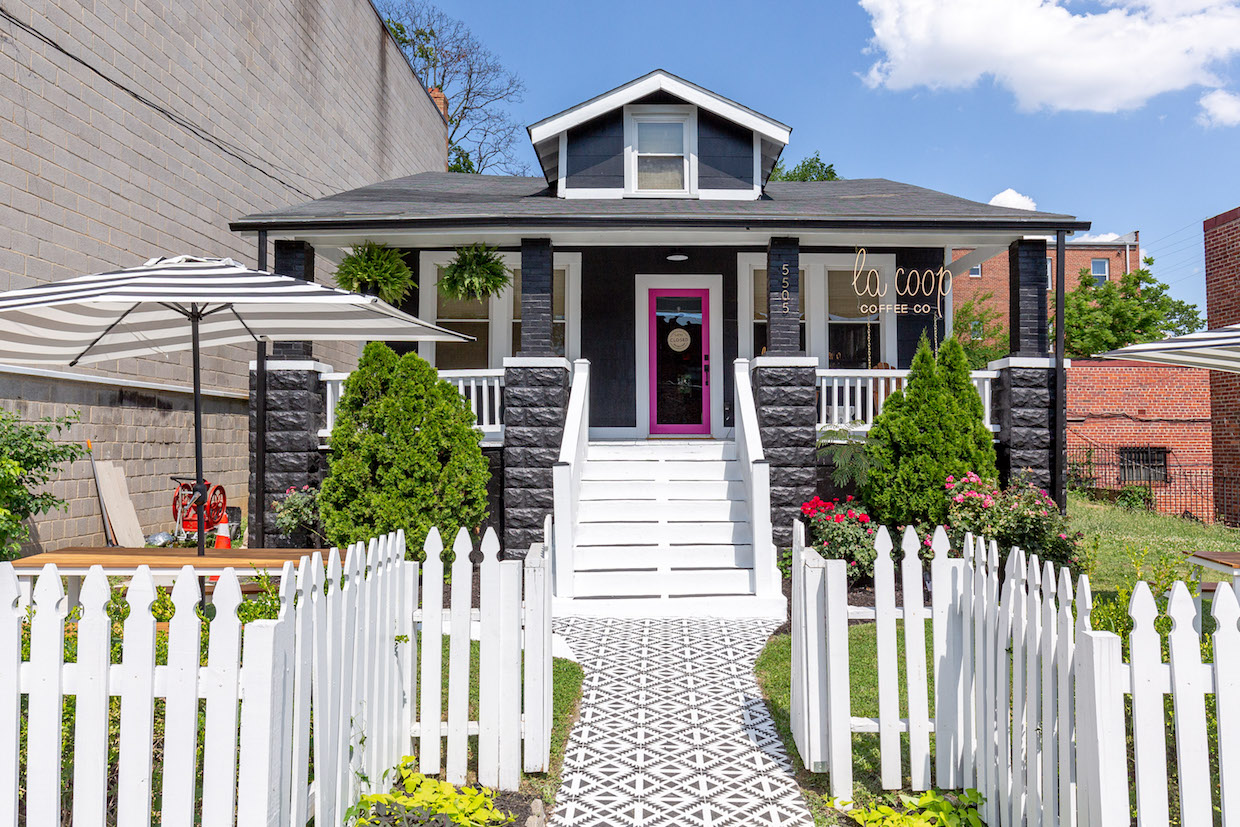 International connections abound in the capital city of the United States, and a new one has been forged with the first coffee shop from La Coop Coffee Company. Founded by Juan Luis Salazar Cano, an agronomist and son of a Guatemalan coffee farmer, La Coop opened the doors to its roastery cafe in Washington D.C.'s Manor Park neighborhood earlier this month.
Cano, who hails from Union Cantinil, Huehuetenango organized a coffee producer group in 2006 called the Asociacion de Caficultores de Union Cantinil (Association of Coffee Growers of Union Cantinil, or ASOCUC), with the goal of earning better prices for specialty coffee growers.
Now a U.S. citizen and CEO of La Coop, Cano sources coffee from ASOCUC for wholesale and retail roasting, while serving those coffees directly to patrons in D.C.
Roasting occurs on a 5-kilo Diedrich roaster inside the cafe constructed within a former house, complete with a white picket fence. The remodeled building maintains some of the black and white of the La Coop brand outside, while the inside is bursting through color found in wallpaper, stencils, plants and other creative elements.
White tile gleams behind the counter, handsome wood surfaces warm the space, and modern furnishings beckon even while relatively few people are currently permitted to sit.
"It is a house within a commercial corridor, so it innately has a warm and welcoming feel," Cano told Daily Coffee News. "We wanted the place to feel like a place we would want to hang out in. I think together we were able to turn our vision into a reality by creating a space with clean, modern lines that feels warm and inviting, yet fun and funky the way a coffee house should be."
The new shop opened its doors on July 1, just as D.C. entered a phase two reopening after a coronavirus shutdown. At the time of this writing, official guidelines maintained that the shop operates at half capacity, keeps social distance and enforces the wearing of masks. Said Cano, "We are also using cashless payment options, and encouraging customers to sit outside, with masks, socially distanced."
Despite this distance between people, La Coop has continued to also operate as a social enterprise. Over the years, the farmer members of ASOCUC have successfully adopted new quality controls and earth-friendlier farming techniques, as well as a micro-loan program, all of which has collectively led to higher quality coffees, better prices earned for farmers and reinvestments in their home communities that have improved the quality of life for the people of Union Cantinil, according to Cano. The producer group now exports more 200,000 pounds of specialty coffee every year.
"I am and will continue to remain committed to investing in the prosperity of my family and community in Guatemala through La Coop," said Cano. "Ensuring the members of the cooperative I formed earn what they deserve for their coffee will always be my goal. I'm also focused on helping empower those within the coffee value chain to diversify their revenue streams. My brothers, still living in my hometown in Guatemala, are now investing in the milling equipment needed to process green coffee before it is exported. By doing this, they will be able to create new sources of income and new jobs, right at the source."
La Coop sources directly from ASOCUC with a focus on microlots while sharing the story of each new harvest and the farmer behind it. This includes coffee grown by Juan Gonzalo Salazar, Cano's father, whose microlot coffee is currently available in the shop or online. Cano said he hopes to eventually expand to sourcing from other smallholder farm cooperatives around the world.
"One of my customers several years ago said that she could feel the heart and home I brought through my coffee," sad Cano. "That is absolutely what I strive for. For me, coffee is personal. The names on the bags are not just the farmers who harvested the coffee. They are my family, my neighbors, and I'm focused on ensuring what I do here with La Coop can make a sustainable impact on the value chain there over the long-term."
La Coop Coffee is now open at 5505 1st St NW in Washington, D.C.
Howard Bryman
Howard Bryman is the associate editor of Daily Coffee News by Roast Magazine. He is based in Portland, Oregon.