Though its first year of climbing into the market has been steep, Madrone Mountain Coffee has reached an important plateau: its first retail coffee shop in Dripping Springs, Texas.
Doors opened earlier this month to the 1,500-square-foot roastery cafe in the scenic Hill Country west of Austin where, Madrone runs its San Franciscan SF6 roaster from a corner in full view of guests.
Beans from the SF6 take the short journey into the hoppers of Mazzer and Mahlkönig grinders on a bar set among a sparse but welcoming industrial interior, where production claims a majority of space.
About 600 square feet is devoted to the bar area where espresso and drip coffee preparation occurs for takeout and curbside service.
Madrone Mountain Coffee Co-Founder Jake Sussman told Daily Coffee News the space will eventually be used to host small events as well as tastings for wholesale customers, once the COVID-19 pandemic has simmered down to the point where it's safe again to do so.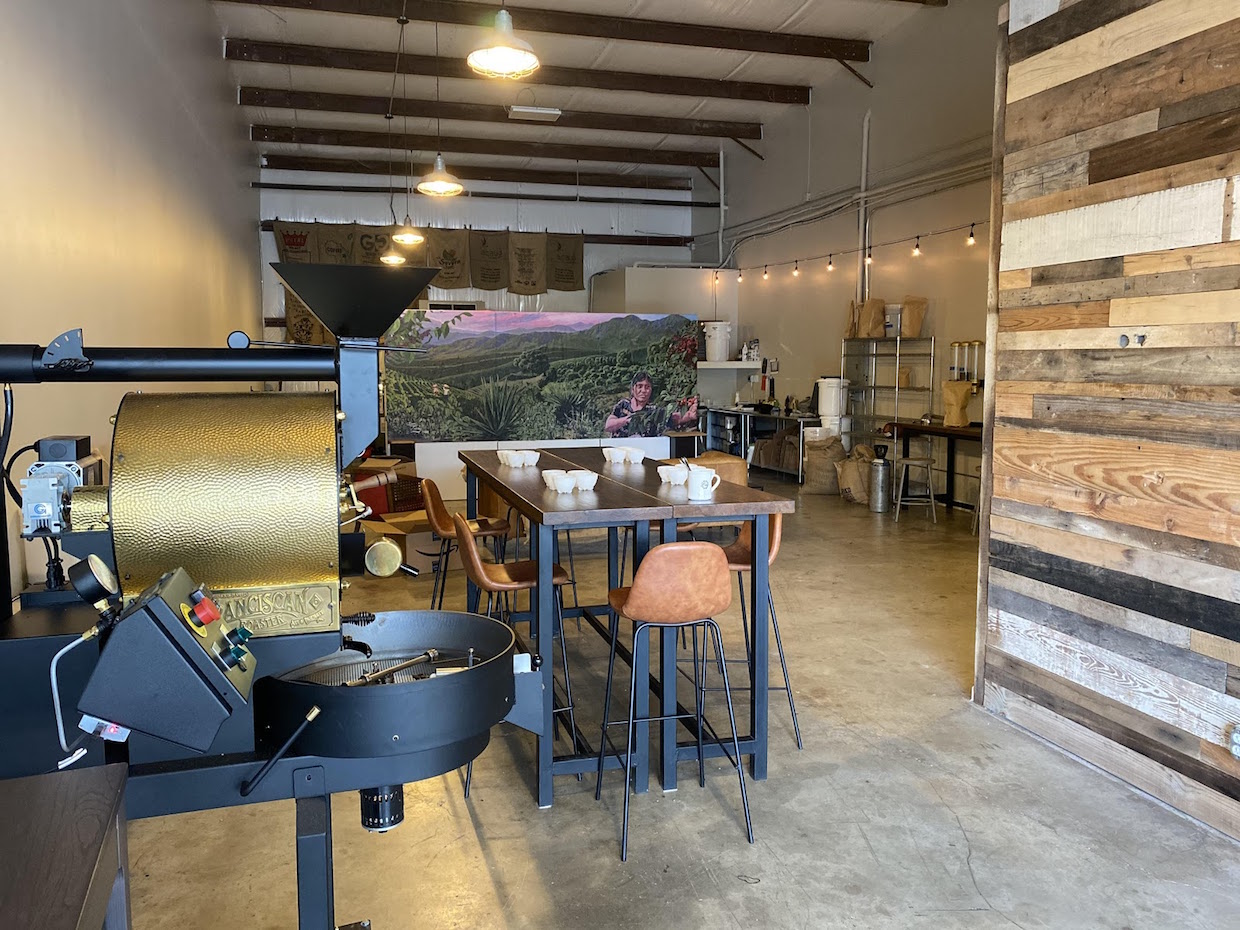 At that time a section of the new space will also be dedicated to a selection of roasted coffees displayed in bulk, for customers to bag themselves. Outdoor seating is also in works according to Sussman, for patrons to enjoy their drinks under a canopy of Texas Live Oak trees.
"Giving customers a view into our roasting operation and educating them about the extensive coffee supply chain was a goal," said Sussman, "so we have our green coffee storage and prep area on display."
Another goal was to create a destination for cyclists pedaling through the surrounding rolling hills and live oaks.
"Our new space is in the center of multiple cycling routes, so we decided to have a dedicated area for bike parking and will be offering specials for anyone that rolls up on two wheels."
While the novel coronavirus pandemic has led to enhanced sanitation practices and limited indoor capacity for now, it has also had repercussions on the roasting business, which has shifted its focus away from business-to-business sales.
"Prior to COVID our plan was to focus primarily on online coffee sales and wholesale partnerships with corporate offices and restaurants," said Sussman. "We have had to shift to now focus on the home consumer side of the business."
Sussman remains a driving force behind the Hope Coffee Collaborative, a three-company team-up roasting unique blends for online sales, the proceeds of which are donated 100% to Texas-based COVID-19 pandemic relief organizations.
Houston's Little Dreamer Coffee and Galveston's Red Light Coffee Roasters rounded out the original Hope Coffee trio. Sussman told DCN the Collaborative is still active and evolving.
"We are in the planning stages for our next blend with several new roasters and a new beneficiary organization," said Sussman. "Those details should be finalized soon."
The Madrone Mountain Coffee roastery and bar soft-opened on Monday, July 27. The grand opening is scheduled for Tuesday, Aug. 4.
Madrone Mountain Coffee is open now at 31560 Ranch Road 12, Ste. 206, Dripping Springs, Texas.
Howard Bryman
Howard Bryman is the associate editor of Daily Coffee News by Roast Magazine. He is based in Portland, Oregon.