In April, Minnesota's Folly Coffee Roasters moved its entire operation from the small town of Silver Lake into the huge industrial facility owned by its distribution partner, Berry Coffee, in the inner Minneapolis suburb St Louis Park.
Folly's new digs put the company much closer to its Twin Cities fanbase, which has been building up since the company's launch in late 2017. Taking full advantage of the new position, Folly is planning a program of tours and tastings beginning this month.
Inside Berry's 9,000-square-foot facility, Folly now has access to a 25-kilo-capacity Probat L25 roaster and a 60-kilo roaster from Minneapolis' own Mill City Roasters, and it will soon have a 10-kilo Mill City machine for smaller, limited-release batches.
Other resources include a nitrogen-flushing bag sealing machine, an Agtron color reader, more space for green coffee storage, shorter delivery time to Twin Cities customers, and greater efficiency in working with its distribution partner, of course.
"It has been a great move and we love roasting at the new spot," Folly Owner Rob Bathe told Daily Coffee News. "It can be a risky move to completely transition a roasting program, especially with the quality standards we have, but Jeff [Mooney, head roaster for Folly] took on the challenge and absolutely crushed it."
The upcoming coffee tours are inspired by similar strategies at craft breweries that stoke curiosity, educate and entertain the public about production processes and the resulting products. The specialty coffee company will welcome 12 people at a time for $12 apiece, while it promises a whirlwind coffee experience.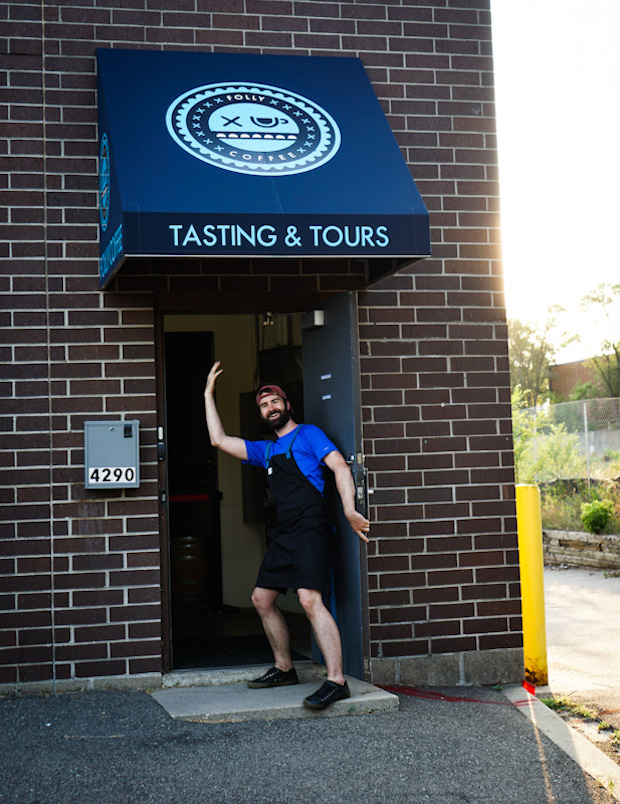 "I don't want to give everything away because the element of surprise is a big part of what makes this experience different," said Bathe. "But try to imagine learning about coffee roasting in which two of the background songs are 'Thunderstruck' by AC/DC followed by Ave Maria as performed by Andrea Bocelli."
With Bathe as their guide, each intimate but socially distanced experience will include a 15-minute walk-through and discussion of coffee's journey from the farm through the roastery, and will culminate with a tour of Folly's roasting equipment and discussion of the roasting process.
Mooney, a certified Q Grader who recently placed second at the Nashville regional qualifier for the US Coffee Championships Cup Tasters Championship — qualifying him to compete at the national competition that has been delayed to 2021 in New Orleans due to COVID-19 — will then take over for a guided 15-minute coffee tasting that features various cold brews, hot brews and espresso.
And as if Folly hadn't spiced up its summer enough already, the company this week also revealed its own brand of hot sauce, based on a coffee-inclusive recipe created by Bathe's childhood friend and now business partner, Kevin Coughenour.
"[Coughenour] made this recipe while we were filming an episode for the Folly Coffee YouTube channel where he cooks and makes recipes with coffee," said Bathe. "The end product was so unique and delicious, we felt compelled to bring it to market. Smoky, spicy, and rounded out with a pleasant coffee sweetness, but not in a gimicky way."
Tours start Saturday, Sept. 19, and will take place Saturdays and Sundays, based on demand. Tastings are strictly of pure black coffees, without milk or other accoutrements.
The coffee bar, custom fabricated by Capsule Manufacturing, slides out of the way so as not to interfere with regular production on weekdays, and rolls out on weekends to support a 2-group Aurelia Wave Digit espresso machine paired with Mythos Clima Pro grinder and a Wilbur Curtis batch brewing system for tastings. Folly will donate $1 from the sale of every ticket to the meal delivery nonprofit Open Arms of Minnesota.
Said Bathe, "Similar to a craft brewery tour, we want to educate our guests on what goes into making what we are passionate about at a high level, and create a more personal connection with the process and everything that goes into it."
Howard Bryman
Howard Bryman is the associate editor of Daily Coffee News by Roast Magazine. He is based in Portland, Oregon.