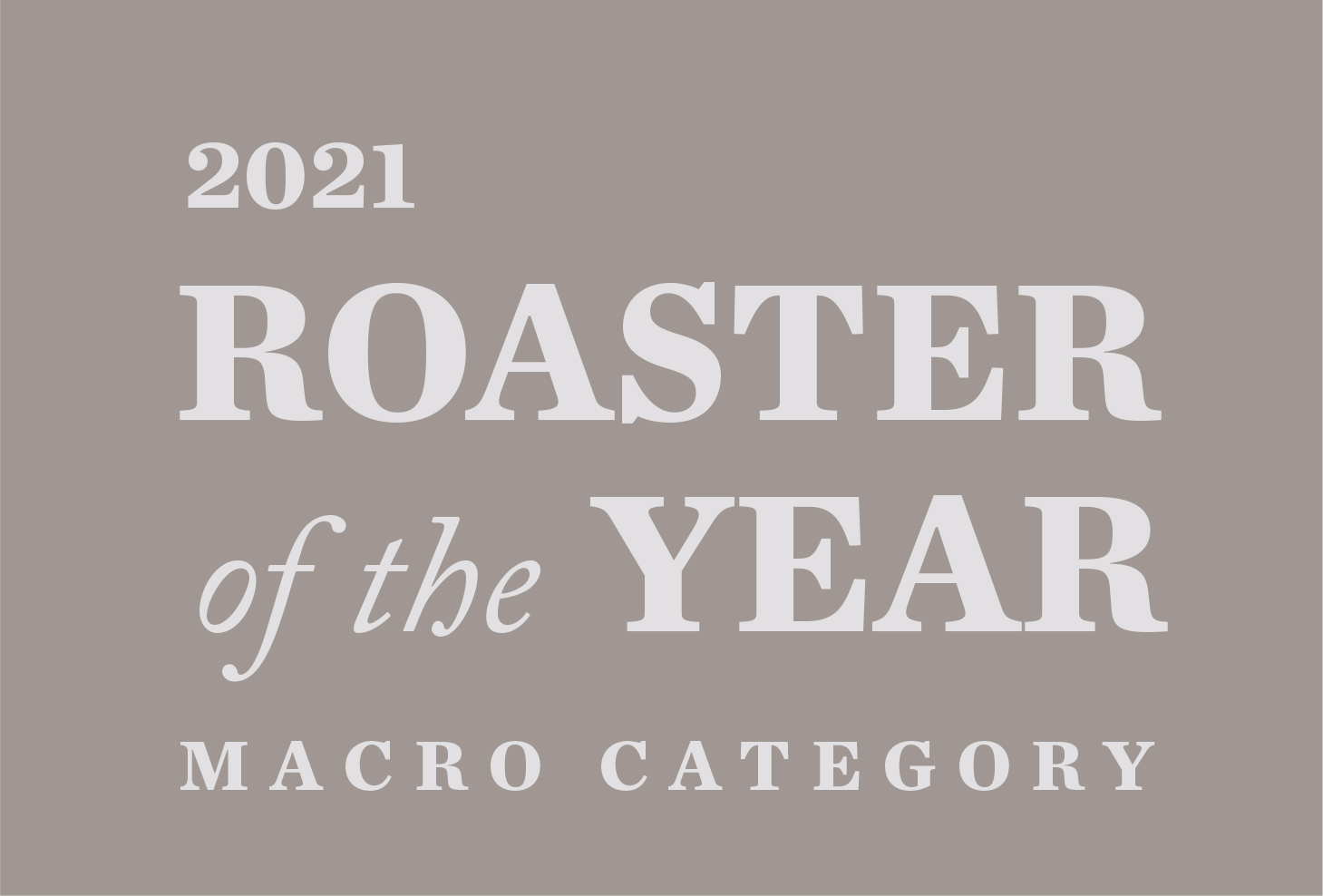 The three finalists for Roast magazine's 17th Annual Roaster of the Year awards have been announced in the Macro Roaster category. Winners for each category will be announced on Monday, Oct. 19.
Roast recognizes winners from two categories: Macro Roaster of the Year, for companies roasting more than 100,000 pounds annually; and Micro Roaster of the Year, for companies roasting fewer than 100,000 pounds of coffee each year. The three finalists in the Macro Roaster category are listed below in no particular order, with information obtained from the company's award application. (Click here to view the 2021 Micro Roaster of the Year finalists.)
The Roaster of the Year awards recognize companies that roast coffees of superior quality, exemplify a dedication to sustainability, promote employee and community education, demonstrate strong involvement in the coffee industry, and a commitment to diversity, inclusion and equity, among other criteria. To view the application and criteria, click here.
Colectivo Coffee
Colectivo Coffee, based in Milwaukee, was founded in 1993 (as Alterra Coffee) by Ward Fowler, Lincoln Fowler, and Paul Miller. Now in its 27th year of business, the long-time roaster has 450 employees. With 21 cafes in three markets across the Midwest, Colectivo roasted 1.8 million pounds of coffee in the past year.
Colectivo's commitment to sustainable practices has deep roots going back to its founding days. Notably, the EPA awarded the company the Green Power Leadership Award in 2004, and the roasting facility won Best Environmentally Friendly Project from the Milwaukee Business Journal Real Estate Awards in 2008.
When it comes to its employee practices, Colectivo believes in "providing everyone with a remarkable experience, and that guides the way we support our co-workers. We provide a professional and safe work environment. Our hard-working, friendly teams make our company a fun and inviting place to work, and competitive wages, extensive paid training, and a range of benefits provide people with the opportunity to grow with us."
Tony's Coffee
Founded in 1971, Tony's Coffee out of Bellingham, Washington owns and operates a roastery and cafe, under the leadership of owner Todd Elliot — the second generation of his family to own the company since purchasing it in the 1980s. With a total of 41 employees, Tony's roasted 900,000 pounds in the past year.
With a mission to "harness our collective passion, curiosity, energy, and expertise to create best-in-class products for the benefit of people and the planet," Tony's has worked to foster a supportive and flexible environment where hard work is valued, as is dialog, the company stated in its Roaster of the Year application. The company invested in a new employee training center earlier this year, prior to the COVID-19 pandemic, and remains dedicated to making education available to all of its employees.
A founding member and supporter of World Coffee Research, Tony's has been a leader in the fight for sustainable coffee for decades, focused on sourcing organic and Fair Trade Certified coffees. To date, the company has generated over $1,000,000 in Fair Trade social premiums.
Barrie House Coffee Roasters
Elmsford, New York-based Barrie House Coffee Roasters was founded in 1934, with third generation brothers Barry Goldstein, Paul Goldstein, Ronald Goldstein now operating the business. The roaster-wholesaler produced six million pounds of roasted coffee in the past year and has just under 100 employees.
Barrie House provides employees with comprehensive benefits, in addition to creating fun ways to bring the team together and enhance the work environment. The 86-year-old company also offers a variety of educational training and opportunities for the staff to expand their knowledge and skills.
The company is committed to sustainable practices as well, focusing on five key areas: ensuring market-leading corporate governance, protecting health and safety, reducing environmental impacts, managing coffee industry risks, and respecting human rights. As stated in the company's application for this award, Barrie House believes that "the world coffee resources are limited and therefore precious. It is important to us that we operate our business in a manner that balances economic growth, social development, and environmental protection so that the future is not compromised by actions taken today."