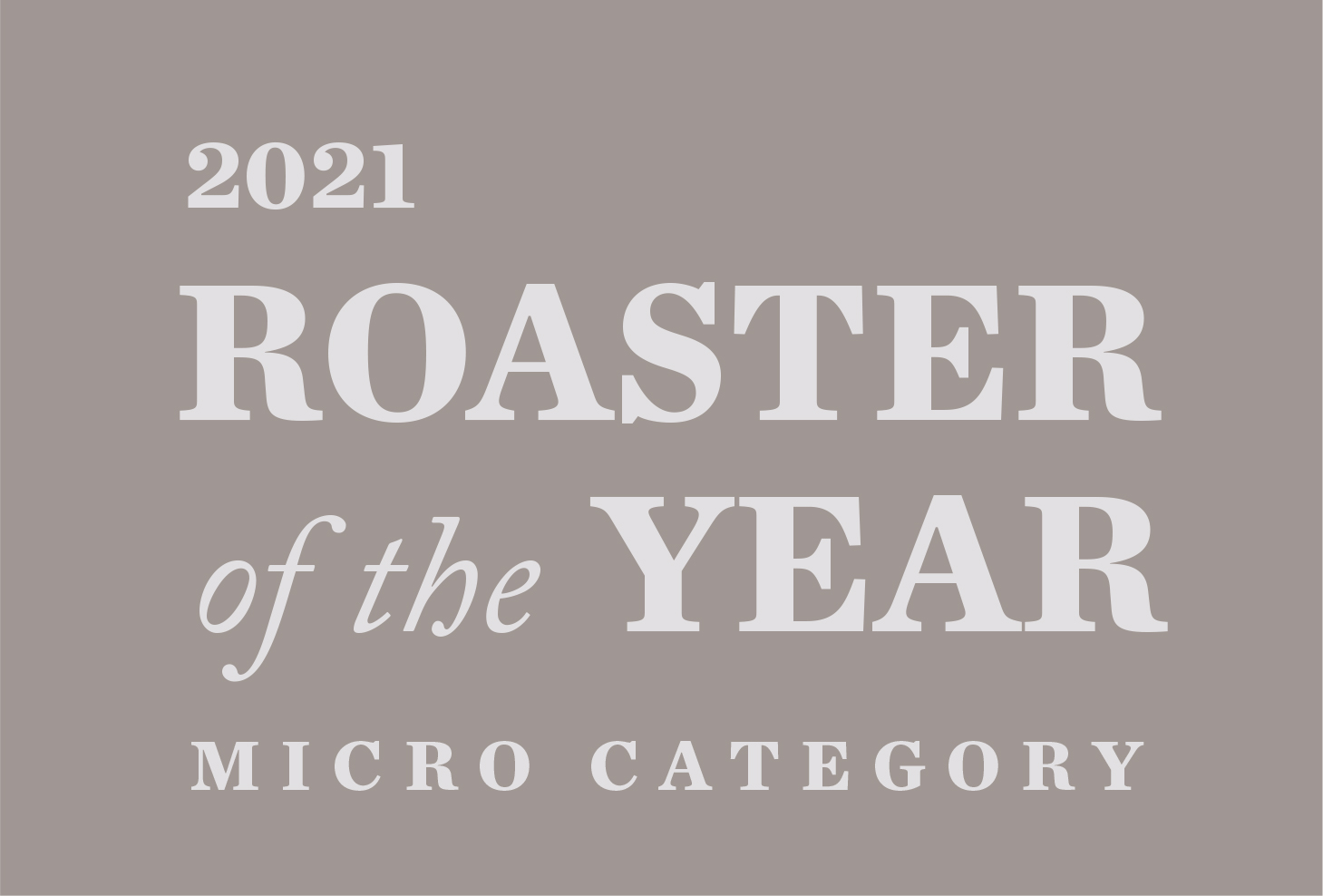 The three finalists for Roast magazine's 17th Annual Roaster of the Year awards have been announced in the Micro Roaster category. Winners for each category will be announced on Monday, Oct. 19.
Roast recognizes winners from two categories: Micro Roaster of the Year, for companies roasting fewer than 100,000 pounds of coffee each year; and Macro Roaster of the Year, for companies roasting more than 100,000 pounds annually.
The three finalists in the Micro Roaster category are listed below in no particular order, with information obtained from the company's award application. [Click here to view the 2021 Macro Roaster of the Year finalists.]
The Roaster of the Year awards recognize companies that roast coffees of superior quality, exemplify a dedication to sustainability, promote employee and community education, demonstrate strong involvement in the coffee industry, and a commitment to diversity, inclusion and equity, among other criteria. To view the application and criteria, click here.
Little Waves Coffee Roasters
Little Waves Coffee Roasters was founded in 2010 by co-owners Areli Barrera Grodski and Leon Grodski Barrera, with the roastery established in 2017. With 40 full-time and part-time employees, the company operates a roasting facility and three cafes in Durham, North Carolina. Little Waves roasted a total of 41,053 pounds over the past year, and is on track to roast 52,364 pounds this year.
The company, according to its Roaster of the Year application, is "an impact-driven group of thinkers, dreamers, and doers who delight in the enduring power of coffee as a shared experience. By making small, determined reverberations through sourcing, roasting, and brewing, we add our open-hearted energy to the tides that reveal and uphold the beauty of coffee and life."
A Latina co-owned and women-forward company, Little Waves is composed of people of different cultures, genders, languages, faiths, and beliefs, who operate with a focus on quality and service.
Greater Goods Coffee Company
Founded in 2015 by co-owners Khanh Trang and Trey Cobb, Greater Goods Coffee Company currently operates three locations — a production roastery and tasting room in Dripping Springs, a cafe in Bee Cave, and a flagship cafe and training lab in East Austin.
With 23 employees between the cafes and roastery, Greater Goods produced 90,900 pounds of roasted coffee in the past year. The company's mission is to source, roast, and serve exceptional coffee with a focus on creativity and community. 
Since its inception, Greater Goods has donated to local charities through retail coffee sales, and currently partners with four Austin charities: Central Texas Food Bank, Austin Pets Alive!, Boys and Girls Clubs of Austin and the Autism Society of Texas. In regard to its employee practices, Greater Goods believes that "compensation, inclusivity, growth, and joy are key to keeping our team healthy, happy and engaged."
Thread Coffee Roasters
Baltimore's Thread Coffee Roasters was founded in 2012 by Casey McKeel, Nani Ferreira-Mathews, and Holly Kent-Payne. Thread, a women- and queer-owned company, is "committed to transparent trade and the empowerment of marginalized people within the coffee industry," according to the company's Roaster of the Year application.
Thread was operating a retail location prior to March of this year, but has pivoted to focus on its roasting operations during the COVID-19 pandemic, with four full-time employees. The roastery has produced 15,000 pounds of coffee over the past year.
Thread sources from farmer-led organizations using coffee revenue to reinvest in their communities through healthcare, education, and infrastructure. As a worker-cooperative, Thread creates local opportunities for entrepreneurship and equity-building for women, queer/non-binary people, and minorities who face barriers to professional advancement in the specialty coffee industry.