Following a capacity expansion with a larger IMF roaster last year and the launch of new packaging with a multi-lingual design, Chicago-based Sputnik Coffee Company has grown again with an offsite industrial space for the launch of a new bottled cold brew.
The cold brew production center occupies an 800-square-foot space inside the Industrial Council of Nearwest Chicago manufacturing incubator Make City.
Sputnik Coffee Company Co-Founder Vova Kagan told Daily Coffee News the cold-brewing operation at Sputnik has escalated rapidly from 5- and 20-gallon solutions provided by home and commercial cold brew systems maker Toddy into a system made with Goodnature equipment that can produce batches of up to 300 gallons.
"Part of the goal was to make bottled coffee that tastes like it was made in a Toddy in the back of your local favorite cafe, but at the same time was safe and bottled correctly and followed all the health and safety protocols you need to do when you're bottling a beverage," Kagan told DCN. "So we found a used [flash pasteurization] system, and then my brother and I rebuilt some parts of it and got it back to life."
In addition to the quality of the brew that's made with a generous coffee-to-water ratio then run through a three-phase filtration process after flash pasteurization, the company's new product also aims for a fun and inclusive experience through its packaging in stubby glass bottles with retro-style ring-pull caps and labels printed in both English and Spanish.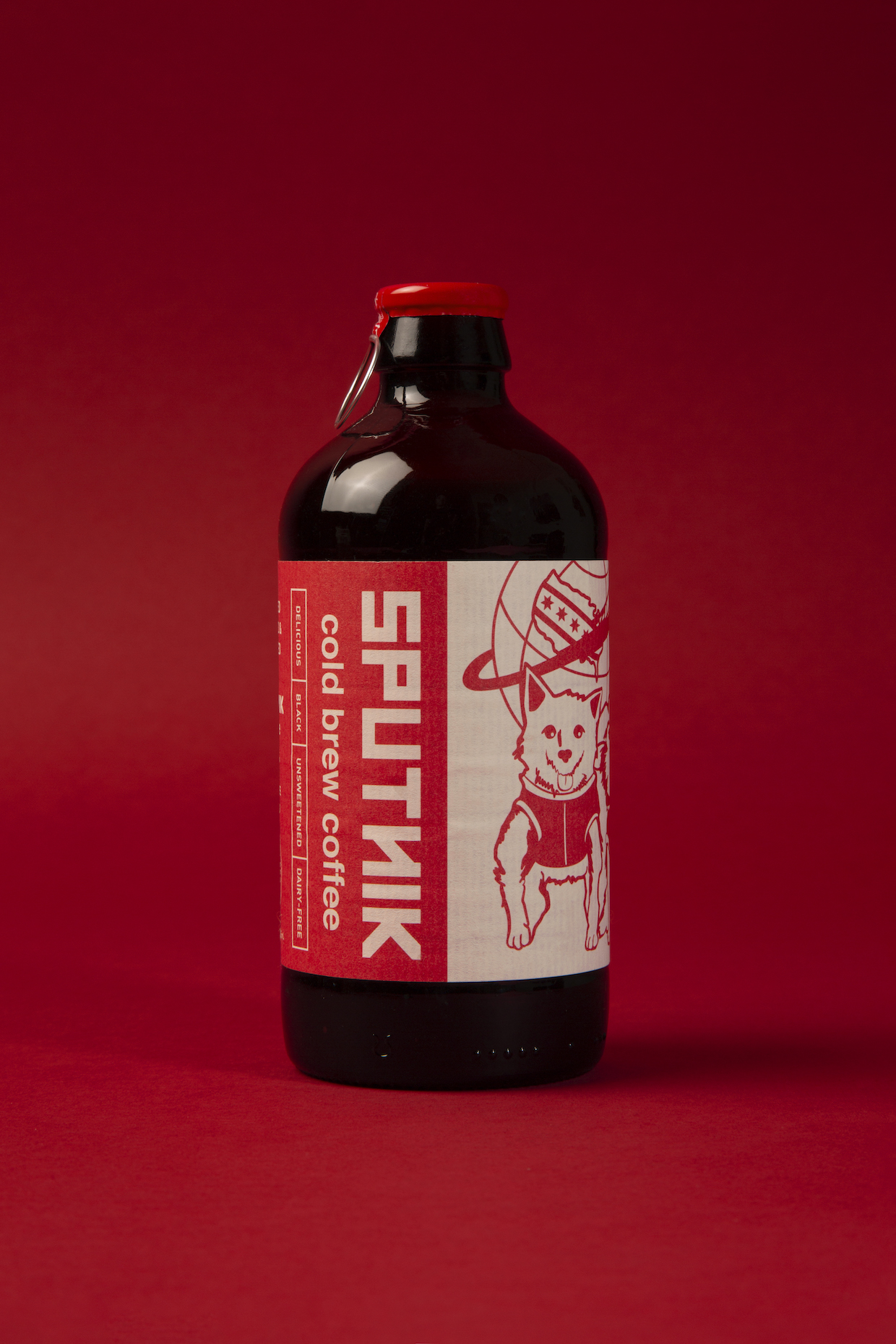 "There's a lot of people that like coffee but may not know what 'cold brew' means in English," Kagan told Daily Coffee News. "There was actually quite a little journey to get the correct Spanish, because we know 'cafe frio' doesn't mean cold brew. That's just 'iced coffee.' Iced coffee is just a different animal, it's a completely different product."
To get it right, Kagan and company reached out to a knowledgable friend in Mexico City, Juan José Sánchez, who they met when he came to the United States about a year ago and stopped by the Sputnik shop in the Back of the Yards amid an exploration of U.S. coffee shops.
Sánchez, the director of media for Revista Roast, the Spanish language edition of Roast Magazine, steered them toward printing the more precise description, "cafe infusionado en frio," along with some additional clarifications.
"We tried to make sure we covered our bases in Spanish, too, that it's black coffee without sugar and without any dairy," said Kagan. "The feedback has been really awesome. We're talking to grocery managers that say 'We have stores that have a predominantly Spanish-speaking population. We can try this, we can sell this, because we know they'll understand what it is."
By no means an afterthought, the old-timey ring-pull cap that Sputnik sources from a supplier in Finland required modifications to the bottling equipment in order to accommodate.
"The experience of drinking coffee is not only limited to the liquid in the cup," said Kagan. "That's why cafes are so awesome. It's because you can create an atmosphere for someone to drink coffee. We want to do the same with our bottles, and any products we create."
With sales going well in Chicago, as well through grocery accounts that have spread throughout Wisconsin and Michigan, the company is now considering larger size bottles while also researching methods of packing and shipping its glass bottles for safe delivery of nationwide online orders.
Howard Bryman
Howard Bryman is the associate editor of Daily Coffee News by Roast Magazine. He is based in Portland, Oregon.