Sputnik Coffee Roasters launched into Chicago's commercial atmosphere in January 2017 intent on providing consumers and wholesale clients dependable quality at an accessible price, while sidestepping specialty coffee's tendency towards preciousness.
Now operating from a roastery cafe that opened earlier this Spring in the city's Back of the Yards neighborhood, Sputnik takes pride and pleasure in directly filling the cups of new patrons with affordable, palate-pleasing brews.
"An everyday coffee — that's really what we want to be," Sputnik co-founder Vova Kagan told Daily Coffee News.
Vova Kagan and fellow co-founder Greesha Kagan, his fraternal twin brother, were born in Russia. The other half of Sputnik's four-person foundation includes Michael Roytman, born on a military base in Germany and then raised in the Ukraine, and Diarmuid Horan, who was born in San Francisco, moved to Ireland at age two and returned to the United States only three years ago.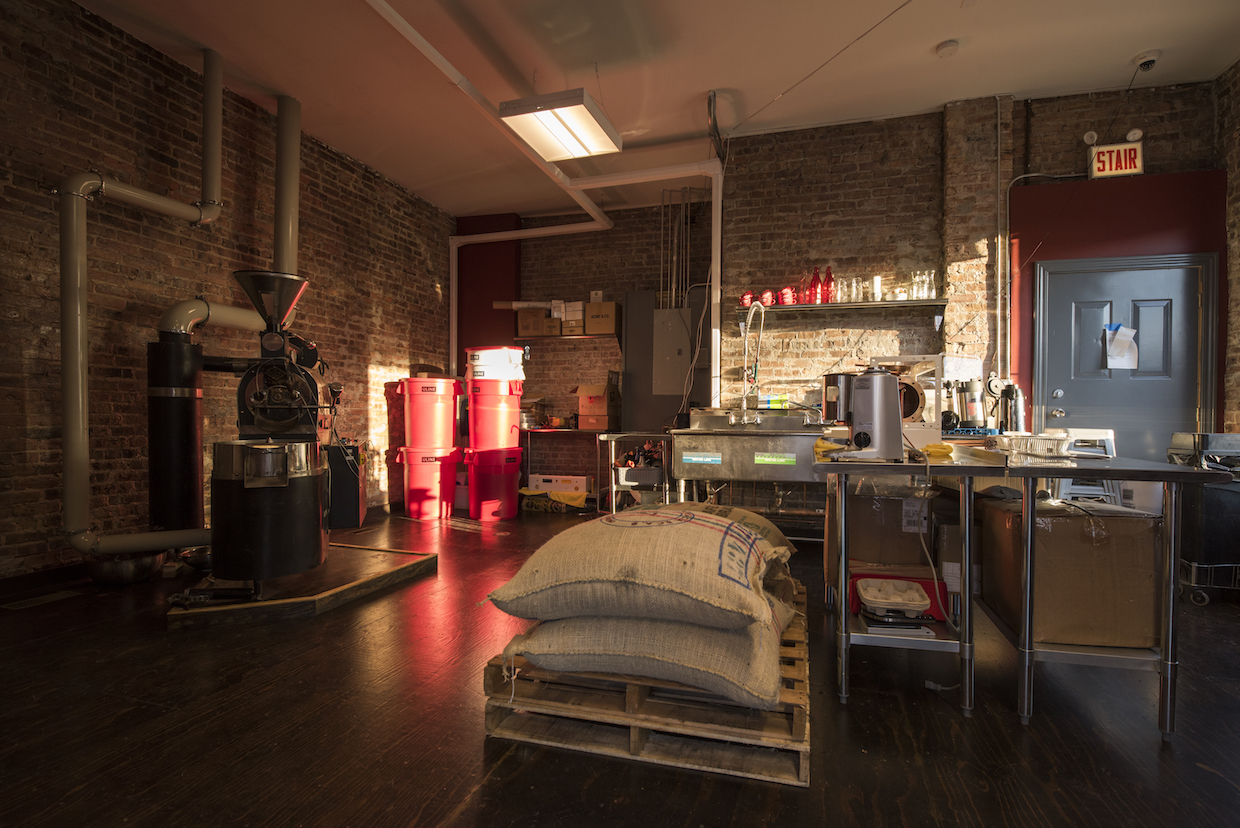 "When I was growing up, and for everyone in our company, tea and coffee were something that was served every time a guest walks in the door," said Vova. "Any time you had people over, there was a pot of tea on, or a French press, immediately. We're not seeing that anymore, and I think part of that is because some people are like, 'Whatever bag of coffee I have, I want to save for the right occasion, or for that perfect pourover.' Our philosophy is that coffee and tea should be something you share with friends, that brings people together. That's a part of European culture that we don't see as often here."
In a 900-square-foot space, the four-man crew roasts greens sourced through Royal Coffee New York on a 5-kilo U.S. Roaster Corp machine using Artisan roast-logging software to maintain consistency. Espresso service is on hold until the Kagan brothers finish rebuilding a Gaggia D90 machine with ACE Shureshot timers, customized pre-infusion and clear side panels to offer patrons a view of its shiny copper tubing and other inner workings. The company also enjoys refurbishing used Curtis brewers and Bunn grinders, which is what they currently use for in-house coffee service.
"We've gotten to know Curtis machines, so we stick with those," Vova said. "We usually try to hook our wholesale clients up with used gear, too, to help keep their costs down."
Though not a formal distributor of equipment, the Sputnik team has tinkered with, rebuilt and repaired enough equipment at this point that they're confident in doing so as a service for customers, sometimes even on the fly while making deliveries.
"All coffee equipment is not [necessarily] simple when you break it apart, but it's manageable," Vova said. "We've learned a lot from that. But we've also broken many machines, so don't give us too much credit. There are a lot of espresso carcasses in my apartment that my girlfriend's not too happy about."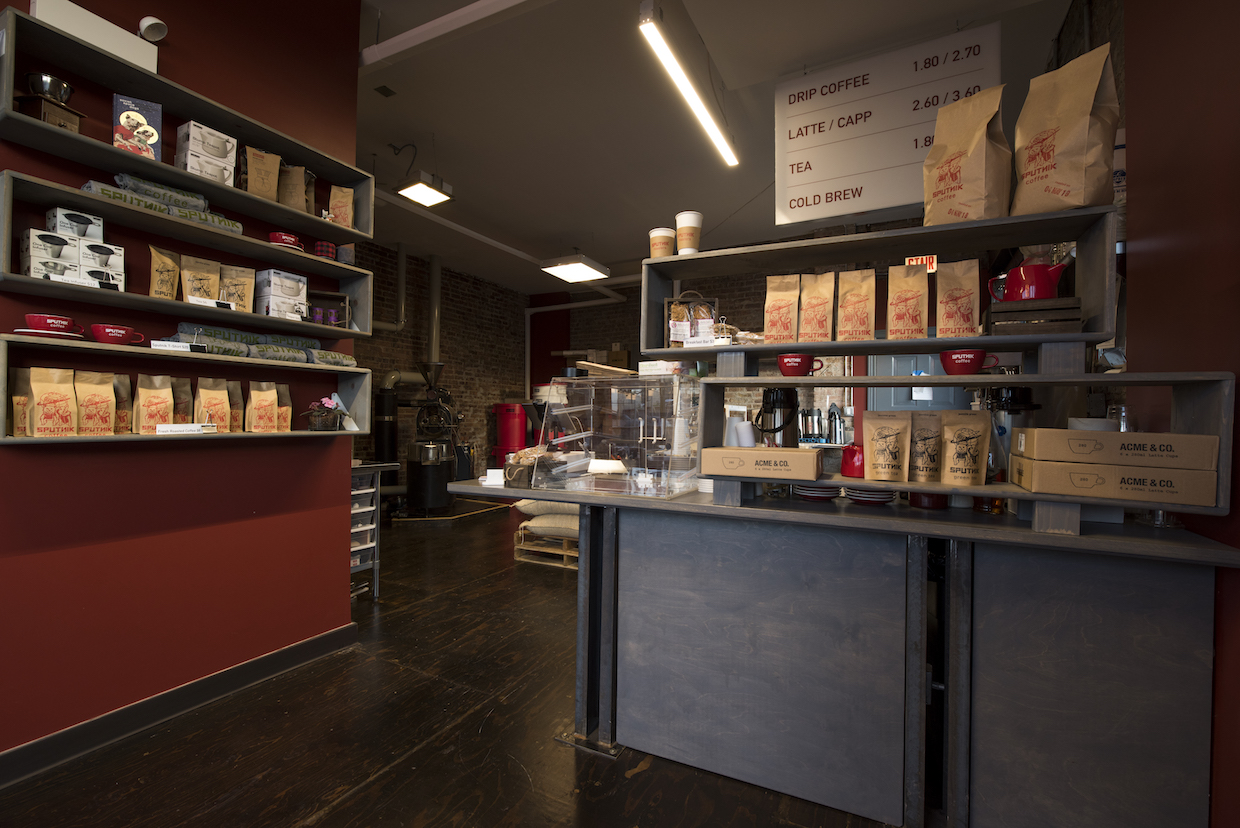 The point-of-sale system for the new cafe was another second-hand purchase that, while acquired for a good price, was still not an investment they were about to let slip away. So on the shop's third morning open, when a would-be thief entered and brandished what Kagan could see was a toy gun, he stood his ground.
Kagan alerted the assailant to the presence of security cameras in the shop and did his best to dissuade the thief verbally. When verbal communication failed and the man made a break for it with the iPad and register, Kagan pursued, tackled and scuffled with the man outside the shop, ultimately retrieving the stolen equipment before the man could run away.
Law enforcement and the local community were both reportedly very responsive and supportive after the incident, encouraging Sputnik not to be dissuaded from operating in the neighborhood, which Kagan said they wouldn't have been anyway. "It's a city," Vova said. "When you have such a cluster of people, you're going to get some rotten eggs."
In other words, Sputnik Coffee has landed, and intends to continue to grow within its local community, serving the public as well as restaurants and cafes looking for quality coffee and service at reasonable prices, with fast turnaround and no minimum orders.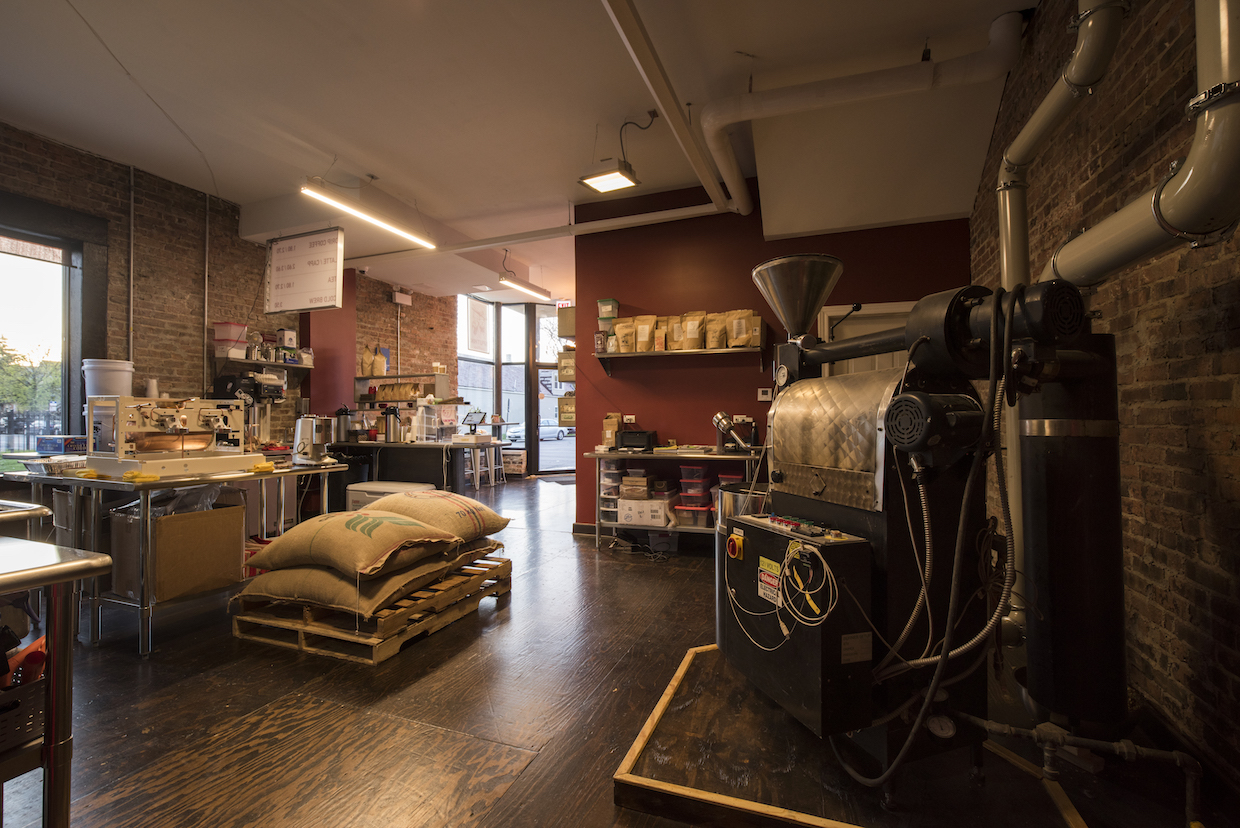 "We love wholesale because it gets people in different parts of the city to try our coffee so we're definitely going to gear towards that," said Vova. By the end of the year Sputnik anticipates making the decision as whether to pursue another cafe, a larger warehouse, or both, but for now the focus is on maintaining productivity and streamlining operations where they are.
Sputnik Coffee is open now at 2057 W. 51st Street, Chicago.
Howard Bryman
Howard Bryman is the associate editor of Daily Coffee News by Roast Magazine. He is based in Portland, Oregon.