The 2020 Specialty Coffee Transaction Guide has been released, offering a remarkable review of data on green coffee pricing in the specialty coffee market.
Overall, the Guide showed a dip in median free-on-board (FOB) prices from $2.75 per pound in the 2018/19 harvest year to $2.60 in 2019/20. The decline was attributed by the Guide's authors as due to a shift away from the highest-quality "fancy" coffees towards more higher-volume and lower-scoring specialty coffees.
Now in its third year of publication, the 2020 Guide summarizes anonymized data from some 51,000 green coffee purchasing contracts as submitted by a group of 81 volunteer "data donors," including roasters, importers, exporters cooperatives and producers.
With a focus squarely on the specialty coffee segment, the contracts collectively reflect the sale of just over 1 billion pounds of coffee, with an FOB value of more than $2.1 billion USD. The Emory University-based group behind the Guide estimates that the 2020 edition covers approximately 6% of the total specialty coffee volume traded globally over the past three years.
The Guide reflects a remarkable collaboration among participating data donors and the organizers, while shining a light on a continuous crisis issue in the coffee sector — namely, the woefully low coffee prices typically paid to coffee producers that are too often tied to the commodities market (a.k.a. "C market") price.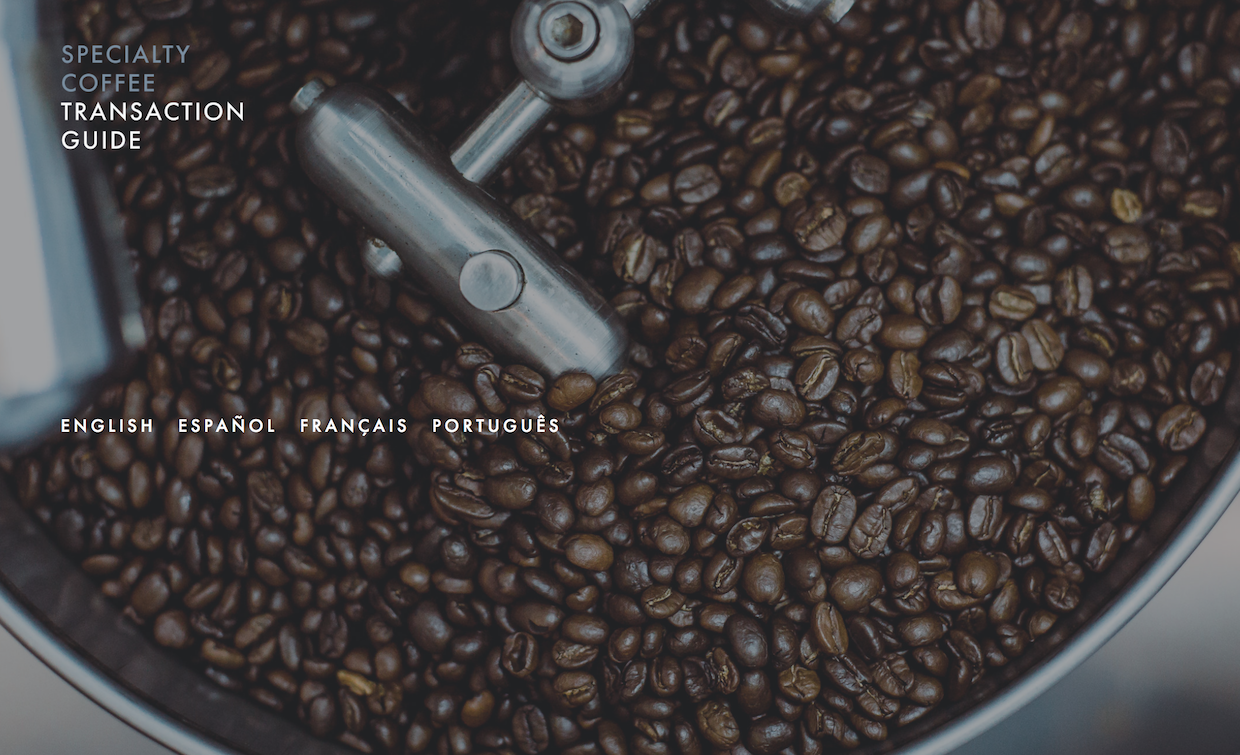 Such efforts have gained in importance in recent years as evidence continues to mount that coffee production has become increasingly unsustainable as a means for a livelihood, especially among small-scale farmers who are most often forced into the position of being "price takers" despite rising production costs and higher risk.
Players in the specialty coffee sector have long held up the notion that quality will necessarily lead to increased prices — and that notion is now annually put to the test through the Guide and its volunteer data contributors.
"A global market that allows individuals and organizations to buy green coffees as near-commodities and then sell them as differentiated, high valued-added products does not ensure adequate compensation for coffee producers, families, and communities," the Guide's authors wrote in an announcement of the 2020 edition. "In many cases, specialty coffee producers do not receive enough from coffee sales to cover production costs, let alone investments for their future."
Notably, the 2020 Specialty Coffee Transaction Guide was produced during a pandemic that has disrupted operations throughout the coffee trade. Guide project leads Peter Roberts of Emory University and Chad Trewick of the consultancy Reciprocafé jointly told Daily Coffee News via email that they were concerned some of the Guide's data donors might not contribute this year, although they wound up pleasantly surprised.
"We are fortunate to work with a very committed group of specialty coffee companies," they wrote. "So, while distractions and constraints meant that it took a bit longer to collect data from more than 75 company sources, we are thrilled by the very high percentage of returning data donors and by the quality of their various efforts. We are also buoyed by the fact that we added 10 new data donors in such a challenging year."
Another positive development was the fact that most of the pricing data for the specialty coffees represented showed remarkable resiliency from year to year throughout different categories such as quality level, purchase volume, and region or country of origin. This despite the immense challenges that 2020 dealt to buyers and sellers alike.
Wrote Roberts and Trewick, "In the end, we were buoyed not only by the widespread commitment to this market-based movement, but also that pricing in general held in most of our quality/quantity buckets."
The complete 2020 Specialty Coffee Transaction Guide is available here for free (with registration.
Nick Brown
Nick Brown is the editor of Daily Coffee News by Roast Magazine.