Now on the prowl for customers from its Illinois home base is Jaguar Coffee, a pandemic-propelled startup whose freshly roasted coffee also opens a window into the shared Mexican heritage and personalities of its co-founders Juan Vargas and Mario Estrada.
"From Monarch butterflies to Purepecha artwork and the artisanal crafts of the Pueblos Magicos, our logo, style and designs are influenced by Michoacán," Vargas told Daily Coffee News. "We don't want to just share our coffee, but our heritage as well."
From its Jaguar Coffee logo to each of the bags of single-origin coffee, the brand has created a distinct symbology designed to pique coffee drinkers' interests.
"We aren't limiting ourselves to just our particular heritage," said Vargas. "Hispanic heritage is so beautiful and we try to incorporate it into our ideas and design. Ultimately we want people to say 'That's a cool design, I wonder what influenced it,' so they search for what inspired us and get to know a heritage and culture beyond their own."
Vargas and Estrada both descend from family in Michoacán, where Vargas's parents grew up on a 16-hectare farm that still produces sorghum.
"They often spoke about a connection with the land they missed since immigrating to Chicago," Vargas told Daily Coffee News. "I never really did understand that sentiment until I was able to visit and spend time at the farm. There's nothing quite like unplugging and working the land beneath your feet, having the sun beat on your back, smelling the earth, and being immersed in complete serenity."
Lifelong friends with culinary backgrounds, Vargas and Estrada launched Jaguar online in February from their home base of Moline, Illinois. Estrada previously operated a mobile coffee truck and Vargas opened a restaurant that was shuttered after only six months due to the COVID-19 pandemic.
"I went from not having enough hours in the day to not having enough to do," said Vargas. "Going into business together was a natural progression for friends who are entrepreneurs."
Estrada had taken Specialty Coffee Association roasting classes and honed his craft on an Aillio Bullet roaster for roughly a year prior to launching under a different name at local farmers markets.
"My initial idea was to continue selling at the farmers market with the hopes of growing my roasting operation," Estrada told DCN. "Unfortunately the pandemic had different plans."
Estrada and Vargas then joined forces to launch Jaguar as an online retail venture, expanding into wholesale and grocery sales. Green coffees sourced by way of Genuine Origin are now roasted in the 10-kilo-capacity Mill City Roasters machine owned by a trusted local roasting company.
Barista Edgar Ramirez leads the brewing at Jaguar pop-ups, which are helping to showcase the brand and its coffees locally. At the same time, Vargas is planning to return to Mexico to visit the family farm, while also exploring coffee connections.
Said Vargas, "We would love to be involved with every aspect of the coffee production from growing, to picking, and roasting."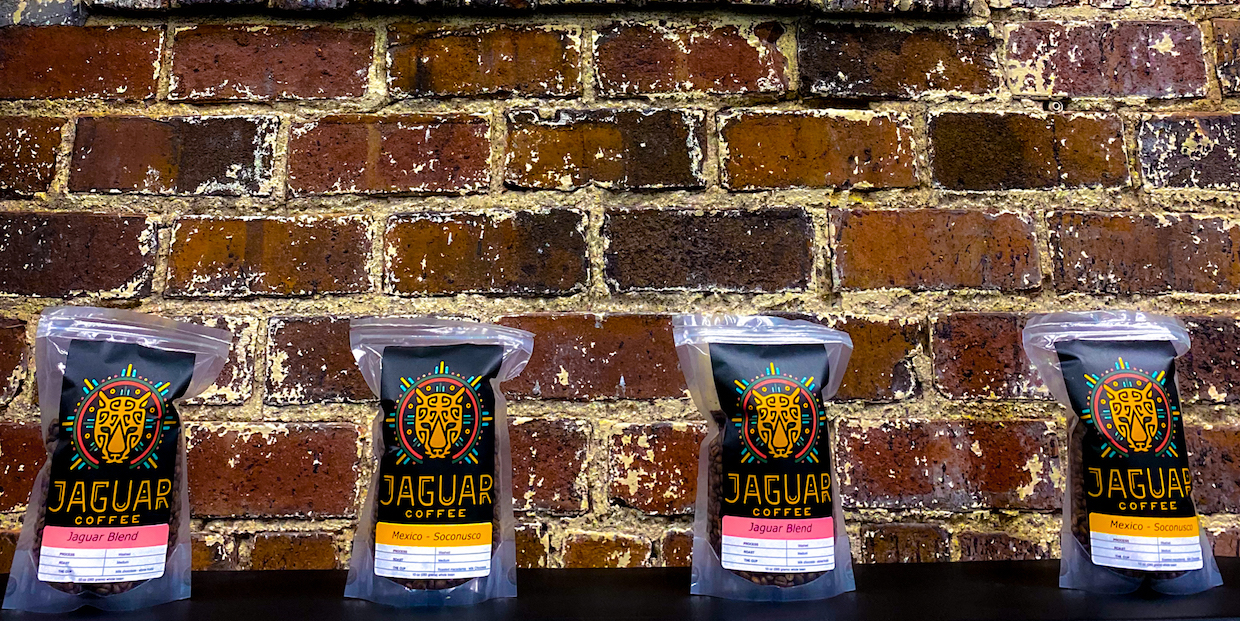 Howard Bryman
Howard Bryman is the associate editor of Daily Coffee News by Roast Magazine. He is based in Portland, Oregon.