A new hub for exclusively Colombian arabica coffee has opened in the Southwest Miami suburb of Kendall with the second retail location of Macondo Coffee.
Offering an independent alternative to the surrounding coffee chain stores while bursting with color and references to Colombian culture, the Macondo Kendall location is technically the first franchise location for the Miami roasting outfit Macondo Coffee Roasters.
Founded by Colombian native Fabio Caro in 2015, Macondo sources only Colombian coffees from smallholder farmers before roasting them in Miami and sharing them through online and in-person sales.
Bringing Macondo Coffee to life in Kendall are the Venezuelan wife and husband team of Carolina Omedas and Emigdio Suarez.
The couple is now overseeing the bar where a Wega Polaris 3-group machine supported by a Mahlkönig Peak grinder turns out brews for a traditional espresso-based hot drinks menu. There are also pourover Colombian coffees and cold brew courtesy of a Yama-made drip tower.
---
Related Reading
---
Following the original Macondo shop in Doral, the Kendall location also emphasizes a health-forward menu of fresh food items such as panini, bowls, empanadas and various breakfast offerings.
Inside the shop is a colorful hand-drawn illustrated coffee and food menu, Macondo's signature burnt orange and yellows and numerous references to renowned Colombian author Gabriel García Márquez, whose masterpiece 100 Years of Solitude took place in the fictional village of Macondo.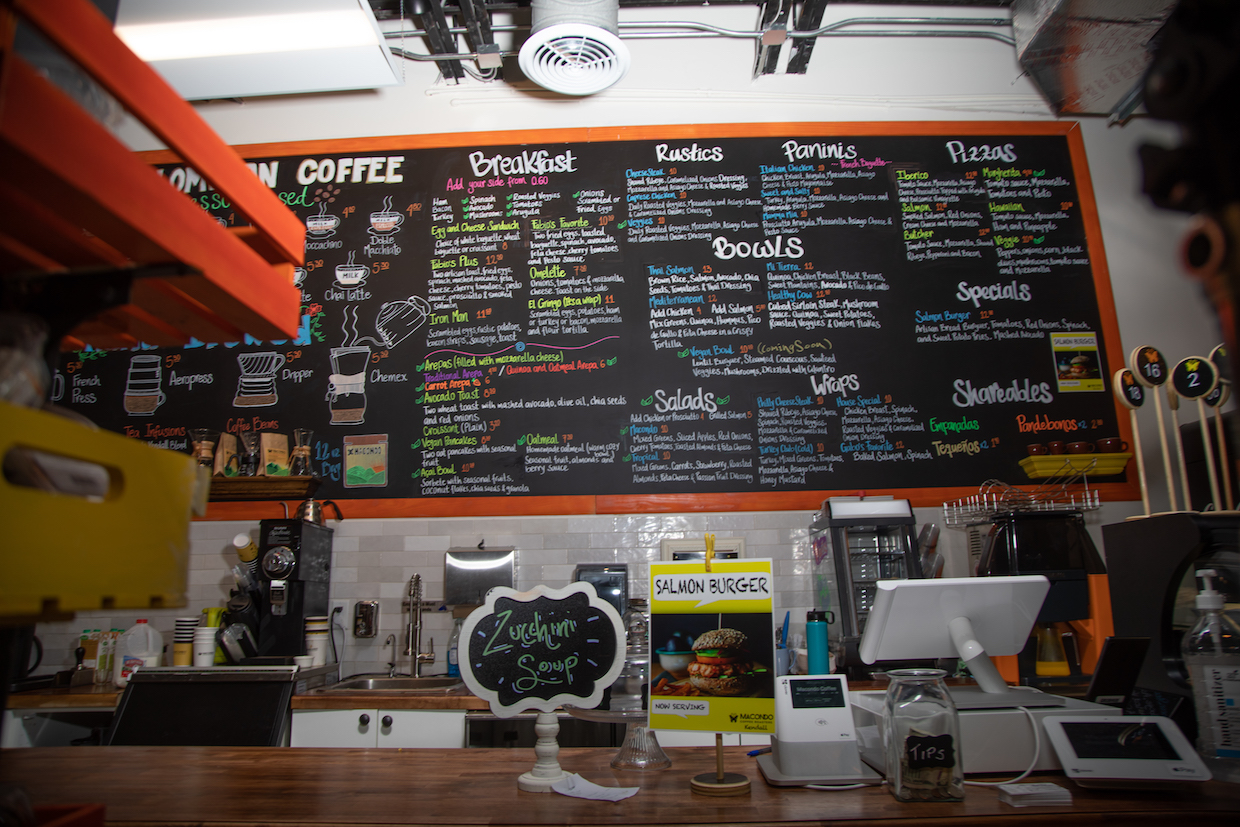 The Macondo Kendall owners told DCN that the buildout during the pandemic was indescribably difficult, but that thus far the shop has been welcomed by the suburban community with arms wide open.
"Kendall is a very large and diverse community, with very strong bonds among the neighbors," they told DCN via email. "With a population of 80,000 people, the existence of a place like Macondo was desperately needed, not only as a coffee and food provider, but especially as a gathering and sharing space."
---
Macondo Coffee in Kendall is now open at 13021 SW 88th St. Tell us about your new coffee shop or roastery here.