The maxim "But first, coffee" has been brought up to date by Bae Coffee, a Chicago-based roasting company that just opened its first brick-and-mortar shop.
Bae takes its name from the term of endearment popularized by the millennial set to mean "before anyone else." Bae Coffee co-founders Alicia Zyburt and Devon Owens put specialty coffee on that pedestal of love, while decking out the Lake View neighborhood cafe with Valentine-style and overtly Instagrammable pinks, whites, velvet and tinsel.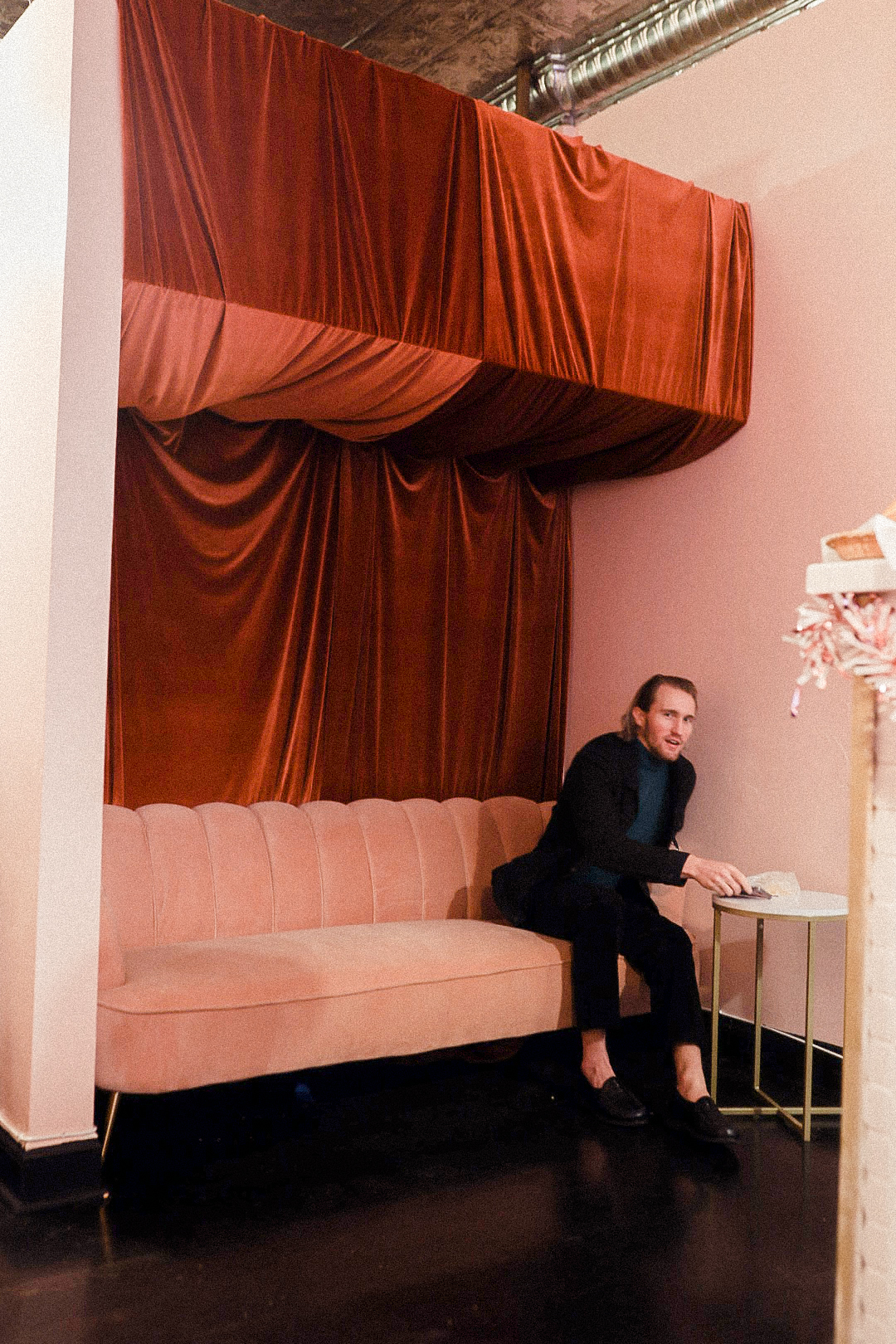 "Our goal was simple: Make this space a standout, living, breathing backdrop for the coffee photography that will inevitably happen there by our customers," Zyburt, creative director for Bae Coffee, told Daily Coffee News. "The whole space is designed to surprise and delight, while never feeling stuffy or unapproachable."
Seating in the 800-square-foot shop includes small tables and a midcentury modern bench in lush velvet upholstery with a velvet tapestry backdrop. Disco ball wall sconces and rose gold tinsel window dressings catch the light reflected off the polished tin ceilings.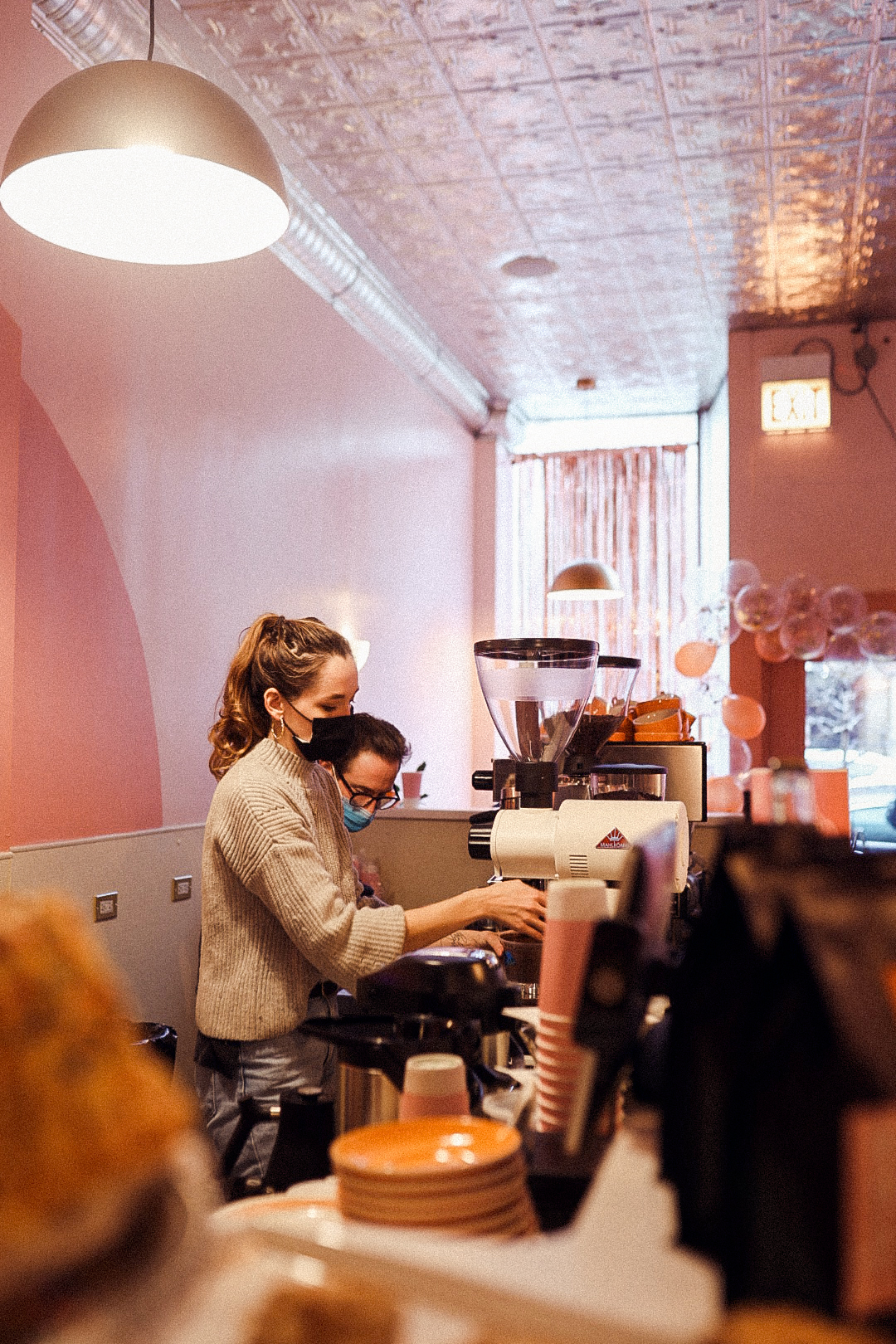 Said Zyburt. "It's hard to be in a bad mood when you're surrounded by shimmering pink."
Owens, meanwhile, focuses on greens, beiges and browns, roasting the coffees for the shop on a Probat roaster owned by Brewpoint Coffee in Elmhurst, Illinois. Brewpoint founder Melissa Villanueva helped train Owens in the craft.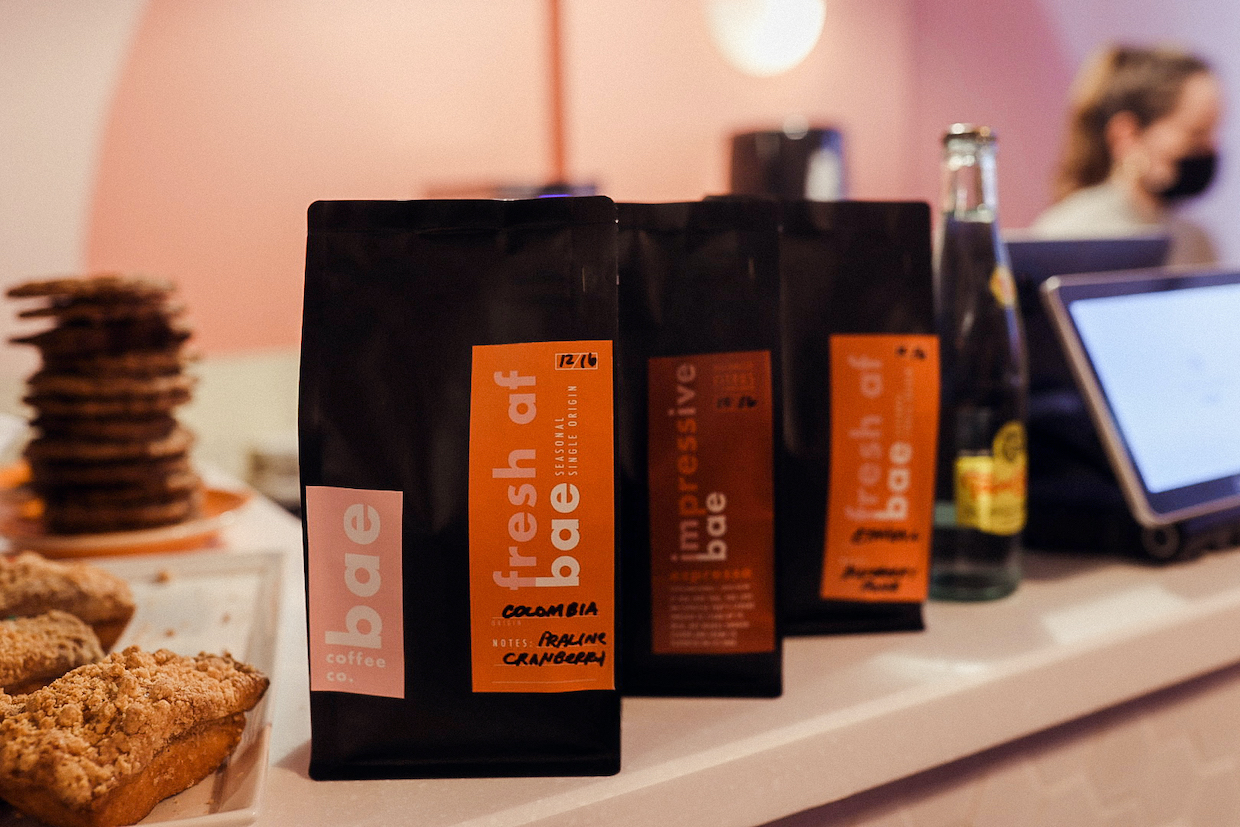 "When roasting and blending for espresso, I'm looking for both balance [and] sweetness, and a minimum 22% development time," Owens told DCN. "I'm very fortunate to have 20 years of cooking things not coffee to use as a baseline of checks and balances. It's all a learning curve, though, and I'm humbled by every experience."
The espresso menu at the shop is supported by a La Marzocco Linea A machine paired with Mazzer grinders, while a Mahlkönig EK43 grinds for manual pourovers. Pastries come from Halee Raff of Hardbittenn and Felicia Mayden of the Ace Hotel: Chicago.
---
Related Reading
---
It was also over a coffee shop counter where the baes in charge, Zyburt and Owens, initially met. Zyburt was the cashier at a coffee shop in River Forest, Illinois, where Owens was a regular customer. The two eventually married and progressed through different tracks in the restaurant industry before launching Bae in 2020 during a pandemic-induced furlough.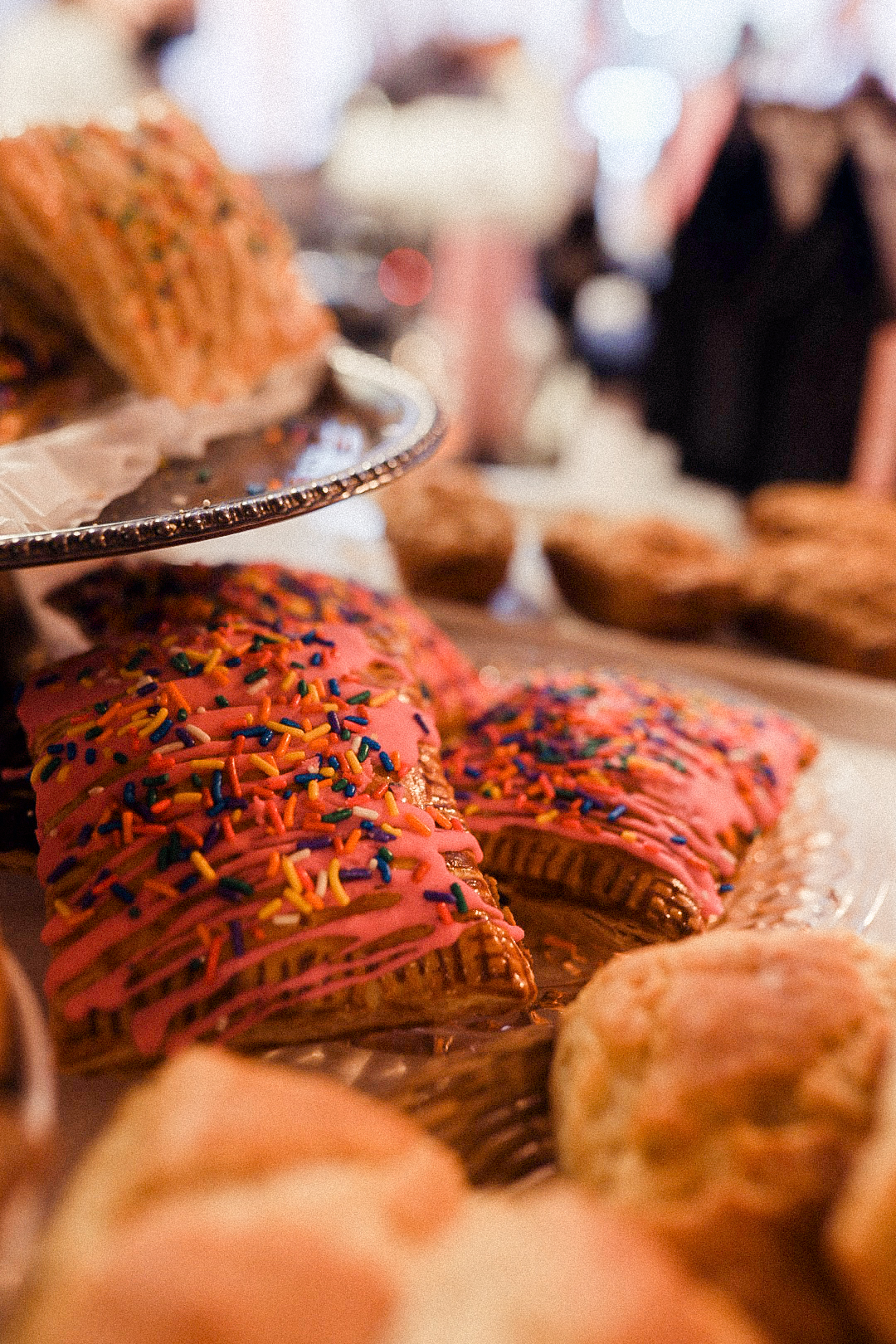 "We view Bae at 2945 N Broadway as the first of many delightful, unique, and rewarding openings," said Zyburt. "We're looking forward to the opportunity to be able to bring a roaster onsite and make our current location our very own roastery to support what we're manifesting to be a network of cafes, shops, and restaurants throughout Chicago and beyond."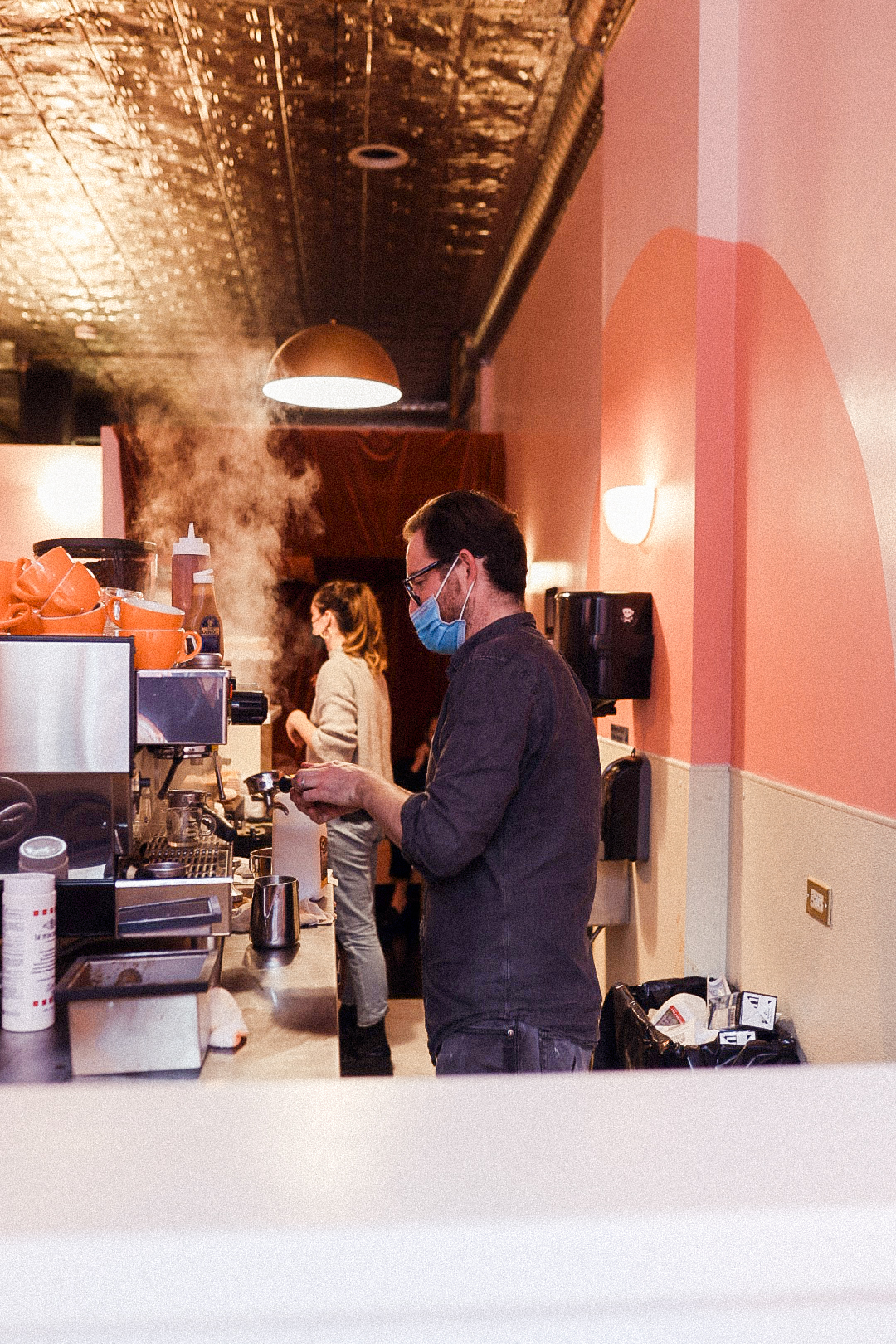 ---
Bae Coffee is located at 2945 N Broadway in Chicago. Tell us about your new coffee shop or roastery here.
Howard Bryman
Howard Bryman is the associate editor of Daily Coffee News by Roast Magazine. He is based in Portland, Oregon.