It's Monday all weekend, every weekend this winter by the Horticulture Hall in the Garfield Park Conservatory on Chicago's West Side, where Monday Coffee has started a long-term pop-up serving hot and cold coffees.
The coffee cart at the Conservatory is the third outpost for the Black-owned Windy City coffee purveyor, which also serves brews and beans at the Retreat at Currency Exchange Cafe in Washington Park on the South Side and on the first-floor coffee bar at the Soho House Chicago hotel in the Fulton Market district.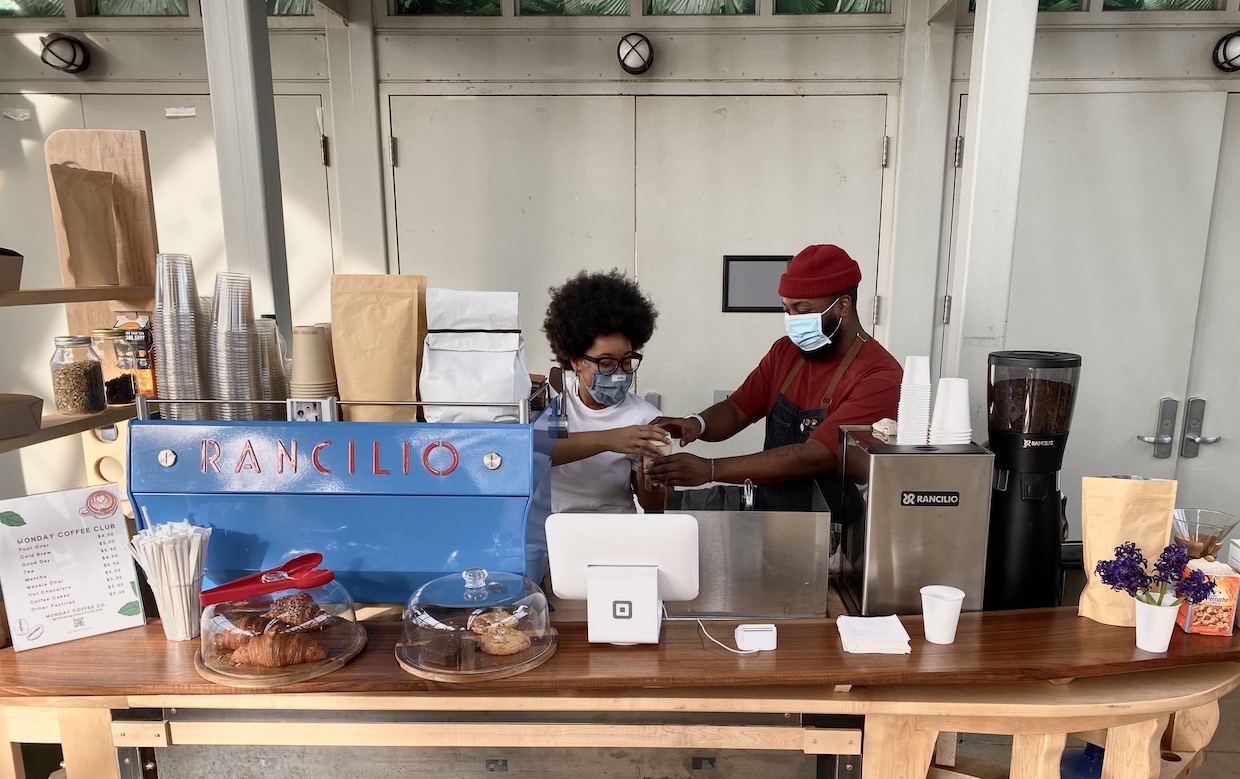 Founded by South Side locals Amanda Christine Harth and Felton Kizer during the pandemic, Monday Coffee was conceived to help bring a sense of connectedness in an era of social and physical isolation, while also addressing what Kizer and Harth perceive as a distinct absence of Black faces among owners and servers of specialty coffee businesses.
"We're in three completely different spaces around the city of Chicago, servicing three completely different demographics," Harth told Daily Coffee News. "I believe that we're excelling in terms of keeping community at the core of this coffee brand, making space to have these conversations consistently, [and] making space for other entrepreneurs or serial entrepreneurs like ourselves — or artists with different types of interest in this beverage."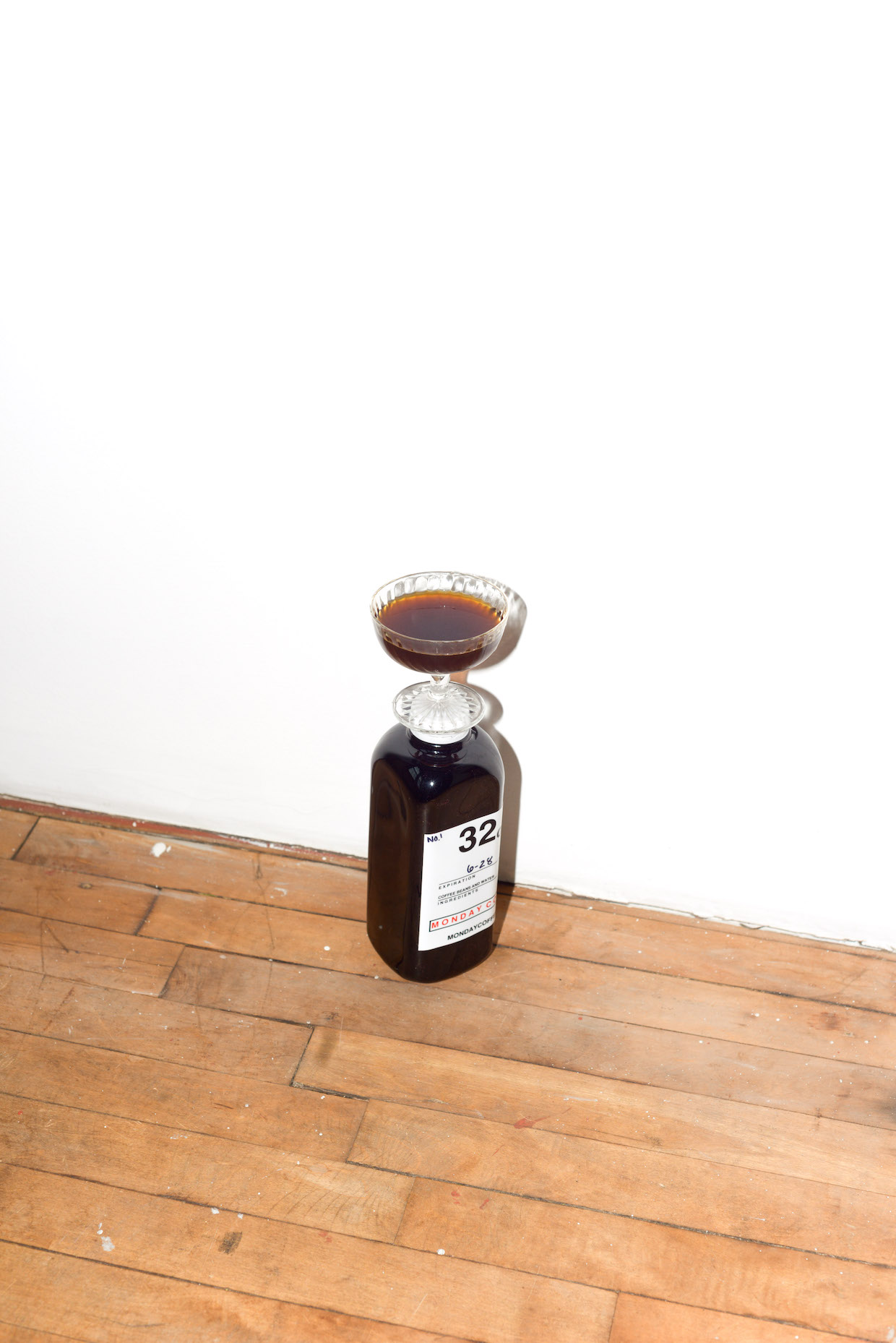 Coffees for the brand are roasted in the Grand Rapids suburb of Grandville, Michigan, by Littlefoot Coffee, prior to being packaged and prepared by Harth, Kizer and their employees in Chicago.
With coffee setups varying by location, the company offers manual pourover brews, cold brew, espresso and tea, the latter curated and blended by Kizer and soon to be given its own brand and website.
"The fact that we have this fresh perspective, this Black perspective, on how we believe coffee should be perceived, and how coffee culture is shifting because of this new take on it [is why] I think that we are excelling in these different spaces," said Harth.
---
Related Reading
---
Kizer, who is also co-founder of culture, fashion and arts hub Off-Kilter Media, wants Monday Coffee to offer an accessible "coffee party" vibe that is also specifically representative of and welcoming to the BIPOC communities.
Inclusivity is also reflected in the coffe offerings. Rather than present a rigid or didactic menu that prescribes certain methods to certain beans, all Monday coffees are offered either hot or as a cold brew, including lighter-roasted single-origin beans. Recently Monday hosted a coffee brewing throwdown that welcomed participants with practically no prior coffee experience.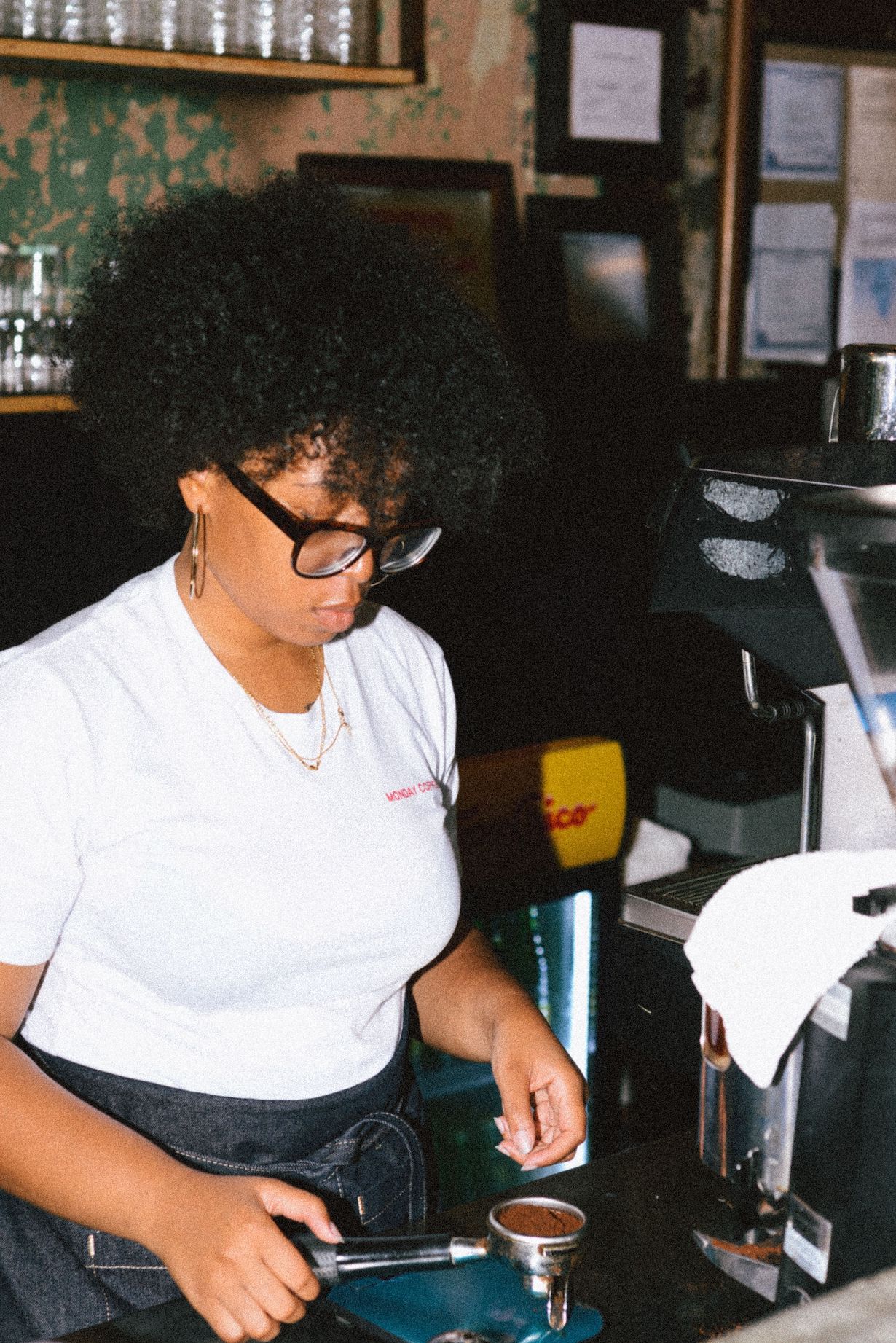 While Harth brings financial and management savvy from her career in the fashion industry, and Kizer contributes a creative vision and charisma from his work as a portrait photographer, neither approach Monday from a background in coffee, which they consider an advantage in their mission to affect the status quo.
"We're trying to meet people wherever they are in their coffee journey," said Kizer. "We're not part of 'coffee culture,' and that's perfectly fine with us, because we are creating a new culture, because the coffee culture is also very toxic. It's very white and it's dominated by white cis-men. I am very grateful that we have an opportunity to bring about our knowledge of what we're learning about coffee to people, and whoever wants to be a part of that can be a part of that."
---
The Monday Coffee residency at Retreat at Currency Exchange Cafe is located at 305 E Garfield Blvd in Chicago, and will run through the end of January 2022. Monday Coffee at the Horticulture Hall at the Garfield Park Conservatory is located at 300 N Central Park Ave. in Chicago and will run until at least the end of February 2022.
Howard Bryman
Howard Bryman is the associate editor of Daily Coffee News by Roast Magazine. He is based in Portland, Oregon.