The drinksmiths at Discourse Coffee in Milwaukee continue to expand the conversation surrounding coffee, with a flurry of openings over the past eight months that includes a new downtown flagship cafe.
The first of Discourse's three openings occurred in February with a coffee counter at the Crossroads Collective food hall, where the young coffee company first popped up in Milwaukee last year. There, Discourse continues to offer such concoctions as the Motorhead, an espresso drink made with pork fat, apple caramel, chai concentrate, root beer bitters, apple powder and smoked sea salt.
Shortly after that opening, Discourse Coffee Founder and Creative Director Ryan Castelaz received the email from the deputy director of the Milwaukee Art Museum, officially inviting Discourse to establish a coffee bar at the museum's public cafe — but only if it could be open by April.
"It's the most iconic building in Milwaukee, and maybe one of the most iconic buildings in the Midwest," Castalaz told Daily Coffee News of the building designed by Spanish architect Santiago Calatrava. "When they call, you don't say no. The entire building is literally a work of art."
Discourse pulled off the museum opening and included a new category of rotating specials called Art Drinks. One early example is the Typewriter Eraser, involving Discourse's sous vide coffee mixed with oat milk, strawberry, pistachio orgeat and a proprietary bitters blend, topped with donut-infused whipped cream, a dusting of raspberry powder, upright pistachio shards, dried strawberry and black lava salt. The color and shape of the drink in the glass give it a physical resemblance to the sculpture of the same name by Claes Oldenburg that stands more than 11 feet tall in the museum's glass-fronted lakefront atrium.
"[The Art menu] changes periodically based on the collection at the museum," said Castelaz. "So that's been really fun for us to do, and really fun for us to share with museum guests, and just very in line with our ethos as a brand."
Meanwhile, the new 1,600-square-foot flagship bar is all about seasonality, with three new drinks every month showcasing flavors of the moment.
"Instead of putting out our Fall menu and just coasting on it for three months, we're putting out a Fall One menu that launches in September, and then a Fall Two menu that launches in October, and we're all really excited about the potential of that structure," said Castelaz. "We're focused on hyper-seasonality, working on a monthly basis with local producers to really find what are the ingredients that are in season now in this location, and how we can optimize those ingredients throughout the year. I'm going to farmers markets every week now."
Guests at the downtown shop are encouraged to linger in comfortable lounge furniture and pillow-lined window wells between exposed brick walls, enveloped by the warm sounds of vinyl records spun on vintage hi-fi equipment.
A Mazzer ZM grinder behind the counter is one of the team's favorite new pieces of equipment for dialing in brews of roasted coffees supplied by a number of roasting companies from throughout the country. Another favorite piece of equipment used in the Discourse kitchen is a rotary evaporator, which historically have been found in chemistry labs but have also found favor in recent years in food-and-beverage applications, particularly for crafting extracts.
"It's something that's only being used in cocktail bars and high end fine dining restaurants, but compared to what we spend on other coffee equipment, it is not that expensive, and it fundamentally changes what you can do in the drink-making space," Castelaz said of the machine. "It is a door-opener like no other door-opener I've ever had behind the bar. It's absolutely wild."
The kitchen downtown supports the company's continued explorations of molecular gastronomy, leading to a "Crenn" menu of "one-bite, explode-in-your-mouth roller coasters," as well as seasonal items to pair with its drinks.
For example, a mango tamarind oat milk chai latte with nutmeg and optional espresso called the Clyde can be paired with Bonnie, a breakfast bun that's also filled with mango and tamarind.
Discourse is also developing new techniques to mitigate food waste. Milk briefly leftover from steaming is reserved for in-house ricotta cheesemaking. When it comes to a beverage ingredient such as blackberry-infused balsamic vinegar, the kitchen also makes use of the blackberries after they're strained from the liquid. Castelaz is also in talks with a local brewery to develop a coffee stout that utilizes spent coffee grounds.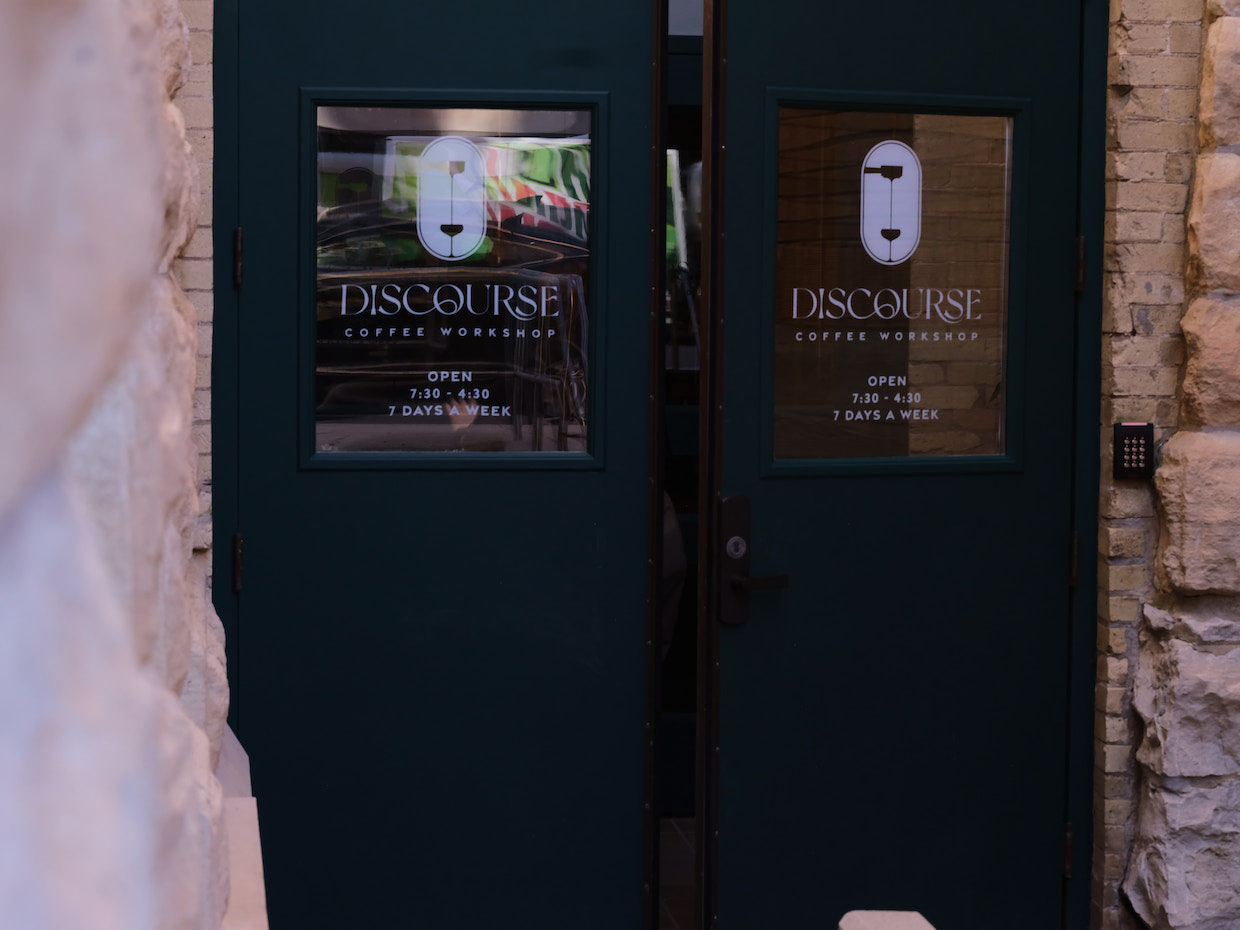 "In my experience, spent coffee is about three times less strong in terms of flavor intensity, but if you're going through 20 pounds of coffee in a day, that's the equivalent of five pounds of infusible coffee," said Castelaz. "I think it's those iterative improvements on the way that we view waste at the coffee shop that will, as an industry, lead us to huge breakthroughs in industry-wide reduction of waste over the next two to five years."
---
The Discourse Coffee stand at Crossroads Collective is located at 2238 N Farwell Ave. Discourse Coffee at the Milwaukee Art Museum is located at 700 N Art Museum Dr. The Discourse Coffee downtown flagship is located at 1020 N Broadway.
Howard Bryman
Howard Bryman is the associate editor of Daily Coffee News by Roast Magazine. He is based in Portland, Oregon.