The nest of commercial espresso machines in the Eagle line from Italian brand Victoria Arduino is soon to become more crowded with the hatching of the Eagle Tempo.
Emphasizing consistency and speed in busy commercial environments, the forthcoming Eagle Tempo joins siblings the Black Eagle Maverick, the Eagle One and the E1 Prima in the line.
The Tempo is technically a reimagining of the VA358 White Eagle espresso machine, which was first introduced in 2016. One of the major deviations is the replacement of the White Eagle's T3 efficiency technology with the company's newer N.E.O. and T.E.R.S. systems for reducing energy consumption and waste.
Like the White Eagle before it, the Eagle Tempo emphasizes productivity, with automation and volumetric features designed for fast, consistent drink creation in high-volume commercial settings.
Each group features five backlit, soft-touch buttons that can be programmed for specific water volumes. Each group can be set to its own temperature through a single central touchscreen display, and each will auto-purge upon removal of the portafilter.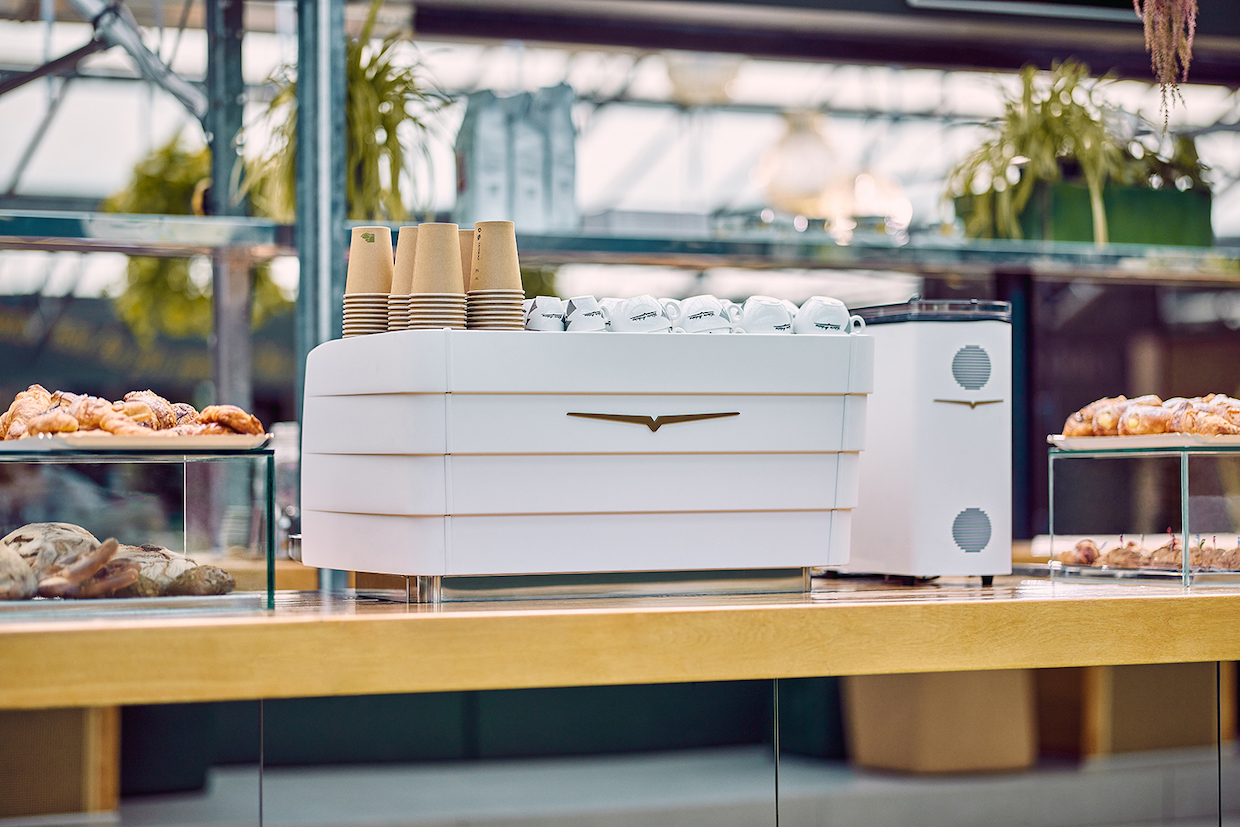 Steam from the machine's insulated 9-liter stainless steel steam boiler is managed by the machine's "Easycream" technology for automatic frothing of dairy and alternative milks. Through the touchscreen, operators can program each steam wand for custom frothing profiles that are initiated with the press of the steam lever.
While maintaining the overall aesthetic of the Eagle line, the Eagle Tempo soars apart with a new touchscreen, longer cool-touch steam wands and new lighting for baristas. The new drip tray features cutouts for purging the steam wands.
Aesthetically, the Tempo is further distinguished by its solid base, which sits 10 centimeters (approximately 3.9 inches) lower than the four-footed White Eagle. Additionally, whereas the White Eagle had the brand name spelled out on the machine's customer-facing side, the Tempo features only the sprawling eagle wing logo.
"The new design details make it a present-day product with strong recognizability," Simonelli Group Vice President Marco Feliziani recently told DCN. "Eagle Tempo is designed for a specific target with specific needs: Recognizable design; ease of use; and high productive capacity."
United States sales of the Eagle Tempo are expected to launch in the third quarter of 2023, and Feliziani said prices for the U.S. market have yet to be determined.
---
Does your coffee business have news to share? Let DCN's editors know here.
Howard Bryman
Howard Bryman is the associate editor of Daily Coffee News by Roast Magazine. He is based in Portland, Oregon.