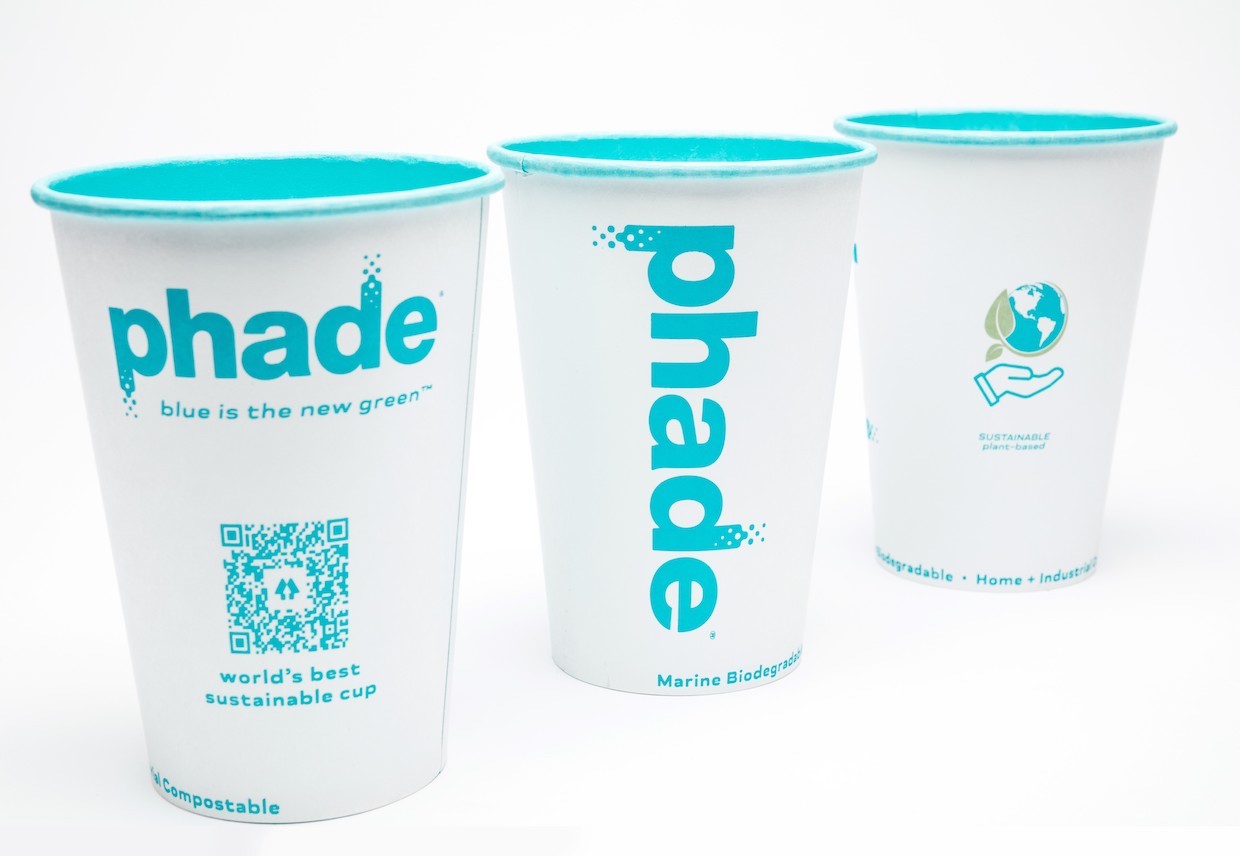 Suburban Atlanta-based single-use products maker WinCup has introduced hot beverage cups under its Phade brand (styled "phade" by the company) that it says are both home and commercially compostable.
The vast majority of single-use coffee cups that flow from coffee shops to waste streams today include a thin, oil-derived polyethylene lining designed to protect paper cups from degrading when in contact with hot liquids. Thus, coffee cups are typically not compostable.
The Phade cup responds to that issue through the use of a bioplastic formulation known as PHA (polyhydroxyalkanoate), which is derived from the fermentation of canola oil.
Although some other brands currently market compostable coffee cups, the Phade line represents a first-to-market application of PHA in hot liquid cups, according to WinCup.
Unlike other popular bioplastics like PLA and PBS, PHA has shown promise in withstanding higher temperatures in food-and-drink applications.
Upon the cup line's launch in late March, company representatives told DCN that the cups are fully compostable in both home and commercial applications "in a matter of months."
The Phade cup launch follows an initial Phade product, compostable straws that use PHA and have found favor at numerous high-profile sports venues that offer composting options.
"The cups are home compostable and industrial compostable, and that is based on initial independent laboratory testing," WinCup CEO Brad Laporte told DCN. "Third party home compostable certification from TUV Austria is pending. The PHA lining in the cup is fully certified as both home and industrial compostable."
Developed over the past two years, and using PHA material sourced from fellow Georgia-based company Danimer Scientific, the Phade cups are intended for use with hot beverages "served at safe serving temperatures — generally understood to be up to approximately 180 degrees F — over a 24-hour period under typical usage/consumption conditions," Laporte told DCN.
WinCup is currently selling the Phade-branded cups through the Phade website with direct shipping to United States buyers. An order of 660 with 16-ounce capacity costs $95. Phade-made sleeves and lids are sold separately in bulk quantities.
---
Does your coffee business have news to share? Let DCN's editors know here.
Nick Brown
Nick Brown is the editor of Daily Coffee News by Roast Magazine.