Four years after opening in downtown Hagerstown, Maryland, Cannon Coffee has opened a second retail location at the front of its brand-new roastery.
The new location is smaller than the company's original 1350-square-foot coffee shop, while devoting roughly three quarters of its 800 square feet to roasted coffee production.
The roastery revolves around a San Franciscan SF25 roaster that the Cannon team hand-painted matte black to mesh with a matte grey tile floor, white walls and black metal structural and accent details.
"Our original shop in downtown Hagerstown has a patterned tile on the front of the counter, and we did something similar with a black and white matte tile covering the face of our bar area," Cannon Coffee Co-Owner Lindsay Reese recently told Daily Coffee News. "The space still feels clean with mostly black and white, but we added in wood and metal throughout to warm it up."
Although a second coffee bar was not originally part of the expansion plan, the new roastery's proximity to Hagerstown Community College and the Meritus Medical Center made the second cafe a no-brainer, according to co-owner Chris Reese.
"It's the most rapidly growing area in Hagerstown, and there wasn't a great option for coffee," Chris Reese said of the College Plaza Shopping Center location. "We instantly got excited about the possibility of creating a hybrid space that could pair as a roastery and retail space."
The new shop features a La Marzocco Linea PB ABR two-group espresso machine flanked by a Mazzer Robur S grinder for espresso, a Mazzer Kony for decaf and a PuqPress auto-tamper. Velvety cold coffees are served through a two-tap cold brew/nitro system made by Brood.
Former Stage Line Coffee Roasters head roaster Clayton Blank is now helping to run the coffee program at Cannon as coffee director, sourcing green coffees from importers such as Keffa Coffee, La Baia Coffee Supply and De la Finca.
"Typically, we aim for short development times after first crack to really showcase the qualities of the coffee itself, not the machine," Blank told DCN. "We want our coffees to be financially approachable, but we're not shying away from higher priced/experimental coffees. We want to source coffees that fit our brand at Cannon, and where we see it in our lineup."
The new shop's opening day was June 28. Chris Reese said that while a retail shop in the neighboring city of Fredericksburg is on the Cannon bucket list, growth through wholesale and subscriptions is the immediate concern.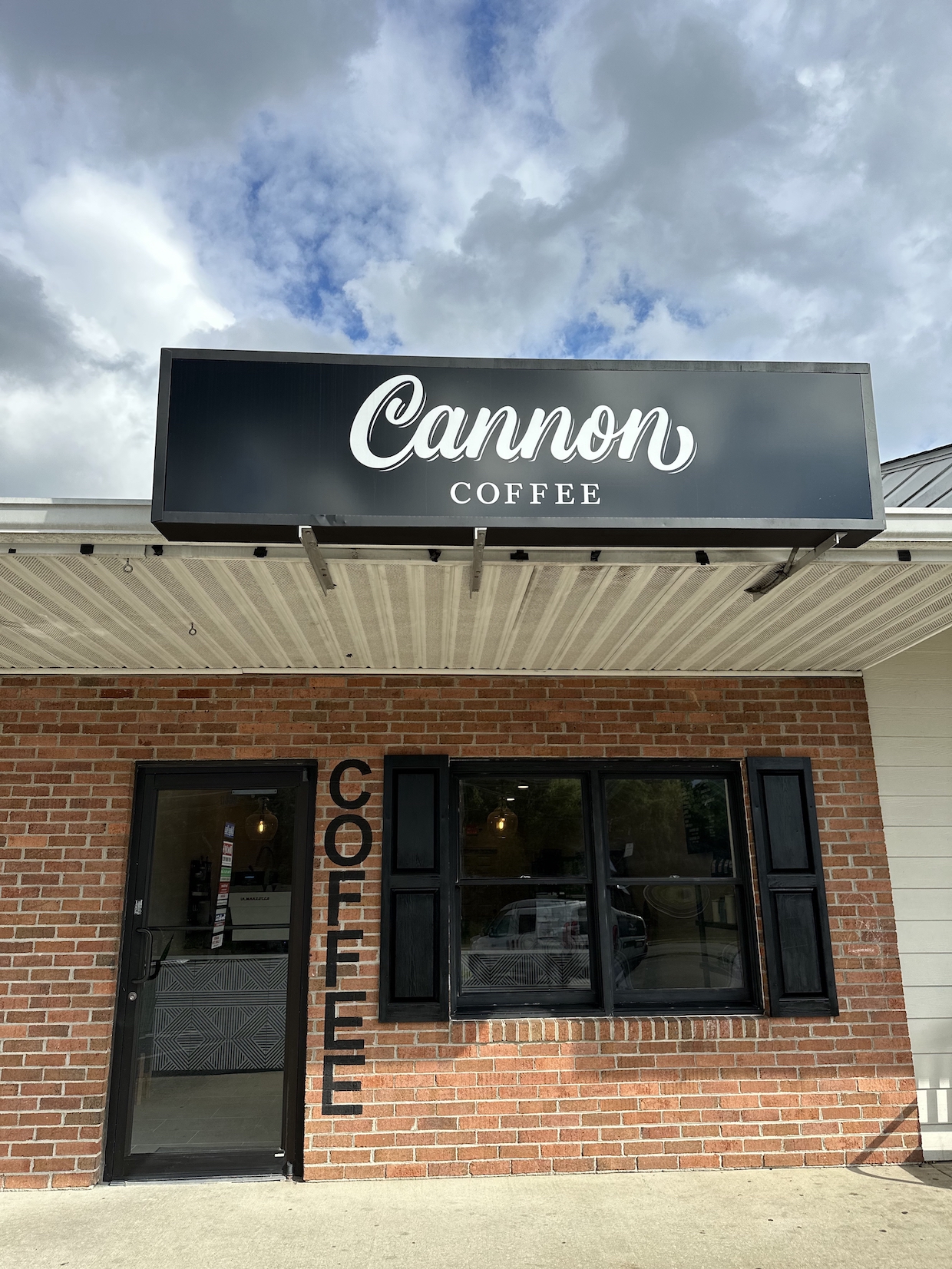 "We are open, roasting our own product, and couldn't be more excited about the future," siad Reese. "Right now, we are focused on developing our offerings, growing our subscribers, and expanding our brand within the 60 mile radius."
---
Cannon Coffee is located at 11359 Robinwood Dr. in Hagerstown. Tell DCN's editors about your new coffee shop or roastery here.
Howard Bryman
Howard Bryman is the associate editor of Daily Coffee News by Roast Magazine. He is based in Portland, Oregon.