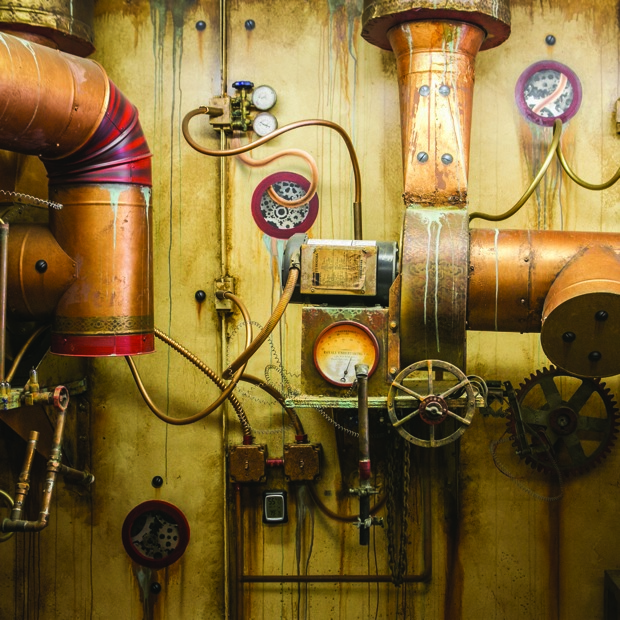 A coffee roastery built around the design theme of a submarine that creates the dark matter of the universe has opened its new headquarters in Chicago's Ukranian Village.
The new Dark Matter Coffee facility, which is at once a functioning coffee roastery and a work of art with help from Chicago artist  Jason Brammer, features two electric Sivetz roasters, one vintage 25-pound gas customized Sivetz, and one Diedrich IR 3-kilo roaster. The 4,000-square-foot facility also includes a training lab and a large retail space.
Dark Matter owner Jesse Diaz began roasting coffee for his Star Coffee Lounge in Ukranian Village in 2008, refining numerous house roasts and developing a heat-extracted ice coffee.
"The majority of the industry uses a cold brewing method for iced coffees. Dark Matter's is double strength, heat extracted coffee that is cooled, then either bottled or served from a nitrogen tapped keg," says Dark Matter's marketing director, Kyle Hodges. "These methods highlight the taste profile, resulting in a superior coffee experience. Dark Matter Coffee's bottling and keg delivery methods are as unique as the brew itself, allowing the iced coffee to be easily dispensed in high volume at bars, restaurants and events throughout Chicago."
Hodges says the retail component of the new facility is made for to-go sales for busy patrons who may not have time to visit the original Star Lounge Coffee Bar. There will be one featured coffee per day, depending on roasting cycles, as well an espresso drinks menu.
Here are some shots from the Dark Matter grand opening party two weeks ago:
Nick Brown
Nick Brown is the editor of Daily Coffee News by Roast Magazine.