Last February, we reported the research of a City University of New York professor who discovered that carbonized coffee can be used to inhibit the smell of raw sewage, among other practical filtration purposes.
Now Ministry of Supply, an upscale professional apparel company that made waves last year by earning nearly $430,000 on Kickstarter to develop its body-temperature-active dress shirt, seems to be applying that research. MOS is developing another product called Atlas, a sock that it describes as "like a Brita filter for your feet." As of this writing, with 16 days left in the Kickstarter campaign, supporters had pledged more than $120,000, greatly eclipsing the $30,000 goal.
So what is coffee's role in the new sock? Here's more from MOS:
The moisture-wicking, heat-management, and comfort capabilities of ATLAS are all made possible through its unique combination of fibers, a blend made up of cotton, recycled polyester and carbonized coffee. Odor control is difficult in socks. As such, we turned to nature to find an effective way to create a fresher sock, leading us to coffee. Atlas uses carbonized coffee which has been reclaimed from coffee roasters and shops, and is processed through a pharmaceutical process to remove the coffee oils (so it won't smell like coffee!) and is then infused into our recycled polyester yarns.  Odor molecules which are largely made of carbon are strongly attracted to the carbonized coffee. Atlas has a unique structure (kind of like a sponge with lots of surface area), which allows the particles to absorb a lot of odor. It's the same concept used in your Brita filter to absorb impurities – giving you clean, fresh water. The odor is released the when you launder your socks – returning to its full capacity.
According to MOS, the Atlas socks will be produced since the Kickstarter goal was met, and socks will be available in two styles and multiple print patterns.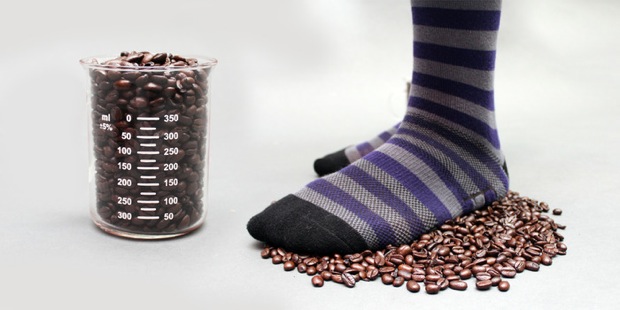 Nick Brown
Nick Brown is the editor of Daily Coffee News by Roast Magazine.