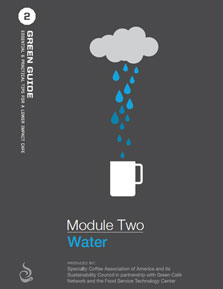 The Specialty Coffee Association of America (SCAA) has released the second installment in its Green Guide Module series, created to help coffee shop operators with practical tools for reductions in energy use, water use, waste and toxins.
Created in partnership with the Green Cafe Network and the Food Service Technology Center, the second module in the Green Guide series focuses on water conservation strategies.
"The initiative for the Green Guide grew from a stated need from SCAA membership and Guilds for more guidance and practical information on integrating sustainability principles into retail operations," the SCAA said in announcing the second module in the guide (the third installment of the Green Guide, which will address waste reduction, is expected to be available in early 2014). "In addition, numerous studies on the environmental impact of coffee have concluded that the bulk of impacts are at the end of the value chain; thus a concerted effort at retail is key to lowering the overall carbon footprint of the industry."
All SCAA Green Guide modules will be available here.
Nick Brown
Nick Brown is the editor of Daily Coffee News by Roast Magazine. Feedback and story ideas are welcome at publisher (at) dailycoffeenews.com, or see the "About Us" page for contact information.