Deservedly or not, specialty coffee sometimes has a reputation for exclusion. That is what is so refreshing about a program led by Spanish coffee company Cafento that provides a competition platform, training and job opportunities for aspiring baristas with Down syndrome.
Along with organizers Down Compostela, Down Vigo, Pousadas de Compostela and the Businessmen Association of Hotel and Catering of Santiago de Compostela, Cafento hosted its second Galician Down Barista Championship at the historic Pazo de Lestrove hotel on September 15. The event was the culmination of a five-day training session for 21 baristas with Down Syndrome.
Related Reading
La Colombe and Leonardo DiCaprio Selling Coffee for Charity
Debt Crisis Hurting Southern European Coffee Bars
"A couple of years ago we started training people with Down syndrome as baristas, and the experience was amazing for everyone who was involved," says Carolina Otero, the manager of Cafento who helped organized the event.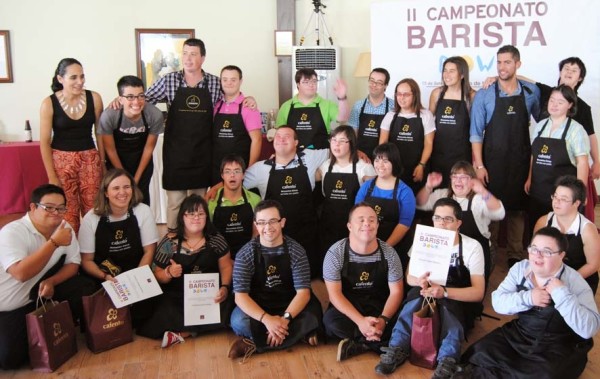 Cafento first realized the concept in 2011, formalizing the event for the first time in Galicia last year. In addition to the overarching goals of Down syndrome awareness and professional development, Cafento is hoping the concept with take off in other parts of Spain, or even in other countries.
The event itself involved four teams of four, each with an espresso specialist, a latte artist, a cocktail specialist and a designated speaker who helped lead the public through the routines. Said Victor Couto, a Cafento coach working with one of the Vigo teams, "Many experienced coffee shop owners and restaurant workers are not able to do some of the things these guys have learned during the training week. They are developing true barista skills."
The prize for the two winning teams includes additional training and professional development at coffee bars at some of the premier hotels in Compostela and Vigo. Cafento is already planning on bringing back the Galician Down Barista Championship next year, with additional Spanish regional competitions in the works.
Nick Brown
Nick Brown is the editor of Daily Coffee News by Roast Magazine. Feedback and story ideas are welcome at publisher (at) dailycoffeenews.com, or see the "About Us" page for contact information.