Metric Coffee in Chicago began roasting late last year, landing numerous fancy wholesale accounts among like-minded craft food and coffee purveyors, but its flagship account remains with Caffe Streets in Wicker Park.
Not coincidentally, Caffe Streets is owned by Darko Arandjelovic, who represents the business half of Metric Coffee. The other half, green buying and roasting, is led by Xavier Alexander, who spent years roasting for other companies before diving full-time into the Metric partnership.
In this candid Q&A, we ask Alexander — who worked his way up in 14 years to roasting and quality control duties at Intelligentsia from modest beginnings pulling espresso shots from semi-automatic machines at Starbucks — what drove him to this point, what the Metric brand is all about, and how he approaches each roast. He also gets in to the challenges of buying roasters online from abroad, as well as the possibility of a Metric retail spinoff called Crimson.
How did you and Darko connect?
I have known Darko for several years within the Chicago coffee scene. I have always respected his work, his view on life and has absolutely zero-tolerance for bullshit, so his honesty and hard-work ethic was definitely something that I gravitated toward on a human level. When Darko built Caffee Streets out of his vision for a coffee bar that could be both enjoyed aesthetically and as a placed to to just sit down and enjoy a good cup of coffee, he always knew that the next step of the progression would be to pursue his own brand.
Why was this the right time to launch the business? What made you take the big leap?
I think launching a business is something most people dream about but never really get the courage to do. Before meeting Darko, I certainly did not have the courage to be a part of something like this, but once you get to be around people who are positive, work hard and want succeed, it almost becomes a no-brainier. This company began with very little money, with no investors whatsoever. Everything you see in our warehouse was either bough on craigslist or ebay, and built and assembled by us and the help of friends, which is something we are very proud of.
What helped me make the decision to leap into Metric was the fact that I was tired of the rat race and working for "the man." I wanted to be around people who create a culture of respect, hard-work, ethics and a passion for coffee.  We are blessed with a lot of great coffee in Chicago. But nowadays, a lot of people support businesses based on quality and ethics, which is why we are lucky to be around other local roasters who are like-minded in that regard.
How much of Metric is response to the local market, and how much is a labor of love?
We sell roughly about 100 retail bags at Caffe Streets alone per week, which are modest numbers in comparison to what other local roasters do. But there is a demand for our coffee, and thus far the response has been great. With that said, above all else, this is a labor of love. If we wanted to get rich quick, we'd find investors and go sky diving in the Galapagos, but those are not our intentions. We want to be involved, roast great coffee and build solid relationships with our customers.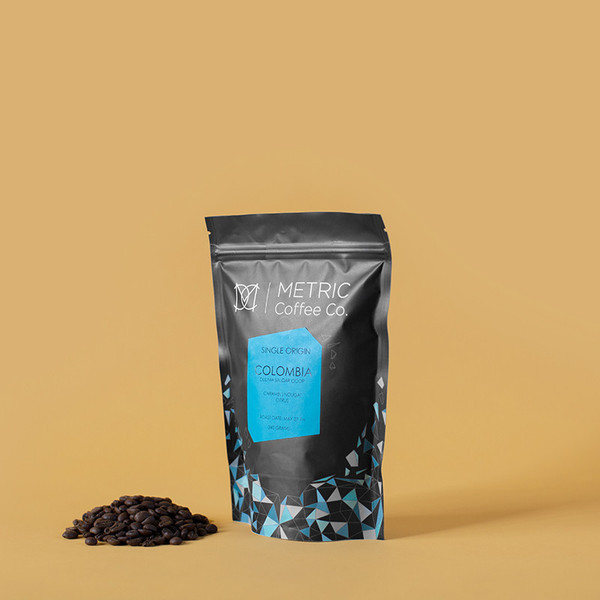 What's your roaster?
We are roasting on a self-refurbished 1961 Probat UG15. We took the internet and did world wide searches for used equipment — a good tip is to google in different languages — and we got a hit in Germany. The listings we came across did not specify what type of machines were available, but the owner told us he had a UG available for sale.
What was your experience buying a vintage production roaster from across an ocean?
Once the machine finally showed up, we quickly learned that absolutely nothing had been restored or updated on it, and because it was an "as is" sale, we had no choice but to move forward and fix it ourselves. Our machine was then stripped down, sanded, primed and repainted, and all of the gas and electric was done. We added brand new motors with variable frequency drives, all done with help from a few talented friends. Aside from our machine, we have a one barrel Pinhalense sample roaster that we found locally on the cheap, which was a huge blessing since trying to find a coffee roaster is much easier than finding a good used sample roaster, unless you want to overpay for one.
Not to pry for secrets, but can you share any thoughts on how you approach a roast?
My approach to roasting is charge hot, batch size at 70 percent capacity or lower, 1:45 turnaround and gas adjustments along the way until I reach fist crack. At this point, depending on the coffee and momentum that the beans are experiencing, I will cut my gas back and allow for exothermic heat to really push my roast through while I listen, look and smell before my drop. This is a standard approach, but it really changes depending on my mood and what sounds good at the moment.
When I first started, I didn't know shit about roasting. Five years later, I was dangerous enough to defend my roasting style and tell people 'I am a Roast Master.' And after ten years, I felt like I had peaked. Now my approach is to ask questions. I now know how much I don't know about coffee, because the honest truth is we are all still learning. My approach is to start fresh every season. I discuss roasting techniques with industry colleagues and see if I've missed something. I no longer see the benefit of walking around with a hard-on about coffee — there are plenty of people out there doing just fine acting like that.
Can you share from who/where you are getting your coffee?
I am mostly getting my coffee from Olam Speciality and also some coffee from Royal NY. At Olam, I deal with Brandon Thiessen who has been nothing but supportive and gracious in every step of the way, so it makes it easier for me to decided which coffees work well for what we need.
Any future retail plans or are you primarily focusing on wholesale partnerships?
Right now its only wholesale and retail on the web. We would love to grow in to a retail shop someday, but that idea may be reserved for our other coffee roaster idea which would be called Crimson. The idea behind that would be a departure from Metric, but they would both complement each other in their own unique way.
Nick Brown
Nick Brown is the editor of Daily Coffee News by Roast Magazine. Feedback and story ideas are welcome at publisher (at) dailycoffeenews.com, or see the "About Us" page for contact information.