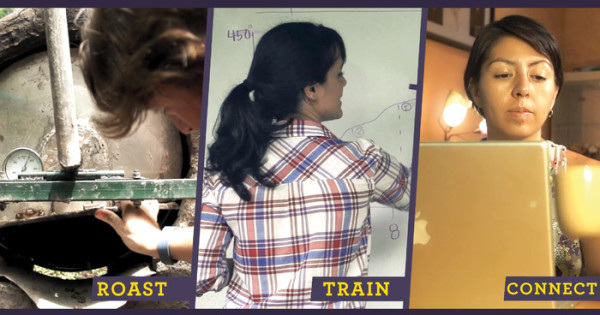 When Vega Coffee launches its pilot program following this Kickstarter campaign, few people in the coffee industry will be wearing as many hats as Noushin Ketabi and Rob Terenzi. Working directly with farmers in Nicaragua, the pair will essentially be green coffee buyers, farm-level roasting equipment designers and providers, roaster trainers, U.S. importers and online sellers of roasted coffee.
It's a bold new trade model that the small Vega team — which also includes web developer Will DeLuca — says will maximize return to farmers, potentially improving on the tenuous cycle of subsistence farming.
(related: What is Direct Trade, Really? A Question for Coffee Consumers and Roasters Alike)
In a nutshell, Ketabi and Terenzi will be based in Nicaragua, initially involving farmers in the Miraflor Nature Preserve above Estelí, including the women's coffee cooperative New Dawn. Working with EOS International, the pair will custom design and provide roasters that utilize the "old world" method of burning wood and other organic material for heat. After farmers are trained in roasting, they will package the roasted coffee, at which point, Vega will buy the packaged good, fly it to a U.S. distribution warehouse as importers and exporters, and sell it directly to consumers through an online marketplace.
The seeds of this project were planted in 2006 to 2008, when Terenzi led a similar effort providing roasting and packaging capacity to a women's cooperative in Nicaragua to reach the domestic market. Ketabi and Terenzi have since returned to Nicaragua full time, and they hope to one day expand the Vega model to more cooperatives and individual smallholders throughout Central America and perhaps the world's other growing regions. The current fundraising effort is for what Ketabi describes as a pilot run, to test the viability of the model.
(related: Counter Culture Buyers Ionescu and Hill on a 'Coalescing' Direct-Trade Philosophy)
So what exactly will farmers get paid? "We pay farmers up front for green coffee at a price per pound that at least matches Fairtrade, but may surpass it, based on quality," Ketabi tells Daily Coffee News. Then, "We pay farmers at least $3 on top of the bean price for secondary drying, hulling, roasting and packaging the beans. We are paying farmers more than their own valuation of their labor, given that they sell their coffee domestically for $3 all-in, because we are asking them to be more selective with their bean sorting and conscientious with processing through the entire chain."
For this pilot period, Vega is making deals directly with a small group of smallholders, rather than partnering with larger cooperatives.
"We are conscientious about over-promising and raising expectations in coffee growing communities, as they've seen that happen with foreigners time and time again with no sustainable impact," says Ketabi. "So, we started by working with the same farmers Rob had his original project with in 2005. Once we grow, we expect that we may use larger cooperatives, and rely on their expertise with respect to division of labor and resources to get coffee processed and delivered."
Ketabi freely admits that "old world" roasting methods and packaging at the farm level may bring up questions about quality control.
"We expect these type of questions regarding our model," Ketabi says, adding that she and Terenzi have been roasting and training for years on fire-powered units, while also recently receiving extensive roasting training stateside. "We're already collaborating with experienced roasters in the U.S. who are advising us as we develop our product, and would welcome any and all roasters who want to be involved in what we're doing."
(related: In Defense of Fair Trade: A Response to the Farmworker Problem)
The partnership with EOS International, which provides core technology and training to agricultural communities in developing countries, is a critical part of the Vega plan, and Ketabi says they hope to create a balance within the roasting units between familiar and traditional elements like manual spinning of the drum and organic heat with some more modern quality control tools.
"Like any conscientious food provider, delivering a quality product to our customer is our top priority. We're using our pilot to evaluate what works, and what can improve," says Ketabi. "Perhaps more importantly, farmers have already been roasting for generations. This is not a new activity for them. To boot, our roasters are based on technology they've been using for years, but modernized to be significantly more sustainable than their traditional roasters. Our roasters can monitor and control temperature, have a tester to see how the roast is progressing, and a mechanism for quick release."
While $20,000 is a modest budget for the pilot, Ketabi believes this kind of model could inspire "real change" in coffee supply fundamentals.
"We know many folks might think we're crazy, and that's okay," she says. "We'll continue to work hard, experiment and learn a great deal alongside our farmers. As with anything, there is a value in continued practice, just as there is a value in applying a fresh approach to an age-old way of business."
Nick Brown
Nick Brown is the editor of Daily Coffee News by Roast Magazine.