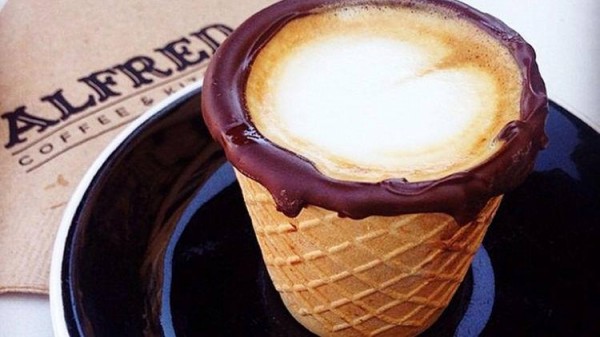 Especially given the full-tilt affogato menu craze, it's hard to imagine this hasn't been thought of before: espresso served in a demitasse-sized chocolate-dipped ice cream cone.
Alfred Coffee & Kitchen is a small shop tucked into the botique- and salon-heavy stretch of the posh West Hollywood Melrose Place corridor. (For an example of what we're dealing with here, the shop's retail neighbors are Mary-Kate and Ashley Olsen, who own the 3,800-square foot botique The Row.)
(related: We Bet You Can't Stop Playing with this Yelp Trends Generator)
Though it's been open since early last year, serving Stumptown coffees exclusively, Alfred Coffee recently has been making headlines for its chocolate-dipped cone shots. The off-menu item (of course) costs $5 for the cone, plus the $3 to $4 for the cost of the espresso or macchiato shot inside.
(related: First Look: Tyler Wells' Blacktop Espresso Bar in Los Angeles)
Could this be the next big trend in ice cream coffee? Can cone-makers respond to the challenges of espresso brewed at 90C+? Are we about to see a boom in edible espresso ware? Probably no to all of these things, but that shouldn't take away from how cute these little sweet bombs are:
Nick Brown
Nick Brown is the editor of Daily Coffee News by Roast Magazine.