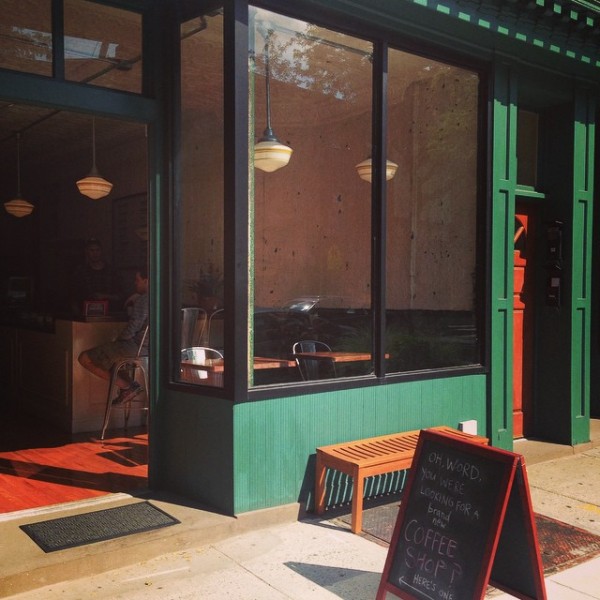 Brooklyn-based roaster Brewklyn Grind has opened its flagship retail bar at 557 Myrtle Ave., putting an emphatic punctuation mark on a survival story.
Founded by Brooklyn-born brothers Alain, Jamie, and Craig Farrelly in 2011, the roasting company only a year later became one of the victims of Hurricane Sandy, with some five feet of water filling its Red Hook warehouse and production facility. But the Brewklyn Grind crew subsequently got the roastery back in working order, added wholesale accounts with cafes, restaurants and grocers throughout New York, unveiled a splashy redesign for its website and packaging, and eventually signed a lease for a retail space last December.
(related: Commonwealth Coffee Roasters in Denver: So Much More Than Just A Pretty Bag)
(related: Meet Astoria Coffee, Bringing Under-Represented Coffees to New York)
After a substantial buildout and a series of expected-unexpected delays, the new shop officially opened to the public last week, featuring a simple drink menu of drip and pourover coffees, as well as espresso drinks powered by a 2-group Faema E61 Legend. Just before the opening, we caught up with Alain Farrelly to discuss the roasting company's approach in entering the retail game:
How involved was the buildout? What kind of space were you confronted with?
The space is old, circa late 1800s, and has been through a number of iterations: butcher shop, fruit and veggie storage, to literally a vacant space with a lot of potential but that would require a lot of vision. We had to change flow, add bathrooms, put down floors and build a real espresso bar. That was just construction. Layer in New York City small biz headaches, permits, inspections, and other BS, and it took us over 10 months to open after signing our lease.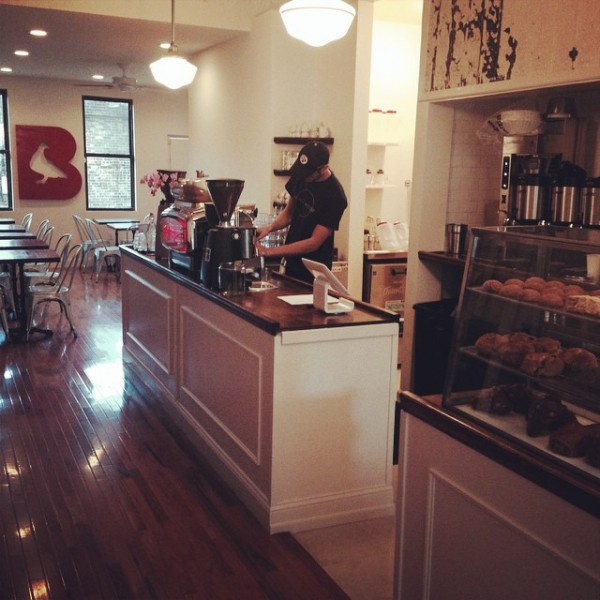 So what was your vision for the space?
This space is special, with history which we wanted to save. We hate that Apple store feel of the newer cafes out there, so we went the complete opposite way — lots of tin on the wall and ceilings, chipped paint and some exposed brick. We didn't want to lose any of that in the design, so instead of tearing down or covering it up, we kept it all. We repaired the tin ceiling with matching tin patches and used materials it hat suited the feel — wood floors, mosaic tile in bathroom. We built the table tops and bar tops out of wood, which we stained to match the floors and exposed wood joists in the Back of shop. Our menu is hand painted on a 6-foot piece of glass to see through to the tin walls.
Now that you're facing your own customers directly, what do you hope that face will look like?
Well, when we posted an ad for baristas we specifically mentioned a "No A-hole policy." We take coffee seriously and we work hard, but we want good people behind the bar to make our customers feel good, to have a place where you can enjoy one of life's simple pleasures in good spirits.
Nick Brown
Nick Brown is the editor of Daily Coffee News by Roast Magazine. Feedback and story ideas are welcome at publisher (at) dailycoffeenews.com, or see the "About Us" page for contact information.