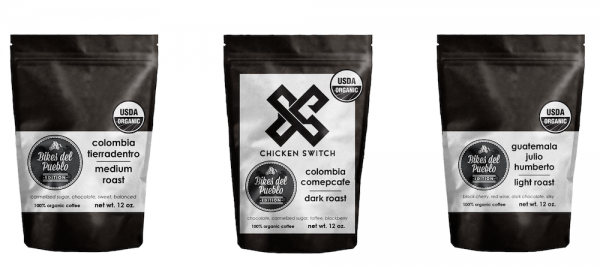 A pair of young entrepreneurs currently calling Ohio home have launched a new coffee company, Chickenswitch, that has a decidedly sporty-lifestyle ethos.
Working with a small team of mostly creatives, Ian Dowden and Monica Michelle Johnson plan to donate a 5 percent of the proceeds from their bagged coffee to nonprofits that rotate on a seasonal basis, beginning with Bikes del Pueblo, a San Diego group that builds bikes and organizes rides mostly for underserved children.
(related: Say Hello to Mission Cold Brew, Columbus' Hot New Cold Tap Bike)
"At the end of the day, we wanted a brand that reflected who we were, that we could call our own, and that could support ourselves while giving back to the community," Dowden recently told Daily Coffee News. "Our backgrounds are being sponsored athletes and we both have mentally or physically disabled family members, so being physically active while having a sense of taking care of those who need protecting is at our core."
That sentiment is reflected in Chickenswitch's black-white-and-silver-only branding, with images of coffee juxtaposed with images of Chickenswitch team members tearing up some slopes, busting some skateboard moves or preparing for a skydive. Dowden says Chickenswitch plans to work with nonprofits that "are based around snowboarding, bicycles, and or skateboarding."
(related: Bowling Green Couple Takes Second Crack at Kickstarter for Flatlands Coffee)
"We also look for nonprofits that are more grassroots rather than the larger players in the nonprofit area," he says. "People are what matter most, and some have been dealt a harder hand. If we can give a helping hand to as many people as possible while promoting being physically active and following your dreams, then we have been a success."
Chickenswitch is working with Heath, Ohio-based father-and-son roastery One Line Coffee, in part for the company's commitment to sustainable sourcing and farmer equity, either through direct relationships or those with importers. There are currently three single-origin coffees from Colombia and Guatemala in Chickenswitch's branded coffee line. "Each coffee can be traced to a specific mill, farm, or cooperative," says Dowden. "The majority of mills and farms are visited to ensure that the economic and physical conditions of every step of the supply chain are sustainable."
As the direct-sales business grows, Dowden says Chickenswitch is working on building a retail presence in New York City. Stay tuned.
(related: Chicago Startup Bow Truss Lands BMX Sponsorship)
Nick Brown
Nick Brown is the editor of Daily Coffee News by Roast Magazine.