With manual brewing devices, the filter oftentimes represents the only opportunity for after-market additions that can significantly affect the cup. The Aeropress is one such brewing device, and a young Portland, Ore.-based company is hoping to make a meaningful addition to the existing inventory of Aeropress filters already in wide use.
Kohi Labs, makers of the Kohi manual brewing app, has created an ultra-fine stainless steel fabric filter for the brewer, one the Kohi team says allows for added control over plunge time and, if nothing else, a "different cup" than that created by paper and other metal mesh filters.
(related: Hands-Free Aeropress? You Need to See this Gas-Powered Custom Machine)
Kohi launnched a $5,000 Kickstarter to begin production of its Aeropress filter, and with more than 10 days to go, the project has already been funded by more than 200 percent. For the product design, Kohi co-founders Peter Thomsen and Matthew Carlson teamed up with their engineer partner Juan Hernandez. We reached out to Thomsen to ask about the development, and what opportunities the already accomplished over-funding might provide.
(related: These Australians Have Created a Controllable Flow Hot/Cold Combo Brewer)
In the biggest sense, why did you create this filter? Does the world really need another Aeropress filter?
It really came down to taste and flavor profile. The design of our filter allows a finer grind of your bean and minimizes the pass­-through of grounds into your cup. It filters as fine as paper, but gives less press resistance allowing for more controlled plunge time than paper. This results in a clean cup with accentuated brightness in flavor. The impact on the flavor profile is something we really enjoyed, and that's why we chose to market it. It just brews a "different" cup than other filters can brew.
Part of your pitch is the minimization of fine grounds. Is that the key differentiating point?
We do want to be clear: We are not anti-disc or anti-mesh, or even advocating a certain micron level filtration is better than another size. Our fines comparison is not meant as a shot at other reusable filters. At the end of the day, if a certain filter brews a cup you enjoy most, then that's the best filter for you. The coffee experience is so subjective we don't want to say what's best for anybody. We do want to show consumers that they have a new choice that produces a significantly different brew outcome.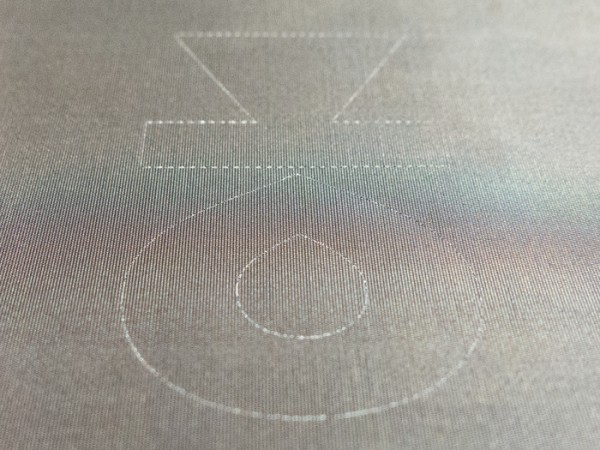 Now that you're funded, how are you going to package this thing?
Ha! The designs are all good. The funding level will have some impact on the packaging design we choose to use. I'm sure we'll preview the packaging as soon as we have are final funding results. Honestly, we want the Kickstarter to be about the filters and coffee and not packaging.
What are your recommendations for filter cleaning?
It certainly is a design and material that requires cleaning. Use patterns, grind level and bean type will impact the necessary cleaning schedule. There are two types of cleaning we recommend:
After each use, rinse the filter off with a drop or two of dish soap. Next, flip it around and put it back in the AeroPress. Push some fresh water through the filter again. This flushes some of the particulates through the filter and cleans it.
Periodically as needed, detergent cleaning, specifically for coffee oils, will be needed at the brewer's discretion. The brewer can decide when the filter becomes too fine or requires too much pressure to brew. At that point, a simple soaking in a coffee specific cleaner such as, Purnex or Joe Glo dissolves the trapped coffee solubles and it should be as good as new. A simple procedure of soaking the filter in one-half cup hot water with one-half teaspoon of cleaner for half an hour works great.
We talked a lot about this before deciding to launch the product. The final decision came down to our target audience and the behavior of coffee enthusiasts — we don't mind cleaning things if it makes the coffee perfect.
To backtrack a bit here, how did you guys get into coffee, and where are some of your favorite spots to take it?
For Matthew, it was the smell of fresh roasted Stumptown Coffee at The Ugly Mug in Portland. His nose led him into the cafe and it's been downhill ever since. Some transformative coffee experiences have occurred at Extracto, Verve, Coava, and a hidden coffee gem called Top Nosh in San Jose.
Juan first really got into coffee when Verve opened up its first coffee shop, about the time his first child was born, and he was able to taste espresso in a whole new way. He had no idea that coffee could be so delicious. That's when he bought an espresso machine and started staying up late reading forum after forum. Then, he tore into his espresso machine and began experimenting with espresso and pourovers. That's when his love for the art and science of coffee really took hold. Verve is his favorite shop and roaster in the area, specifically the roaster on Seabright. He and his family enjoy the laid back feel of being so close to the water and the Santa Cruz culture. Other roasters in the Bay Area that he digs are Blue Bottle and Chromatic Coffee.
Like Juan, the opening of the first Verve shop in Santa Cruz is the most pivotal point in my coffee journey. They completely changed coffee for me. The coffee I experienced amazed me and opened a whole new world. So a big shout out to Verve. They remain one of my all time favorite roasters anywhere. A few other shops I love are, Scout Coffee Co. in SLO, Ritual at Flora Grubb Gardens in San Francisco, and The French Press in Santa Barbara to name a few. Saint Frank in San Francisco is at the top of my list of must­-try-soon shops.
Nick Brown
Nick Brown is the editor of Daily Coffee News by Roast Magazine.