Canadian roaster and retail chain Second Cup has followed through on recent promises to refresh its brand and introduce a "coffee-centric" approach to consumers with the unveiling of a new flagship cafe in Toronto.
The new store introduces the Second Cup Coffee Co. name and logo, including an Alpha Dominche Steampunk brewer, a slow bar with individual Hario V60 pourovers, and an expanded line of single-origin coffees — all within a redesigned environment in which bursts of color are designed to impart vitality against an otherwise neutral palette, natural surfaces and bar materials.
With more than 300 stores in Canada alone, Second Cup is one of North America's largest coffee retailers, so expect the rebranding effort to be tightly unified. New elements include a music program featuring mostly Canadian artists, a diversity of seating styles and arrangements including bar stools around the low-profile slow bar, bright cups designed in collaboration with Canadian artists, and what the company is calling a "stylish new employee dress code," including branded smocks and white dress shirts.
Of course, new smocks, flashy brewing equipment and adding "Co." to the end of a name do not guarantee quality coffee, but Second Cup says it has been investing more in barista hiring and training, as well as expanding its coffee portfolio. The Toronto location is including a zero-defect Ethiopia Yirgacheffe and a coffee from the renowned Finca La Soledad farm in Guatemala.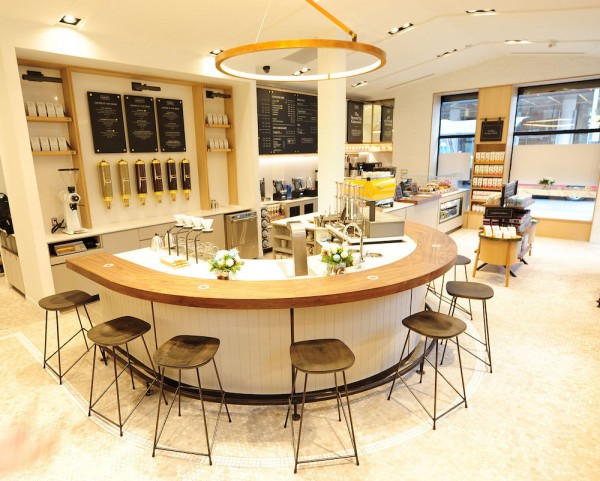 "This is an exciting new beginning for Second Cup Coffee Co.," Alix Box, President and CEO of The Second Cup Ltd., said in an announcement in advance of tomorrow's grand opening. "This café is an important step in our revolution and reflects our passion for coffee in creative and collaborative ways. For me, the Steampunk embodies our new essence because it is a high-end artful machine that is famous with coffee connoisseurs and trendsetters around the world. The Steampunk exudes theatre, art and creativity, while at its heart, it is about coffee excellence. So is Second Cup Coffee Co."
For the Toronto cafe, at the corner of King and John Streets, Second Cup enlisted the help of Toronto's II By IV Design, while the city's Jacknife Design assisted the overall brand refresh.
Nick Brown
Nick Brown is the editor of Daily Coffee News by Roast Magazine.