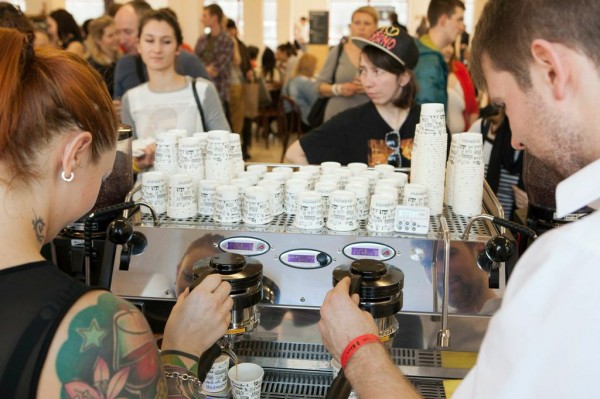 Coffee in Prague has come a long way in a short time, thanks in large part to a community of roasters and baristas that's been galvanized by Coffee Embassy.
The Embassy is an education-based event organizer founded by one of Prague's first specialty players, Mamacoffee, and their high-end retail wing, Original Coffee. With a new organizational structure this year led by reigning Czech Republic Cup Tasters Champion Zuzana Černá, Coffee Embassy hosted the third annual Prague Coffee Festival late last month. The show took an inclusive approach, inviting established coffee professionals from throughout the Czech Republic and abroad, to beginners hoping to learn some brewing and roasting basics.
(related: WCE to Debut SCAA Symposium-Like Event Re:co in June 2015)
Organizers essentially doubled the amount of programming for Prague Coffee Festival 2014, including pop-up bars, tastings, brewing and roasting workshops, and educational seminars. Well-known speakers included Ralf Rüler from The Barn in Berlin, Alec Oyhenart from Nordic Approach, and Ales Pospisil and Radek Nozika, the creative gents behind European Coffee Trip. Here we bring you some photo highlights from this year's PCF, courtesy of Coffee Embassy:
Nick Brown
Nick Brown is the editor of Daily Coffee News by Roast Magazine. Feedback and story ideas are welcome at publisher (at) dailycoffeenews.com, or see the "About Us" page for contact information.