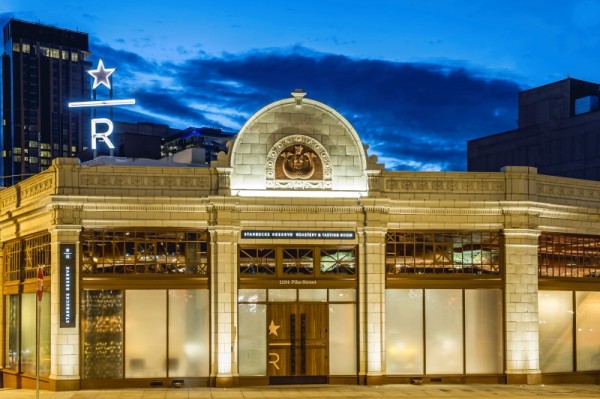 Starbucks has unveiled its massive Reserve Roastery and Tasting Room, occupying a sprawling 15,000 square foot former automotive showroom after two years in the making. This is arguably the most dramatic, and probably the most expensive, coffee-focused retail shop in the history of the modern world, with implications aplenty.
Nine blocks away from Starbucks' original Pike Place Market location, it is the flagship facility and roasting headquarters for the company's Reserve line, which will be shipped to 1,500 locations globally, as well as to 100 new Reserve-branded stores beginning with Chicago, Los Angeles, New York, San Francisco and Washington D.C.
More so, it represents the company's untold many millions-of-dollars investment into the high-end coffee retail space, where it has until now only occasionally dabbled while focusing on its core business of sweetened and high-margin drinks, chain development in emerging global markets and grocery sales.
"This is the moment of the next generation of Starbucks," Starbucks chairmain and CEO said in an announcement of the Reserve roastery. "Everything we've ever done has led us to this point."
The facility itself can fairly be described as awesome. In no particular order of importance, here are a few of its highlights:
6,654 square feet devoted to the Starbucks Café and Tasting Room, including 360 degree views throughout the space. The cafe boasts an incredible collection of manual and automated brewing equipment, including an individual pourover station, Chemexes, French Presses, Clovers, Victoria Arduino Black Eagle espresso machines, Modbar components and siphon brewers.
Two brand-new copper-plated Probat roasters, including a massive G-120 model and a floor-friendly P-25. Both these roasters will be the workhorses for the reserve line, while the company expects to open another Reserve roastery in Asia in 2016.
A refurbished original facade of the "Auto Row" building, reclaimed wood ceilings and the restoration of the original Terrazzo and concrete flooring. (As you can see from the photos, the design touches throughout are nearly infinite.)
A partnership with Seattle chef Tom Douglas to create a pizza restaurant inside the building, Serious Pie. Douglas also created a menu inspired by the Reserve line for the roastery cafe that will include pastries, sandwiches, salads and sweets.
Tom's local approach to food will be showcased at the Roastery, whether it's fresh out of the oven, seasonal pizzas from the Serious Pie restaurant inside the building, or the pastries, sandwiches, salads and sweets offered in the Roastery café. pastries, sandwiches, salads and sweets offered in the Roastery café.
Numerous digital immersion experiences, including a board that shows what coffees are roasting and who's doing the roasting; a "Coffee Passion Projection Wall" that displays images at origin, including some from Starbucks' own Costa Rican farm; and Apple-powered iBeacon technology that gives consumers information on what's currently brewing through their smartphones.
Here is the Reserve Roastery in photos:
Nick Brown
Nick Brown is the editor of Daily Coffee News by Roast Magazine.