Way back in 2011, shortly after news broke that investment firm TSG Consumer Partners had made a "major" but undisclosed investment in Portland's Stumptown Coffee Roasters, the New York Times led an Oliver Strand piece with the following headline, "Little Espresso Bars Might Be Big Business."
My, how times have changed. Consider just some of the eight figure investment events in what were once considered small or independent high-end coffee roasters/retailers in the past two years alone:
Today, the biggest story in the high-end coffee retail world is the opening of Starbucks' Reserve Roastery, a 15,000-square-foot shrine to sourcing, roasting brewing high-end coffee in the heart of Seattle's Capitol Hill neighborhood. The facility is an aggressive statement from Starbucks, precipitating the opening of some 100 more Reserve-brand stores in major coffee cities throughout the United States, including New York, San Francisco, Los Angeles and Washington D.C.
Several major news outlets have classified the Starbucks Reserve concept as a play toward high-end differentiation after years of devaluing its own brand through Frappuccinos and moderately priced packaged grocery sales. A Times story from Stephanie Strom yesterday shared this illuminating quote:
"If you look at coffee imports over all for the last several years, it looks like a pretty mature market," said Josh Green, chief executive of Panjiva. "There's been a roller coaster in terms of price, but in terms of volumes, we're talking about very modest growth — and that kind of market is usually where you see companies trying to go upmarket in terms of price and exclusivity."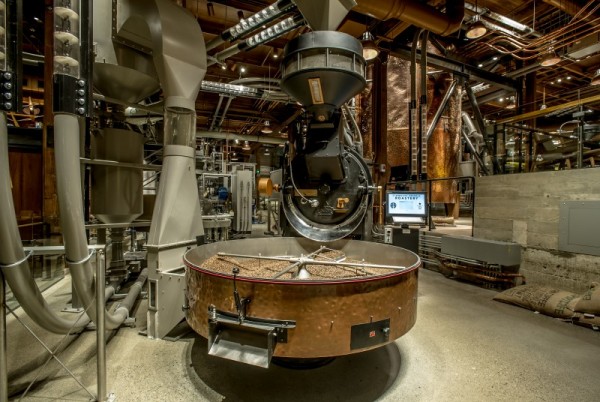 When Starbucks CEO Howard Schultz talks about the new Reserve store brand, he describes a decades-long dream come true, a kind of culmination of the company's collective efforts toward coffee quality and service. In an announcement yesterday, he described the flagship as "an homage to our relentless pursuit of coffee innovation that will create for our customers the most immersive, sensory demonstration of how we source, roast and craft the finest coffee from around the world," adding, "Everything we've ever done has led us to this point."
A day earlier, in a biennial webcast with investors, Shultz suggested the roastery and tasting room concept is unprecedented, saying, "The Roastery represents over two years of thoughtful, disciplined work about creating a retail experience that does not exist, not only in the world of coffee, but in the world of retail."
I would argue the concept does have precedents — a growing number of progressive coffee companies throughout the United States, Europe and Australasia have roastery-focused retail flagships that act as coffee shrines, even if occupying smaller footprints. On the day the Reserve Roastery opened, 345-store Canadian Chain Second Cup opened its own upmarket, "coffee-centric" retail concept in downtown Toronto.
In reality, the Starbucks Reserve HQ represents only a small venture for a company with a $60 million market cap and plans to grow to nearly $30 billion in annual revenue by expanding to 30,000 stores globally over the next five years. Starbucks Global Channel Development Officer Michael Conway Thursday told investors that the company plans to ship more than one billion K-cups in 2015, identifying that as one of its best-performing growth segments. In short, Reserve is not "the future of Starbucks," nor a complete change in direction. Rather, it is an aggressive growth element in a much larger growth portfolio.
Of course, Starbucks wants to promote its new upmarket Reserve play more than, say, its recent efforts towards packaged goods sales in the Middle East. The Reserve concept represents a far more glamorous value proposition.
But to shrug Starbucks' new Reserve store concept off as cheap imitation of established players already existing in this space — or, quite literally down the street — is to ignore a) the spectacular detail of the facility itself; and b) the reality of high-end retail climate change since 2011. As Stumptown, Blue Bottle and La Colombe have proven through value propositions of their own, little bars can be big business.
Nick Brown
Nick Brown is the editor of Daily Coffee News by Roast Magazine.