Known for his unrivaled work ethic, youthful spirit and ingenuity in espresso machine design, Bruno Dalla Corte passed away Saturday, Dec. 13, after a prolonged illness. He was 85.
Dalla Corte's professional achievements are many. After a start working long hours as a technician for La Cimbali, he moved on to Faema, where he helped reorganize and grow the machine service business. In 1969, Dalla Corte was behind the creation of the influential La Spaziale machine, before eventually founding the Dalla Corte brand in 2001 along with his son Paulo and daughter Elsa. In 2001, Dalla Corte unveiled the first multi-boiler technology espresso machine, The Evolution.
In a remembrance posted today, the Dalla Corte team wrote:
Their dream was starting to come true – the opening of a new plant in 2001 and the creation of the new machine in 2002 "made me feel younger," Bruno commented.

Paolo dealt with machine design and became the company's manager, but his father Bruno was always present – they debated, discussed and defined every detail in a constant search of perfection. Bruno oversaw everything and each single detail of Dalla Corte's machines was extremely clear in his mind.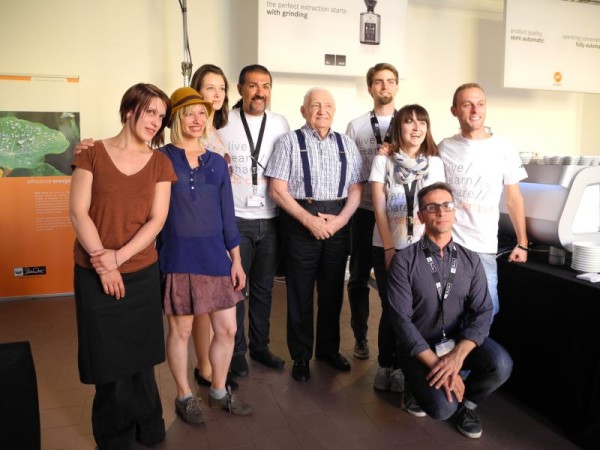 In addition to his long, pioneering career in espresso equipment, Dalla Corte is also remembered as a devoted family man:
The joy brought by his grandchildren – Valentina, Pietro, Kenyi and Freddy – was followed by his wife's death and by the aches and pains of aging. His presence at the company became rarer. He preferred to spend his time cooking – one of his greatest passions – and to keep his daily habit of going to the café, where he would taste a coffee – the passion of his life. Although his visits to the plant became increasingly infrequent, he would not miss special occasions. He was present at every single dc campus and at Host 2013, where many affectionate baristas 'invaded' Dalla Corte's booth and surrounded him to reward and thank him for all he had done. On 13 December, at the age of 85 he passed away, after a long struggle with disease.
Read Dalla Corte's full statement here.
Nick Brown
Nick Brown is the editor of Daily Coffee News by Roast Magazine.