Heath Kessler and Glenn Scott Matthews, the business partners behind one of San Francisco's newest coffee spots, Tiny Warrior Coffee, maintain that the name is a metaphor for a coffee bean itself.
"The name describes the amount of energy contained within the bean and how it could fill the drinker with strength," Kessler recently told Daily Coffee News. "As soon as we came across the name, the image of the little warrior characters came to mind. We liked how playful and approachable it made the brand and loved the humor of them being tiny but fierce like the coffee bean itself."
From an outsider's perspective, the name is quite obviously an analogy for the shop — tucked into a small space within the boutique outdoor gear seller Alite Outpost, Tiny Warrior is throwing some big flavor punches, ditching an espresso machine for innovative iced concoctions and maintaining a diverse multiroaster approach.
We asked Kessler and Scott Matthews via the magic of the internet to share some more information on the experimental drink program and tightly designed Tiny Warrior brand concept:
What was your experience in coffee coming into Tiny Warrior?
HK: I have no prior professional experience in coffee. I have lived in San Francisco for 20 years, and have close friends who have been key players for roasters here such as Four Barrel and Blue Bottle. I saw those places grow from small kiosks to well-established companies, and loved the way they contributed to the culture here. I am a designer with an obsession for coffee, cooking and mixology. I started experimenting with coffee in a cocktail format and got really excited about its potential.
GSM: I've worked with a number of roasters, some of which we feature in our pourover bar. Before Heath and I started developing and planning Tiny Warrior Coffee, I worked with Iconik Coffee Roasters in Santa Fe, N.M. More than roasting and making espresso drinks, they taught me community and friendship. These values have become the corner stones of Tiny Warrior.
I also worked at Perc Coffee with Philip Brown,whose method really inspired me. When he was first beginning to roast, he would get coffee from all over the country. He would get these great coffees from small roasters that at that time I had never heard of before — places like Handsome in LA. While he was crafting his palate to create his wonderful coffees, it gave me some understanding that there was this great coffee conversation happening across the country. This conversation wasn't localized to one location or region, and included many different takes on roasting, and I found that intriguing. It led me down the path to creating and developing a national multiroaster model for the store.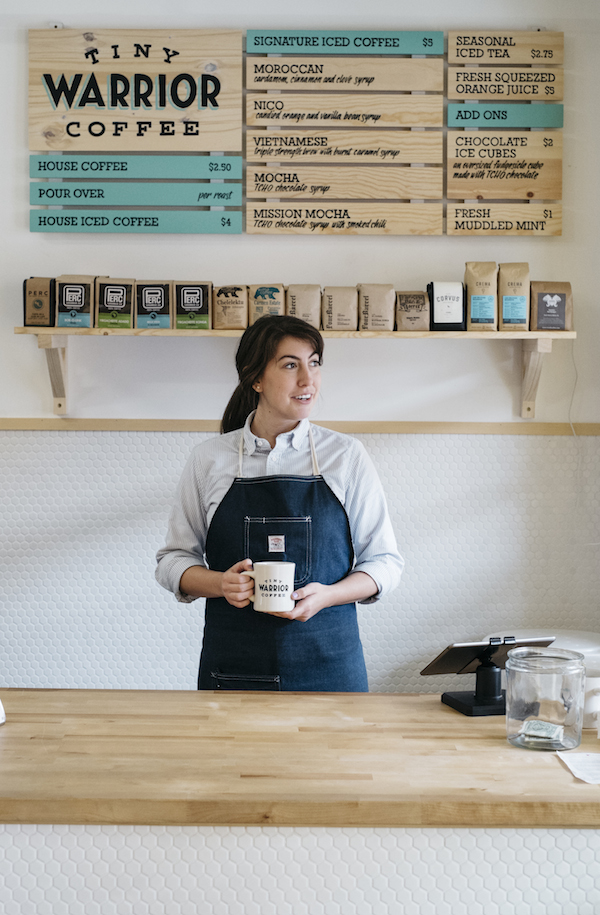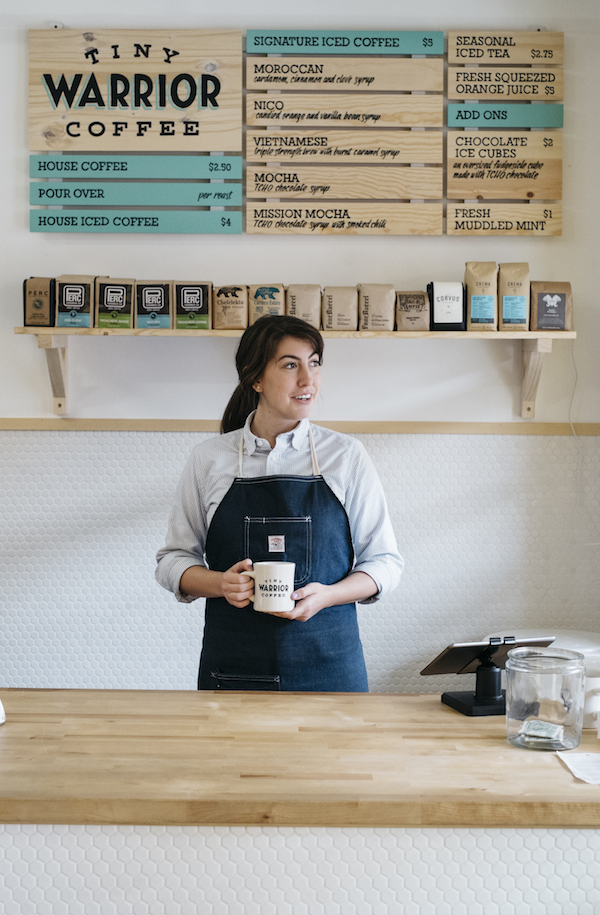 What drew you to that immediate neighborhood in the Mission, and how is Tiny Warrior fitting into the coffee landscape there?
HK: We both live in the neighborhood, so the progression to opening a business here in the Mission felt very natural. Heath has actually been living within blocks of the shop for the last ten years. We have a lot of friends who operate businesses in the community so the opportunity to contribute to that culture was inspiring to us.
Can you tell us about the space itself? How involved was the buildout and what were some of your design goals heading in?
HK: We are located within the Alite Outpost, which is home to two outdoor brands designed by our friend Tae Kim. We share the space, which works out well because we also get to share each other's customer base. The space is about 2,000 square feet. The buildout took eight months. It was very raw when we started. We looked at a lot of Scandinavian cabin designs for inspiration because we liked the use of raw wood and the cozy contemporary feel.
There was some demolition, and the front facade had to be recessed into the building by 8 feet. This was a requirement of the city but had the added bonus of creating covered outdoor seating. TWC is in the very front of the space with double doors opened wide out onto the street and outdoor seating. Customers generally order and move deeper into the space to receive their drink and either sit out front or on a bench in the back of the shop. We are in talks with the city to create a parklet. This would allow us to convert two of the parking spaces in front of the shop into a miniature public park with seating and bike parking.
What's on the bar?
We use the Wilber Curtis G4 for our house drip coffee, Filtron cold brewers for our iced coffees, Hario v60s for pourovers, and Mahlkoenig for our house grinders.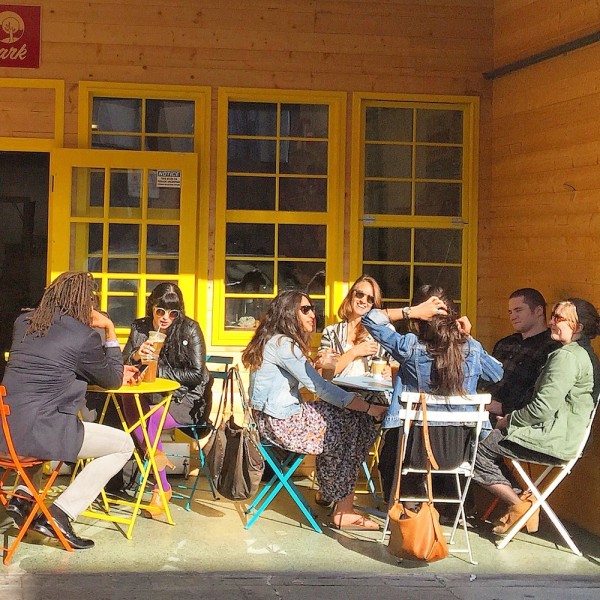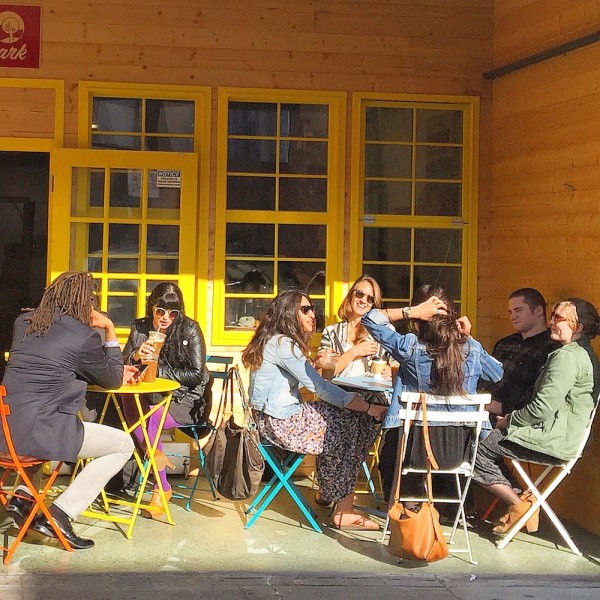 What's the multiroaster strategy, aside from national?
HK: Between the two of us, we have a lot of friends in the roasting world both locally and nationally. So when we started telling people we where opening a shop, we were sent a lot of samples and it has snowballed from there. We started tasting and it really made us aware of how much range and diversity of flavor there was out there. The conversation on what coffee can and should be that is happening in the coffee culture across the country is really inspiring to us, and we wanted that spirit of exploration and experimentation to be part of what we offer.
So the idea has been that we curate a list of local and national roasts on a semi-quarterly basis. That list is created from us actively tasting as much as we can from as many roasters as possible and only carrying what we think is truly exceptional coffee. Besides the list, we also have two roasts for our house drip coffee, one of which will always be from Four Barrel and the other will most likely be from one of the roasters on the list for that quarter.
We are currently featuring Kuma, Perc, Proyecto Diaz, Argo Sons, Iconik and Four Barrel. We have also worked with Crema and Corvus. We will be adding a lot more names to this list in the spring.
Outside of your brewed coffees, why the focus on cold drinks?
HK: We purposefully decided not to have an espresso machine on the bar. We really wanted to do something new that would put flavor and creativity at the heart of our business. By specializing in iced coffee we are taking a stance that these drinks can be truly great and deserve their own consideration.
The base of all the iced drinks is our house cold brew, which we have crafted for its balance. It is very rich with a deep chocolate note, a hint of smoke and has a sweetness to it even with nothing added.
The drinks are prepared like cocktails. Each of them gets shaken with one of the five syrups we make in-house. Each gets its own flourish — some have bitters, fresh citrus peel, or fresh herbs. None of the drinks are overly sweet; they are designed so that all of the ingredients can be tasted. To any of the drinks the customer can also add chocolate ice cubes or fresh muddled mint. The chocolate ice cubes are like oversized dark chocolate fudgsicles.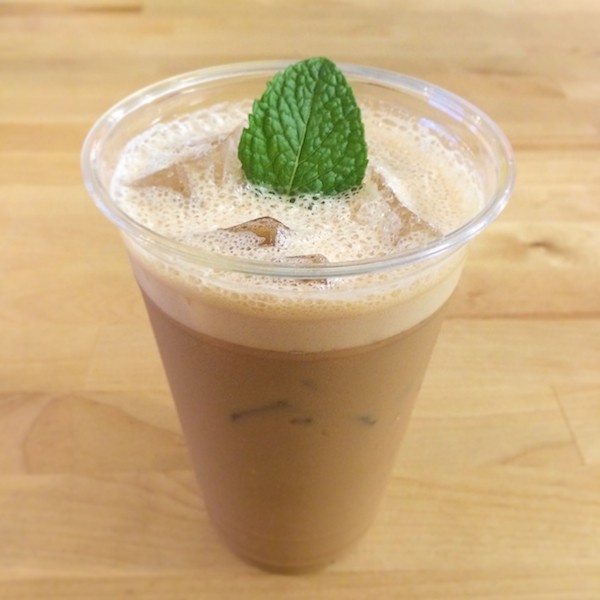 What was the mixology approach?
When we where coming up with the drinks we concentrated on combining ingredients that would activate each other and create something unique. For example, in our Vietnamese iced coffee we shake a triple strength version of our cold brew with a burnt caramel syrup and a little cream, or almond milk. The smoke note in the burnt caramel activates the smoke note in the cold brew, creating a very dynamic flavor kind of like a campfire-roasted marshmallow.
How does this nontraditional iced drink approach play with new customers?
So much of what we do is about experimentation. We want our costumers to be as interested in tasting new things as we are, so we always start with explaining the flavors and we try to get a sense of what they might lean toward. Whether it's a pourover or an iced drink, once we have a sense of their tastes, we try to fine-tune the best experience for them. We are often proposing something they have never tasted before, so there is a level of trust that we try to establish just by listening. In the end our ultimate goal is to blow minds. We love it when we hear people say, "Wow, that's really good."
Nick Brown
Nick Brown is the editor of Daily Coffee News by Roast Magazine. Feedback and story ideas are welcome at publisher (at) dailycoffeenews.com, or see the "About Us" page for contact information.