As we prepare to pore over hundreds of new and improved coffee-related products at the upcoming SCAA expo, New York-based startup Quirky has released an intriguing pourover unit for high-end home brewing.
The brewer is part of Quirky's Poppy lineup of in-development products — including a baby formula brewer and a pet feeder — designed to work in tandem with Amazon's Dash replenishment service.
Amazon introduced the Dash system last week, causing many people to believe it may have been an April Fools joke. But it's very real, and Amazon hopes it will drive a new trend in online ordering in which smart devices, like the Poppy brewer, automatically place orders from Amazon when supplies, like coffee or paper filers, are running low. (Dash also includes push-button ordering services through a barcode scanner, as well as branded buttons for products like laundry detergent.)
Invented by Miami-based Mo Herzig, the Poppy is a sleek brewer with glass and copper accents, including a 20-ounce capacity coffee hopper, a built-in burr grinder and a carafe that accounts for 10- or 20-ounce brews. As with many other smart brewers that have been finding their way to the market, users can control various brew parameters — size, grind setting, water temperature and brew time, among them — as well as store and log brews remotely.
Quirky is pitching the brewer as an upscale option for discerning coffee drinkers, saying users can brew "boutique roasters' beans exactly as they were intended with smart presets." The company is using bags of Stumptown Coffee in its promotional materials.
Time will tell how this kind of technology affects consumer behavior, but at first glance it seems to play toward brand loyalty. Instead of pressing the "Tide" button, the machine is essentially pressing the "Insert Coffee Roaster here" button whenever whole bean inventory is running low. It also represents a more advanced and user-focused play in the auto-subscription segment, where renewals are based on inventory, rather than preset time and size parameters.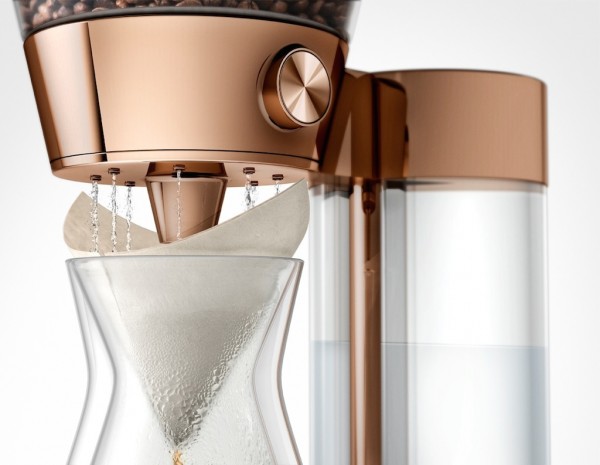 Nick Brown
Nick Brown is the editor of Daily Coffee News by Roast Magazine.