From California's Blue Bottle to New York's Gorilla Coffee, it is with increasing frequency that we hear of North American coffee companies expanding into the metropolitan coffee markets of Japan. At the same time, U.S. reverence for the coffee culture of Japan presents an equal and reciprocal opportunity for overseas expansion by Japanese coffee companies, which is exactly what longstanding Kyoto-based company Ogawa Coffee hopes to tap into with its first U.S. cafe, now open in Boston, Mass.
The 63-year-old roaster and retailer opened the doors to Ogawa on Milk Street last month in the heart of Boston's Downtown Crossing, just a few blocks east of Boston Common.
Offerings include a full menu of classic coffee drinks alongside some standout specialties, such as a seasonally rotating, barista-designed drink, the first of which is a foamed bittersweet espresso pulled from a Dalla Corte machine atop the bar and served in a martini glass. Single-origin espresso tasting flights are also on the regular menu, as is a range of brewing options, including Kalita pourover and Aeropress.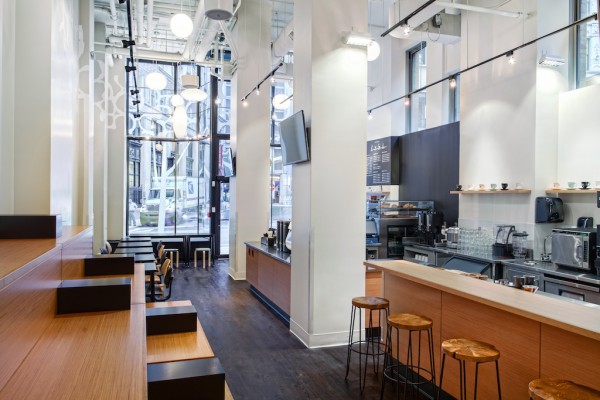 Breakfast and lunch fare includes a few American standbys as well as some uniquely Japanese items, such as a teriyaki chicken tartine, and Shokupan, a fluffy, square-shaped and generally thick-sliced Japanese white bread that Ogawa tops with a fried egg.
The Boston shop is sure to reflect Ogawa's decades of experience as a leading Japanese retailer. The company's footprint has grown to include more than 30 independently owned shops, and it has earned an international reputation for quality not only in hospitality, but also in sourcing and roasting.
It also boasts consistently dazzling champion-level latte art, about which the company literally wrote the book: The Handbook of Latte Art, by Team Ogawa, published in April 2014. The newly opened Boston location strives to build this reputation with 2010 World Latte Art Champion Barista Haruna Murayama as General Barista Trainer, and retractable built-in stadium seating for the cafe space to double as a training lab, providing full view of baristas at work.
With its flagship U.S. location, Ogawa also seeks to expand its approach to education, taking advantage of Boston's place on the map. Specifically, the company says Latin American farmers unwilling or unable to travel as far as Japan to help bridge the farmer/consumer gap are more amenable to events in Boston. In an interview with the Boston Globe's Matt Viser just prior to the grand opening, Ogawa U.S. executive director Takako Oji indicated the company hopes to fly in farmers to discuss coffee varieties, agricultural practices, and other issues at origin.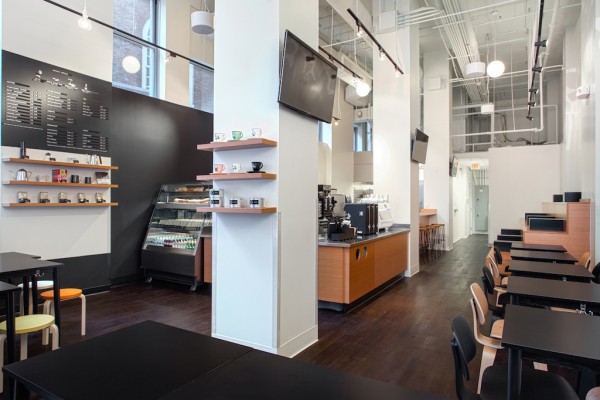 Currently, coffees for the Boston cafe are roasted by Ogawa in Kyoto and shipped into the U.S. every two weeks in what an Ogawa representative described to Daily Coffee News as a temperature- and quality-controlled environment. This routine will continue as the company monitors the progress of the Boston shop, while considering roasting on U.S. soil, the representative said.
Boston and Kyoto became sister cities in 1959, and with as much capital and retail acumen as Ogawa brings to Beantown, further U.S. expansion seems well within reasonable expectations.
Nick Brown
Nick Brown is the editor of Daily Coffee News by Roast Magazine.