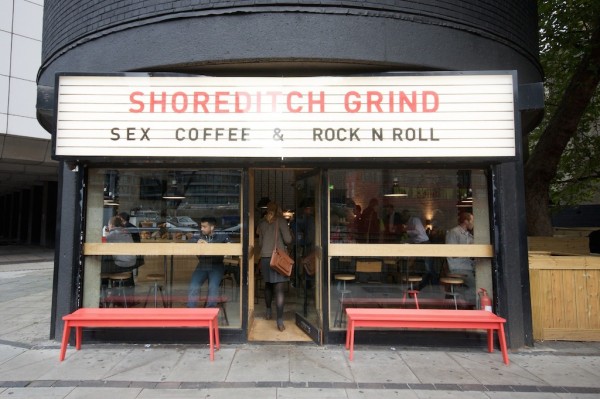 Sex, coffee, rock & roll, and equity-based crowd funding.
Grind, a four-year-old, coffee chain based in London, is seeking at least €750,000 ($842,000 USD) in a public fundraising effort to develop its own roastery and open new retail outlets throughout London and possibly abroad.
Not to be confused with London roaster/retailer Grind Coffee, this Grind was founded in 2011 by business partners David Abrahamovitch and Melbourne-raised Kaz James in a former phone company space owned by Abrahamovitch's father in the heart of Shoreditch in East London's Tech City.
Since the beginning of last year, it has opened three other locations (19 Beak St. in Soho, 199 High Holborn, and 2 London Bridge), and the owners recently told Business Insider that the investment capital would likely go toward a new roastery near the Shoreditch flagship, as well as new retail locations in trendy London neighborhoods such as Brixton, Peckham, Dalston, London Fields, Vauxhall and Islington. Abrahamovitch also mentioned Los Angeles as a possible Grind destination.
Grind is raising the money through Crowdcube, a equity-based crowd funding platform that gives individual investors an 8 percent interest return for on investments as little as €10 in British companies. As of this writing, 58 individual investors had raised just over €295,000 for the Grind project. London chain Taylor St. Baristas employed the Crowdcube platform during a $1.8 million fundraising round that wrapped up early this year.
The nontraditional, tech-based fundraising approach is a fitting one for Grind, which has a devoted following among Shoreditch techies. The company's somewhat audacious marketing is based more than anything else around the concept of hipness, frequently mentioning DJs and DJing, and supermodels. The tagline for the company's flagship is "Sex, Coffee and Rock & Roll" and the company says its signature evening drink — an espresso martini composed of espresso, vodka and sugar — was allegedly invented in Soho in the 90s when a supermodel asked a bartender for something that would "wake me up then f*** me up."
Nick Brown
Nick Brown is the editor of Daily Coffee News by Roast Magazine.