Watch out for Marcus Parkansky. He may be coming for you, quite literally, in a new coffee truck that's soon to be roaming the streets of Minneapolis. But mostly watch out for him as an upwardly mobile force in the upper Midwest's specialty coffee world.
Parkansky, who's new business is called Misfit Coffee Co., has been working as a barista since the age of 14, at locations including The Gingerbread House (Muskego, Wisc.) and Sven's (Milwaukee), where he worked up to manager. In December 2013, at 18, Parkansky joined the team at Milwaukee roastery Valentine Coffee Roasters, eventually assisting with numerous production jobs, helping with special events and working as a barista.
"I worried Valentine had concerns with bringing in a young adult, being that all the other employees were much older than I was," Parkansky recently told Daily Coffee News. "Thankfully, my personally fit in well with the others, and my addition to the Valentine crew lead to some great opportunities for both of us."
Parkansky was particuarly inspired by the new opportunities Valentine offered in terms of science-based preparation. There he delved into things like pressure profiling, and honed his manual brewing skills. "I realized I was in a playground for any motivated barista," Parkansky says. "The science utilized in the equipment helped me better understand the delicacy and importance of craft coffee."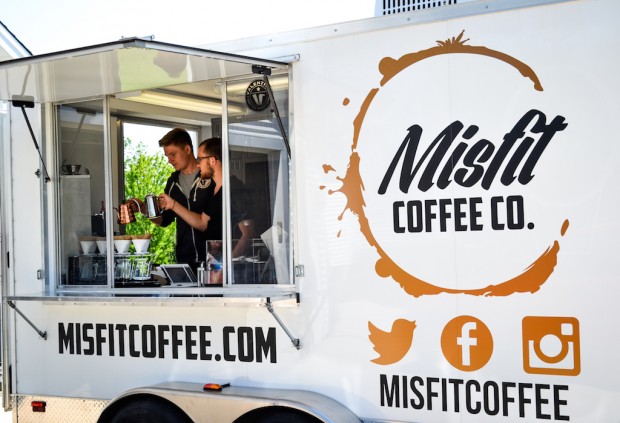 Parkansky says that by 17, he'd already known he wanted to run his own business, coffee being the obvious choice. He describes his decision to leave Valentine and strike out on his own as a "bittersweet goodbye," although this was not a permanent parting of ways. Valentine is supplying the Misfit truck, which is making the trip from Southeast Wisconsin to Minneapolis next week.
Joining Parkansky in the new venture are his brother Mitchell and high school friend Alex Boehm. We asked Parkansky more about Misfit, and where else the business might be heading:
DCN: What was the impetus for launching Misfit Coffee as a mobile outfit?
MP: What inspired me to start a coffee trailer, rather than a brick and mortar cafe, was my experience with local food trucks. I questioned myself: 'How could I craft the best coffee beverages, and create the best customer experience?' I thought back to some of my favorite dining experiences. Food trucks were always a favorite of mine and of my peers.
How do you see the trailer fitting into the Minneapolis coffee scene?
We knew the type of business structure we wanted for Misfit Coffee. We did not see our home state of Wisconsin to be the best fit for that structure. The Twin Cities are known to have some of the best food truck laws in the States. Off the bat, Minnesota was a place of consideration. The permit process for food trucks can be difficult and highly restricting in some cities. Thankfully in the Twin Cities, that is not the case.
What was involved in outfitting the trailer?
Utilizing solely the money I had made since I began working at age 13, it was necessary to find as much used equipment as possible. Staying within my budget, even with used equipment, was nearly impossible. The platform for Misfit Coffee is a 7-by-14-foot Royal concession trailer, sourced on Craigslist and purchased in Lake Geneva, Wisc. Previously, the trailer was intended to serve gelato. The Misfit Coffee trailer is now fully furnished with all of the equipment we had spent the past year searching for:
Bunn H5X-18-120 hot water tower
Synesso Cyncra single group espresso machine
Fetco cbs-2031e brewer
Ditting kf804 coffee grinder
Mahlkonig k30 espresso grinder
Compak touch k3 us espresso grinder
True gdm-09 fridge
True Tuc-27-lp fridge
Everpure qc71 water filtration system
We also have hand brew coffee station with a main focus on pour-over using Bee House drippers. Other methods available are Chemex, Aeropress, Clever, cold brew, and drip batch brew.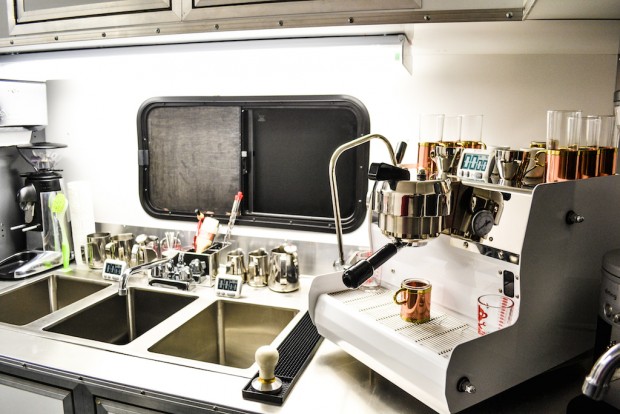 What does the menu look like?
The menu features most of the well known, traditional espresso beverages — lattes, macchiatos, and cappuccinos, to list a few. We also wanted to provide our customers with some unique espresso-based creations. We also realize there are a lot of customers who will have a little sweet tooth, so we will craft some tasty, yet complex drinks made with our all natural home-made simple syrups.
We will also be hitting the streets with six different single-origin offerings. All six coffees will be available at any time, we will also feature single origin espresso, which will be changed on a rotating basis. We want to use single-origins rather than blends to showcase the true terroir of a coffee and everything a cup of coffee can offer on it's own. In the future we could possibly offer Valentine Coffee Roasters' full lineup, which can range from 10 to 14 different single origin coffees depending on seasonality.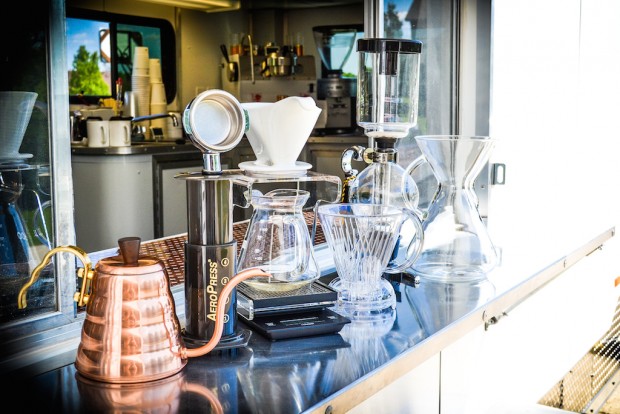 You obviously have a history with them, but why stick with Valentine exclusively?
Most importantly, it is my favorite coffee in the area, including Milwaukee and Minneapolis. Whether that is a biased answer, or my tastebuds' honest truth, I can not tell you for certain, but I will say when I take their full line of offerings into consideration, they kick ass. Not many small batch roasters can offer 10 to 14 different origins at any given time, with the the taste and quality that is provided by Valentine.
Not all coffees call for under-roasting, nor do they call for over-roasting, and that is why I love Valentine Coffee so much. They find the perfect balance between both, truly showcasing the complexity within the origin.
What are the immediate plans for the trailer?
Getting familiar with "life on the streets" may take some time. Initially, we plan to stay somewhat low-key as we perfect our operations, making sure everything is mechanically sound and ready for high volumes. When the right time comes, we will find a great spot to host a grand opening party of sorts.
How do you hope to engage with new customers — especially those customers who may have little experience with specialty coffee?
Ideally, all of the fancy coffee equipment, and fact that we are operating a mobile business, is enough to bring up customers questions' and inspire interaction. The moment people say, 'This coffee is amazing,' or, 'I can drink this coffee black,' when they are accustomed to adding cream or sugar, gives us a great start.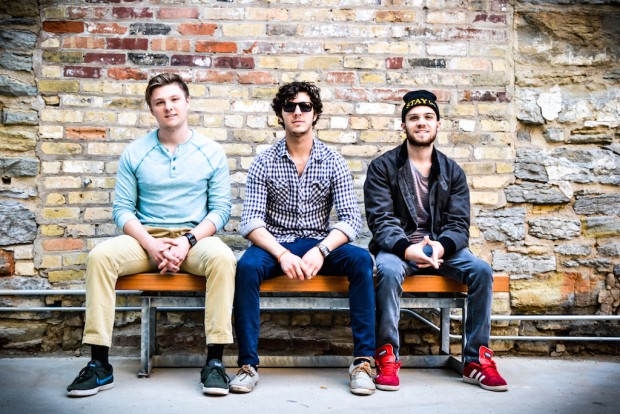 Nick Brown
Nick Brown is the editor of Daily Coffee News by Roast Magazine.