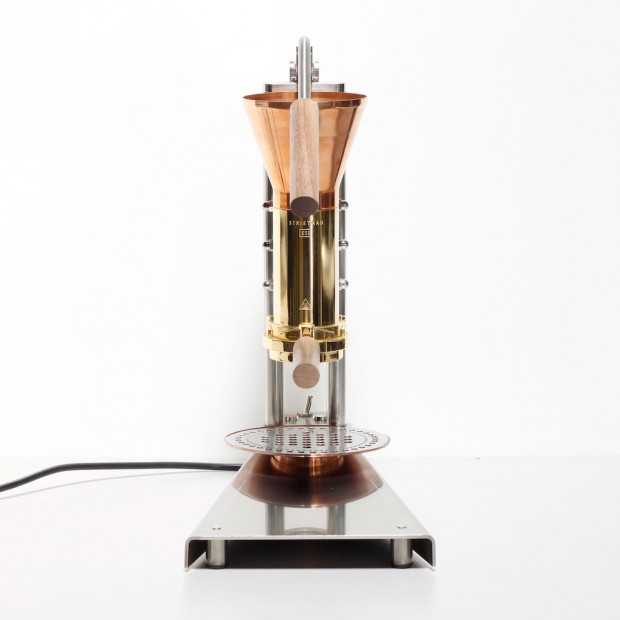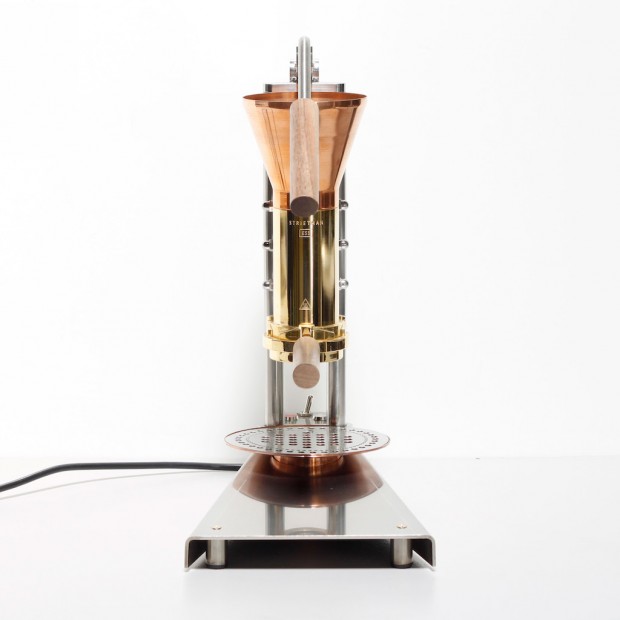 Wouter Strietman, founder of the Dutch espresso machine design company Strietman, has almost single-handedly placed several entries into the canon of fine modern espresso machinery. His designs take cues from the mechanics of vintage machines and renew them into functional artworks for today's home espresso aficionados.
In 2014, his groundbreaking wall-mounted ES3 design turned heads and opened new conversations about minimalist design in espresso and beyond. In a recent newsletter, the company announced that as of September 2015, the latest iteration of the Strietman design concept, called the CT1, will be available for purchase.
The CT1 is a literally off-the-wall evolution of its predecessor. A sturdy new base and two vertical 18mm stainless steel rods forming a spine allow the barebones machine to stand freely on countertops and bars while maintaining the same fundamental brass group, open 350ml copper boiler, concealed electronics and lever and piston mechanism. The more portable CT1 also features a slimmer and sleeker-looking drip tray.
The CT1 weighs a bit over 20 pounds and stands 42cm tall, 20cm wide, and 38cm deep, which means it should fit neatly on the majority of domestic kitchen counters. Versions will be available to run on either 230V or 115V, and the official MSRP will be €1,450 (just over $1,600 USD). Strietman has also announced that the first twenty orders placed before August 1 will receive a 15 percent discount.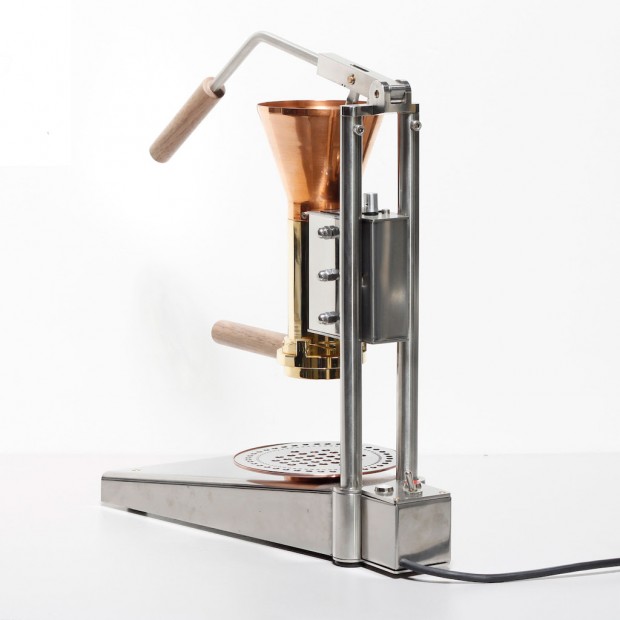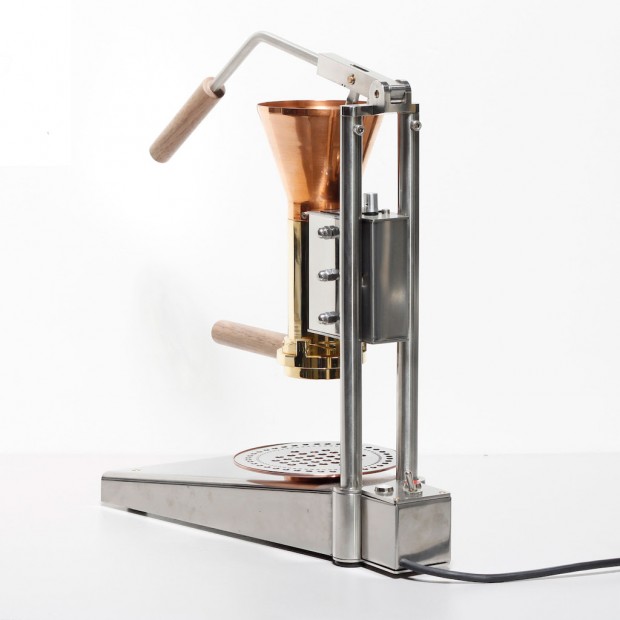 The open-boiler design cues domestic use here. Some designs, such as the classic La Peppina by FE-AR, incorporate a steam option through a special lid that seals the reservoir. Among Strietman's earlier projects, there was a mechanism for generating steam, but as generations of his machines progressed, the steam scheme was abandoned in favor of a cleaner, simpler design. While commercial lever machines do persevere in select service environments, they are almost always closed, pressurized-boiler designs that provide a constant supply of steam to support the expected menus of popular milk-based drinks.
Open boilers allow water to fill the group column and brewing chamber through a gentle combination of gravity and the vacuum created by the raising of the piston. They are easy to clean, maintain, and fill with fresh, filtered water as needed, by hand. Through the use of PID technology or even simple food thermometers, the temperature of the water in an open boiler is inherently easy to control. The CT1 and other Strietman machines feature precise temperature adjustment with an accessible but unobtrusive knob controlling its 750-watt heating element.
From the more boxy, industrial Bosco Sorrento to the wildly art-deco vintage Gaggias, manual lever espresso machines have always been sights to behold. Lever machines for the home market offer an equal variety of aesthetics and functionality, ranging from the advanced, versatile pump-assisted Bezzera Strega to the enduringly simple and widespread La Pavoni Europiccola. The recently re-embraced vintage Arrarex Caravel is another example of a machine that is not only a piece of museum-quality functional art, but an engineering marvel of efficiency and accessibility from which Strietman initially drew much inspiration. With the CT1, Strietman endeavors to bring a comparable caliber of thoughtfulness and beauty to the kitchen.
Howard Bryman
Howard Bryman is the associate editor of Daily Coffee News by Roast Magazine. He is based in Portland, Oregon.