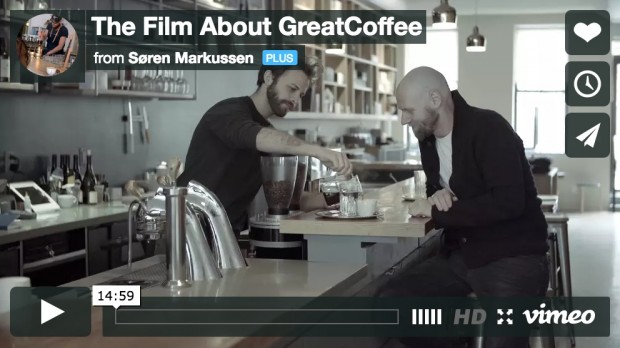 We're not shy in the reportage of interesting, engaging videos created by coffee companies. Yes, they tend to be promotional and self-serving in nature, but the best of them stand up as examples of cutting-edge marketing, a newsworthy thing.
Take, for example, this video that explores the meticulous quality-control practices led by The Nordic Approach through its involvement in Southern Rwanda, or 3fe's promotional video, a wonderfully executed example about how to make people care about specialty coffee. More examples abound: Kávékalmár's trip to Rio Jorco in Costa Rica, Olympia Coffee Roasting's Burundi video, Tap Coffee's Ship to Shelf video, No Label Coffee's trip to Tanna Island.
Promotional? Yes. But these and increasingly more like them go well beyond what was once the ubiquitous shots of roaster cooling trays, latte art and seated interviews with company founders. They rely more on narrative, supported by loads of expertly shot footage, deft editing touches and delightfully interwoven soundtracks.
The latest in this best-of category comes from roaster/retailer GreatCoffee in Denmark, and features its charismatic founder and accomplished competition barista Søren Stiller Markussen. We caught wind of the video through the excellent Louisville-based coffee blog The Coffee Compass, which suggests 2015 may be the year of "mid-length coffee films."
Certainly a promotion of Markussen and the GreatCoffee brand — watch Markussen do Jiu Jitsu in slow motion on a beach! — the video also happens to be a lovely homage to great coffee, from origin to Brooklyn to GreatCoffee's home base in Aarhus.
Nick Brown
Nick Brown is the editor of Daily Coffee News by Roast Magazine.