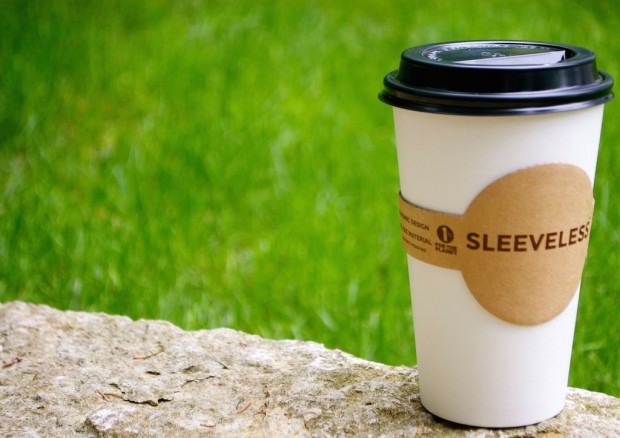 Most of the effort to combat the seemingly insurmountable juggernaut of waste generated daily by paper coffee to-go cups and sleeves has come in the form reusable versions. Tumblers and thermoses abound, as do crafty little reusable sleeves; a single search on Etsy yields thousands of adorable handmade options for the latter. Yet these have done little to stem the tide of paper waste, which continues to pile to mind-boggling heights, while equally little has been done to address or improve the nature of the paper products themselves.
One Michigan start-up has taken aim at the sleeve part at least, with the goal of creating a "zero waste," sustainable sleeve, primarily by designing one that only uses as much paper as is necessary to insulate the cup where a hand actually touches it.
By trimming away the areas where there is no hand-to-cup contact, the Sleeveless coffee sleeve uses 33 percent less paper than conventional sleeves. The paper that remains is composed of 90 percent post-consumer recycled material, which the company says is a significantly higher percentage than the post-consumer content of other sleeves. Apart from the printed ink of branding, hot beverage warnings and other bits of text, the Sleeveless sleeve is not dyed or bleached.
Beyond the product itself, which has just started shipping this month, the Grand Rapids-based company also provides a "one for one" program, partnering with the National Forest Foundation to plant a tree with each purchase of a case of 1,000 sleeves.
"We're pretty excited about it and so are the independent coffee shops," Sleeveless founder Tyler Essenberg told Daily Coffee News. "Each time they order from us they can actually get a statement of how many trees that they've helped plant."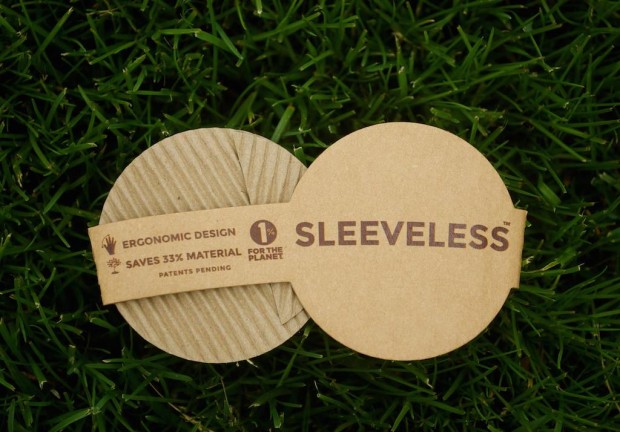 The three-man company is comprised of a product designer, a marketer and an engineer, but no one with experience in the coffee, café or beverage sectors specifically. Essenberg's other projects have included G-raps, a customizable silicon band to slide over the arms of sunglasses, for displaying a logo, slogan or other message.
The Sleeveless engineer currently also works for CamelBak, and the marketer, Austin Holsinger, is the mind behind the Great Lakes Proud merchandising campaign. However, through a connection established over the table at their booth at Coffee Fest Chicago this past June, the company intends to partner with the makers of Kona Paper to create a Sleeveless sleeve product made from paper composed entirely of repurposed jute coffee bean bag material and other post-consumer waste.
Kona Paper was invented by a pair of creative paper-crafting entrepreneurs in St. Louis in the summer of 2009, who brought the idea to the Whiting Paper Company, which then perfected the process on an industrial scale. To make Kona Paper, jute coffee bags are ground and pulped, then sent through the mill the same way normal paper is. A pure waste-stream product, it is made from 100 percent recycled post-consumer content. Available shades include "light" and "dark roast," and it costs roughly twice as much as conventional wood-pulp paper.
"In the next three to six months, we're going to partner with them to launch a product just to see how the market receives it," said Essenberg, noting that those sleeves will likely have to be priced about 30 percent higher. The cost of the paper is what Essenberg believes has kept other, larger sleeve manufacturers from taking up the material, although its potential as an environmentally friendly product that helps close a waste-stream loop is in perfect alignment with the Sleeve-less company's mission. Said Essenberg, "I think it's worth exploring."
Howard Bryman
Howard Bryman is the associate editor of Daily Coffee News by Roast Magazine. He is based in Portland, Oregon.