Right near the middle of these United States, Kansas City, Mo., has blossomed into one of America's premier coffee cities, with a wealth of talent in roasting, retail design and service.
The city's latest newcomer is a one-man micro-roaster called Meta Coffee Roasting Co. led by small-town Kansas native Zach Tarhini, who is roasting single-origin coffees on a 1kg electric drum roaster made by Chinese coffee equipment manufacturer North.
Since officially launching the commercial operation in June, Tarhini's Meta coffees have found inroads to the Brookside Farmers Market every Saturday — where single-origin cold press coffees and an iced coffee with milk and brown sugar simple syrup have been especially popular — and to a small handful of specialty grocers. Plans to supply pop-up shops this fall and winter are also currently in the works.
"Kansas City has been awesome with coffee. Especially in the past few years there's been a massive boom," Tarhini recently told Daily Coffee News. "But I believe as long as you're putting out a really good product then there's always going to be room for it. Yes, we have been in a coffee boom but there's still some ground to catch up to the big ones like Portland or Seattle."
Tarhini said he also hopes marketing and selling only organically grown coffees will reach some small niche in the market, although quality is the primary concept behind Meta's sourcing, roasting and selling.
On the sourcing front, Tarhini said he's committed to importers with locally available warehouses — including Gardner, Kan.-based Midwest Coffee Trading and New Orleans-based Zephyr Green Coffee Importers, which has a midwest warehouse on the far northeastern edge of KCMO. "We save some shipping costs," Tarhini said, "But it's also really important for me to have a personal relationship with the importer."
Meta offers a rotating selection of three organic, single-origin coffees, roasting them each to their potential, rather than to any predetermined profile. Said Tarhini, "We try to get some really bright, unique flavors along with some coffees that are more balanced."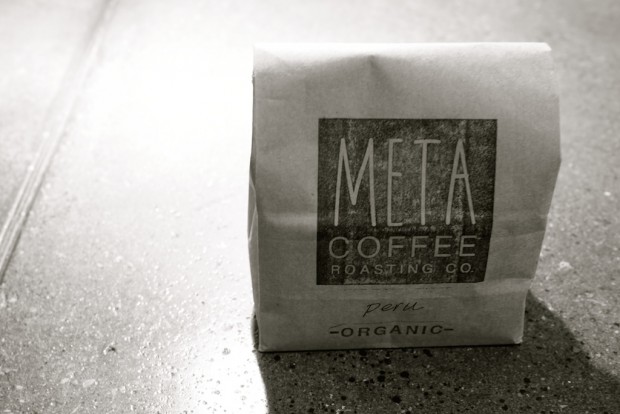 Nick Brown
Nick Brown is the editor of Daily Coffee News by Roast Magazine.